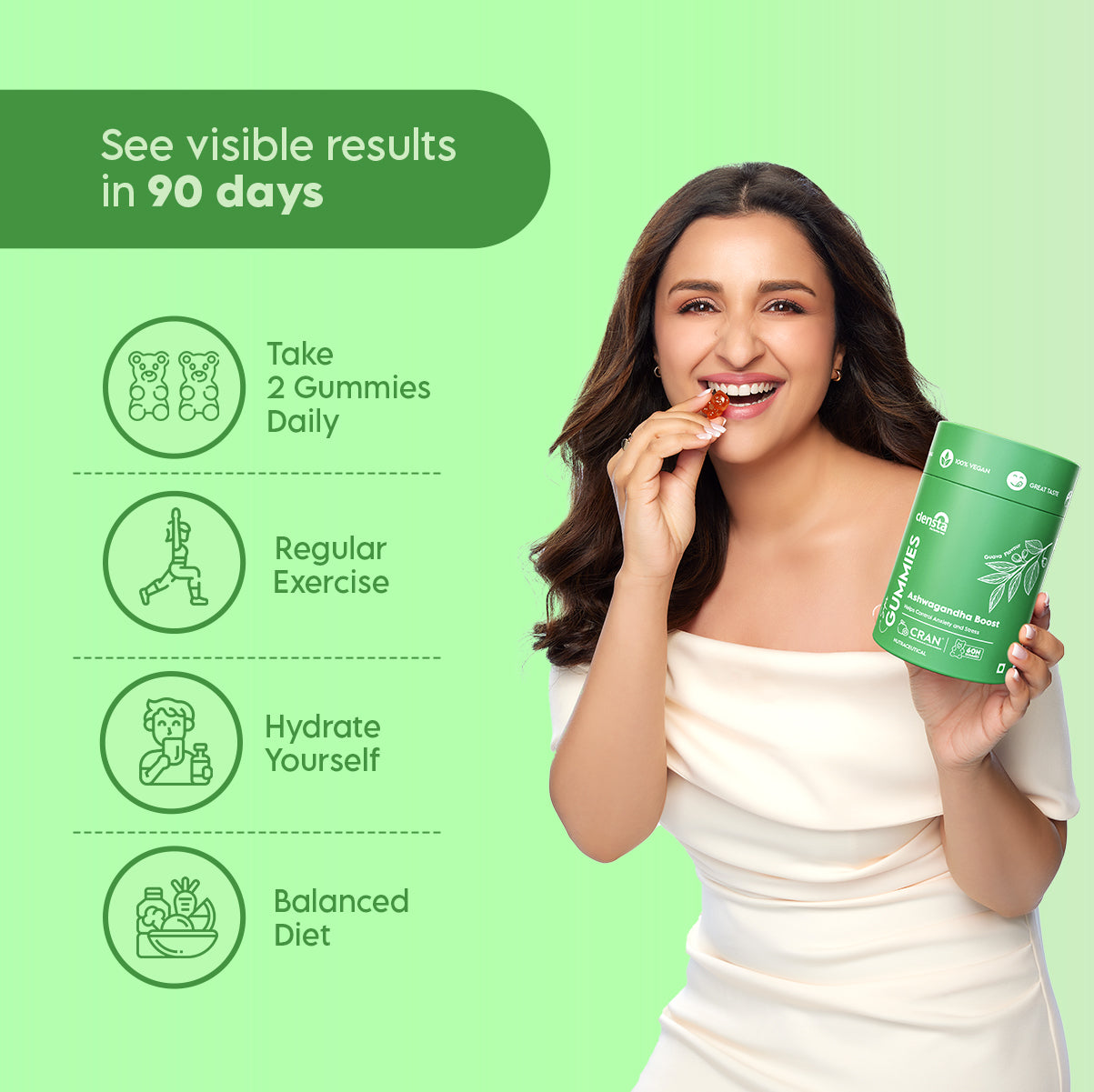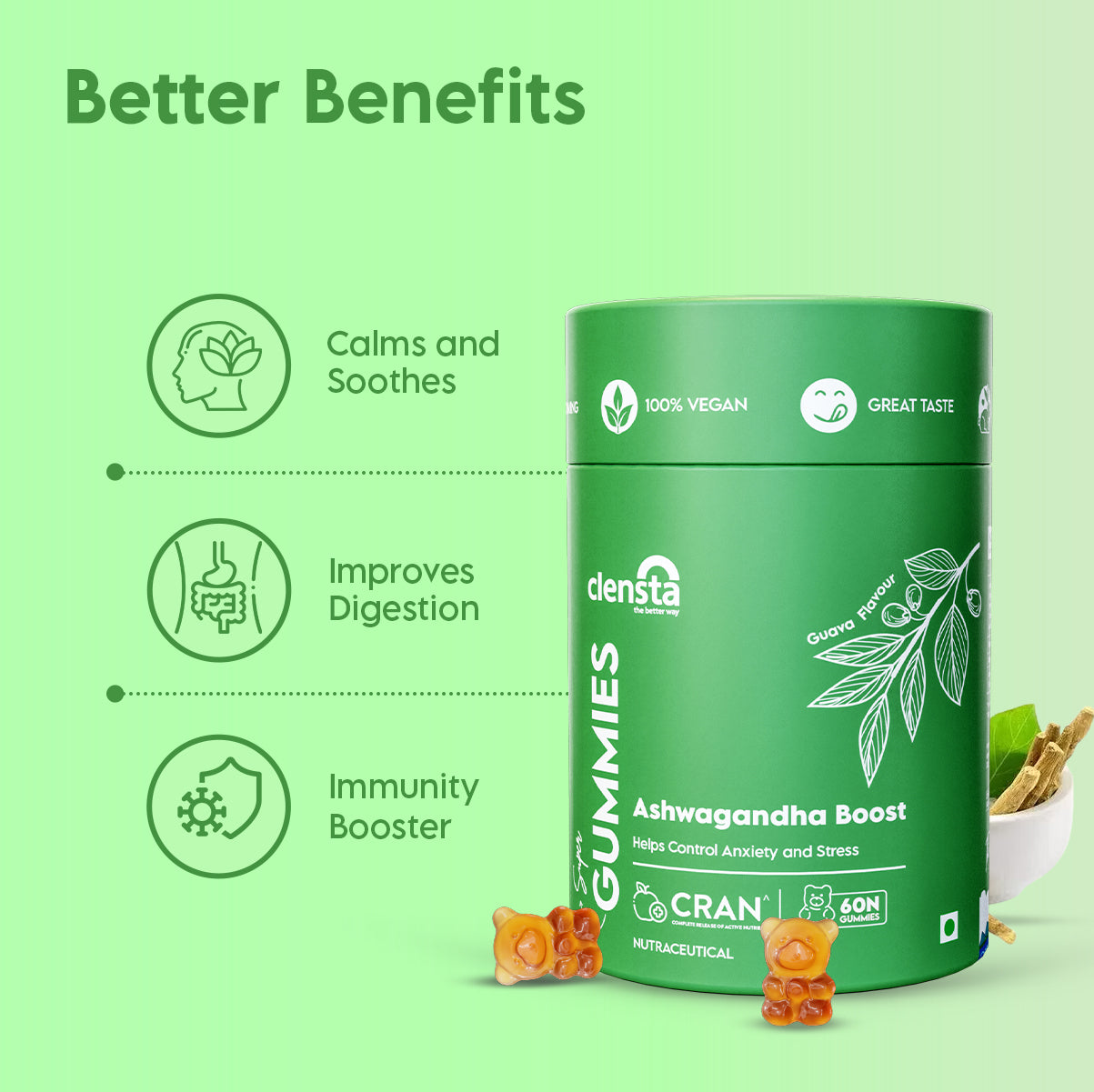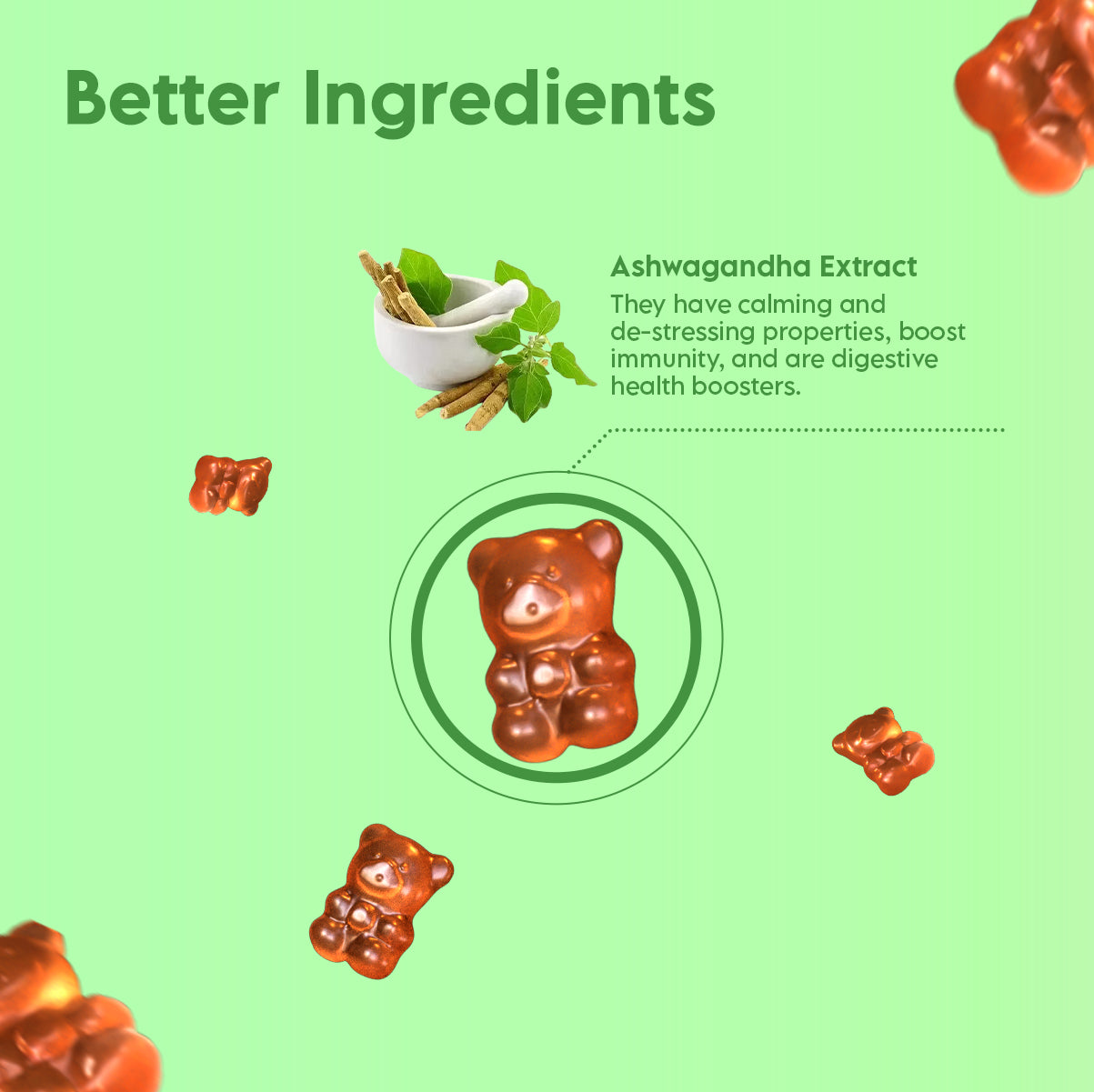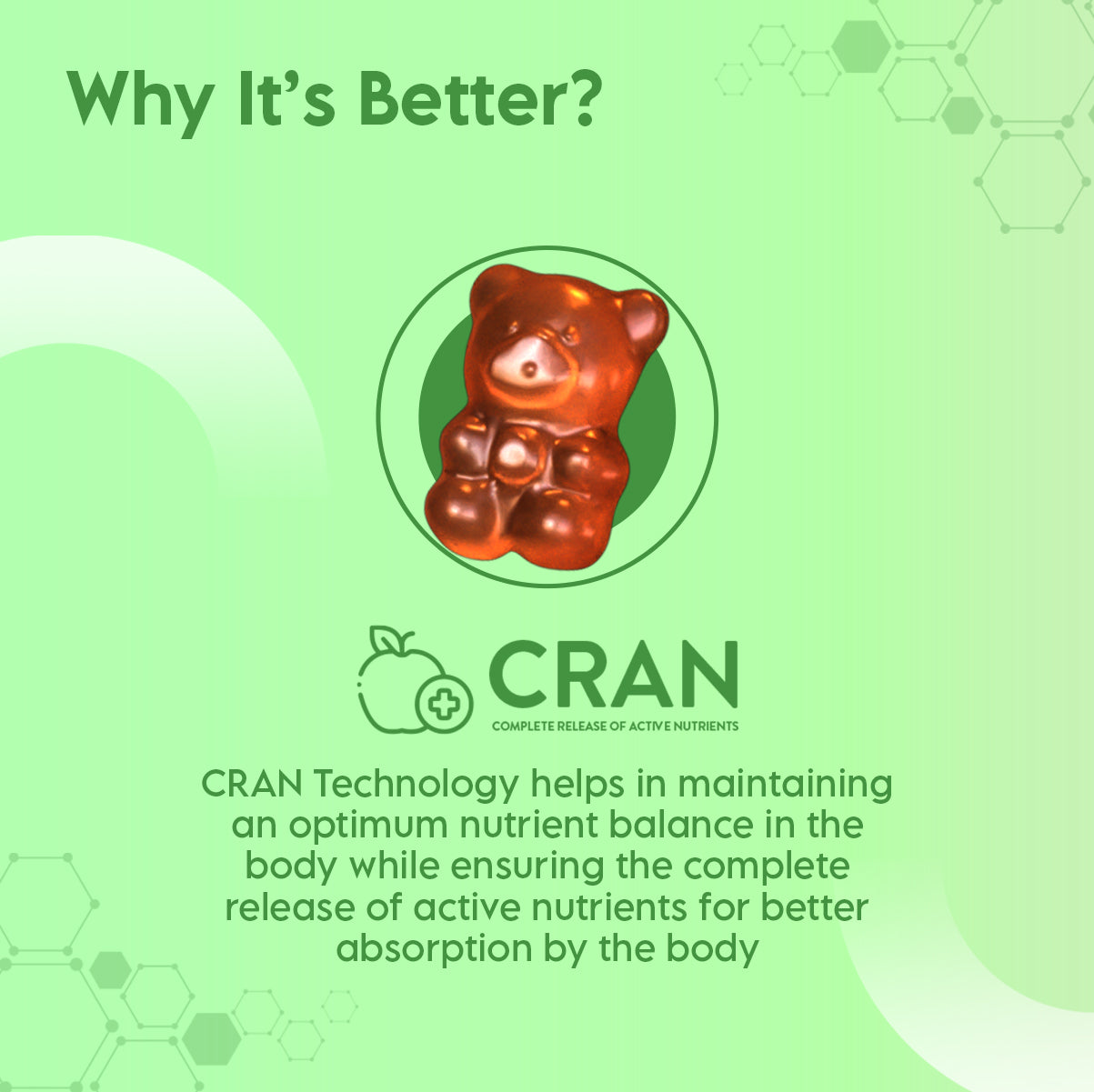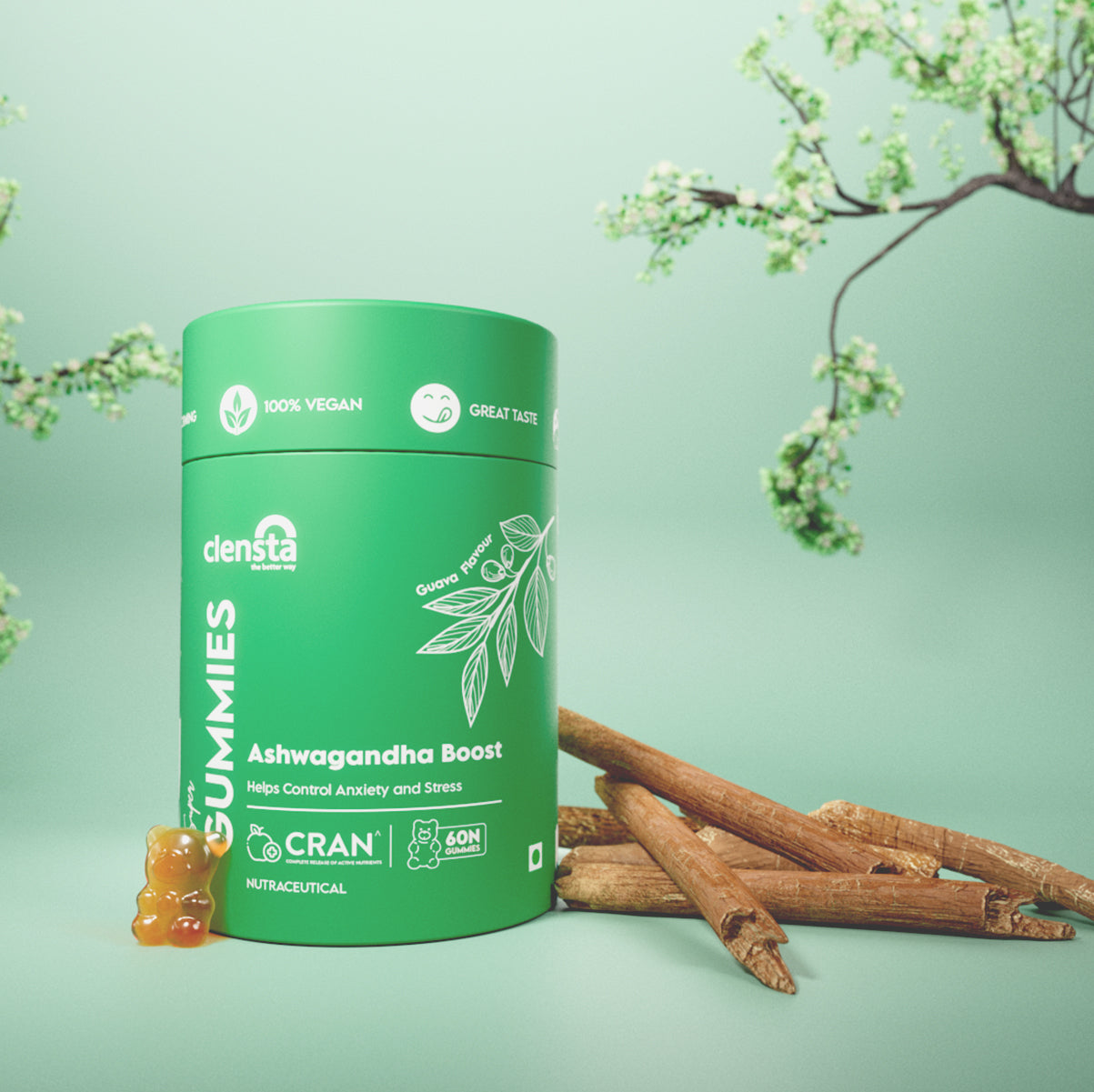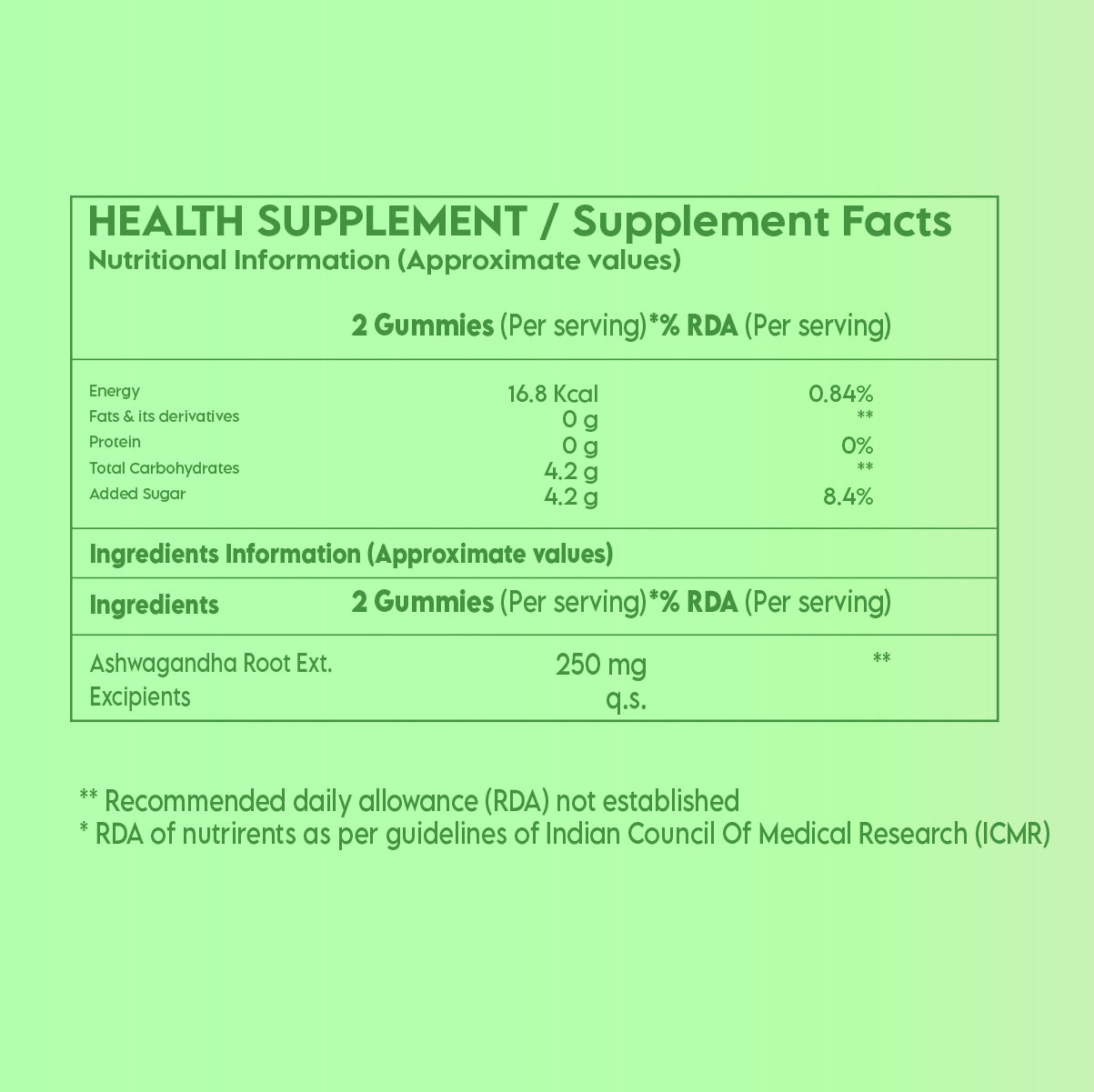 Ashwagandha Boost Super Gummies
Helps Control Anxiety & Stress
OFFERS
Get FREE Red AloeVera Multipurpose Gel on prepaid orders above ₹599
Get FREE Nourishing Hydra Gel on prepaid orders above ₹899
Get 20% OFF on orders above ₹999
Get 15% OFF on orders above ₹699
Our eating, thinking, and even our surroundings affect our daily routines and life cycles. To remain calm and stay stress-free, we need to include herbs like Ashwagandha in our daily diet. The Clensta Ashwagandha Gummies have calming and de-stressing properties, boost immunity, and are digestive health boosters.

Ashwagandha also improves sleep quality and reduces the appearance of marks, pigmentation, signs of ageing and dullness. Ashwagandha relieves anxiety and stress while improving concentration and energy levels. It improves the mental ability of an individual and also improves sleep quality. These guava-flavoured gummies boost bone health, support brain health, and improve overall well-being.

Regular consumption of the Clensta Ashwagandha Gummies helps reduce stress by reducing the production of Cortisol, thereby improving the body's ability to cope with stressors. Coupled with regular exercises, these gummies improve bodily functions and muscle development. In addition, Ashwagandha helps improve brain health by promoting concentration and memory and also helps improve the quality of your sleep.
"Each 5g (approx 2 jelly contains) Ashwagandha 250 mg"
Uneven Texture

Calms and Soothes

Immunity Booster

Reduce Stress

Boosts Bone Health

Overall Well-Being
1

Take two gummies (one serving) daily or as directed by your healthcare professional.

2

Disclaimer: Consult a doctor if you're lactating, pregnant or taking any medications. Not to exceed the stated recommended daily usage. This product is not intended to diagnose, treat, cure, or prevent any disease(s).
i like it!
This is my second time that i have bought these ashwagandha Gummies , i have seen tremendous improvement in my activeness and energetic nature. I recommend everybody to buy these gummies and see tye improvement in them.
likely
Ashwagandha gummies assist u in increasing the internal energy you require to stay composed  u can eat those gummies without having to think twice because they don't build habits. worth for money
Great & genuine product 👍🏻
Great and effective product... I like it. It has a guvava flavor so u can easily have it. It promotes good sleep. Ashwagandha has many benefits for the body. For females, it helps in balancing hormones also.
Healthy product
It a good product as it provides lots of muscle strength and it enhanced my mind ability . However, its a supreb product go fot it without any second thoughts.
relaxed with ashwagandha gummies
I was able to relax and have less stress.... Since I started taking the ashwagandha gummies from Clensta, my sleep has improved significantly. Furthermore, my energy and level of fitness both significantly increased! Take a wild guess. a package of tasty, stress-relieving gummies.
Nice taste.
Quality is amazing, Price is also appropriate and also it has nice fragrance. Loved it.