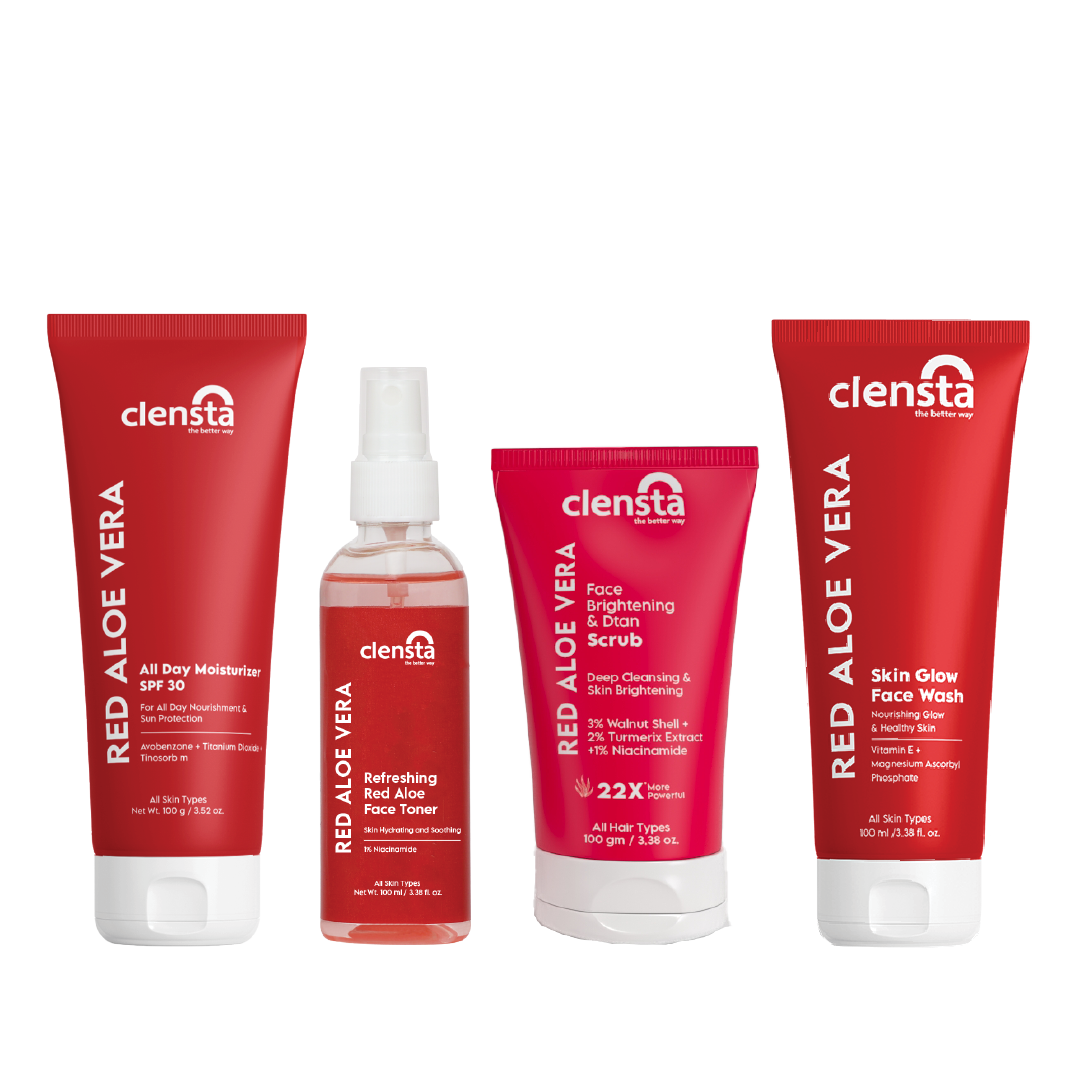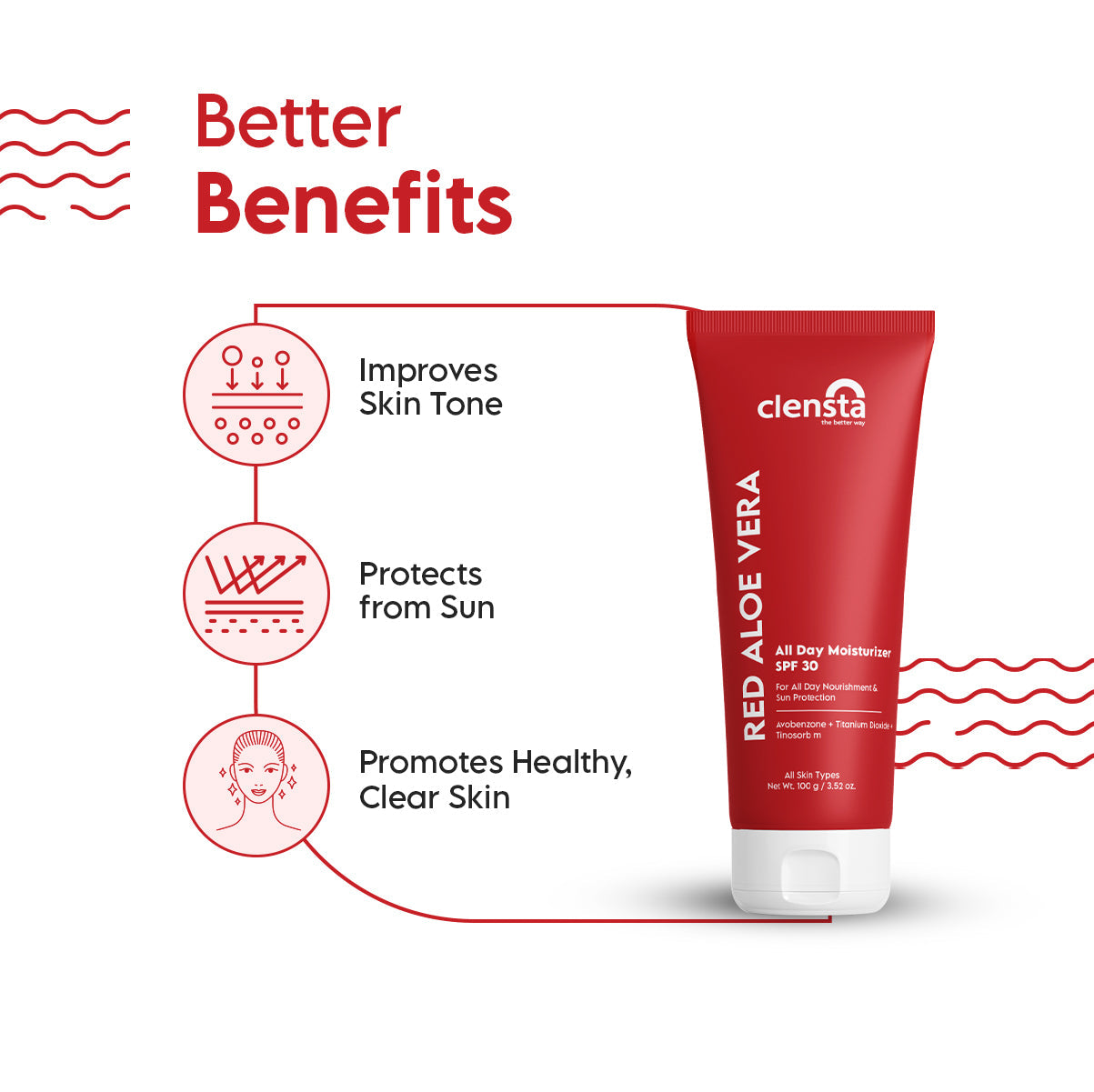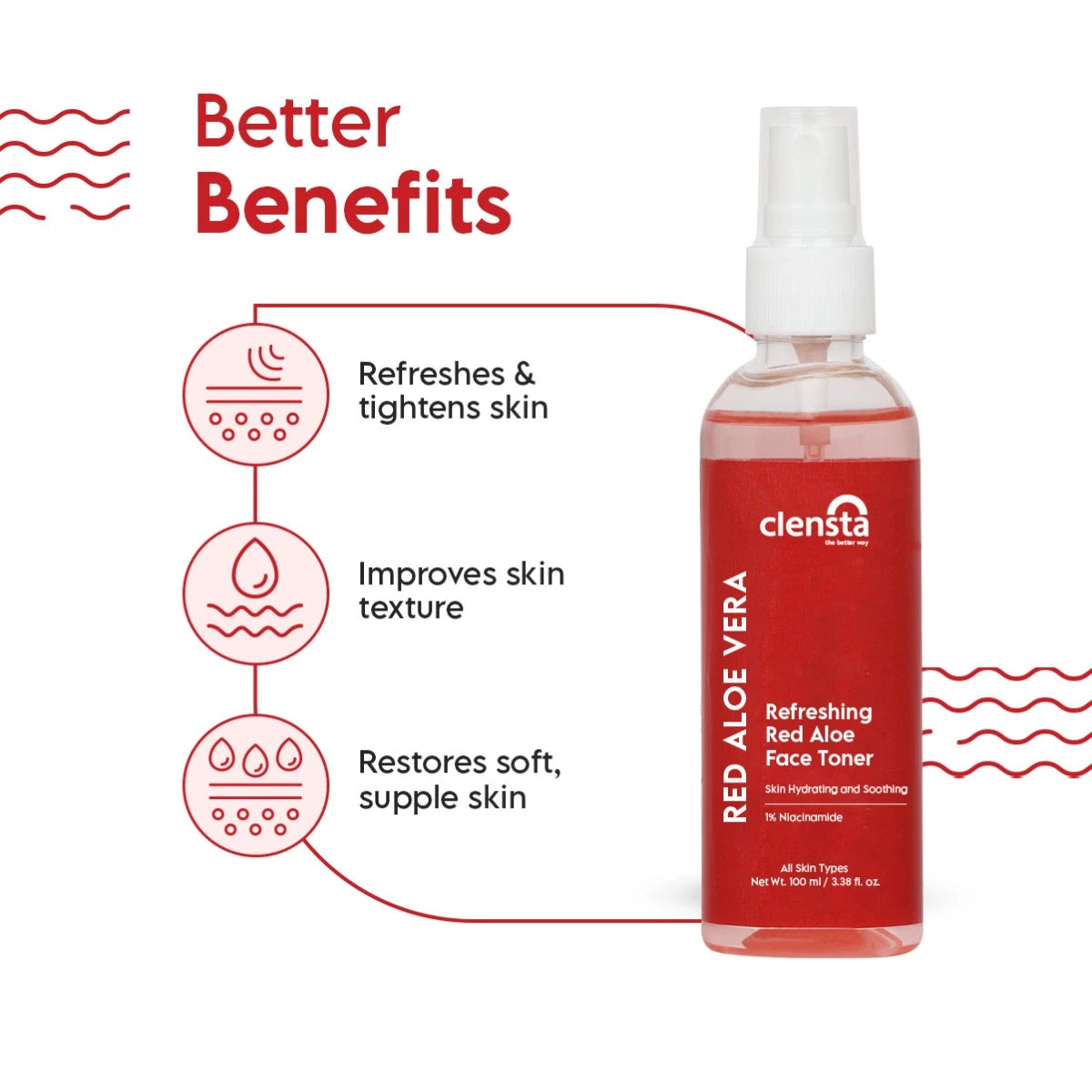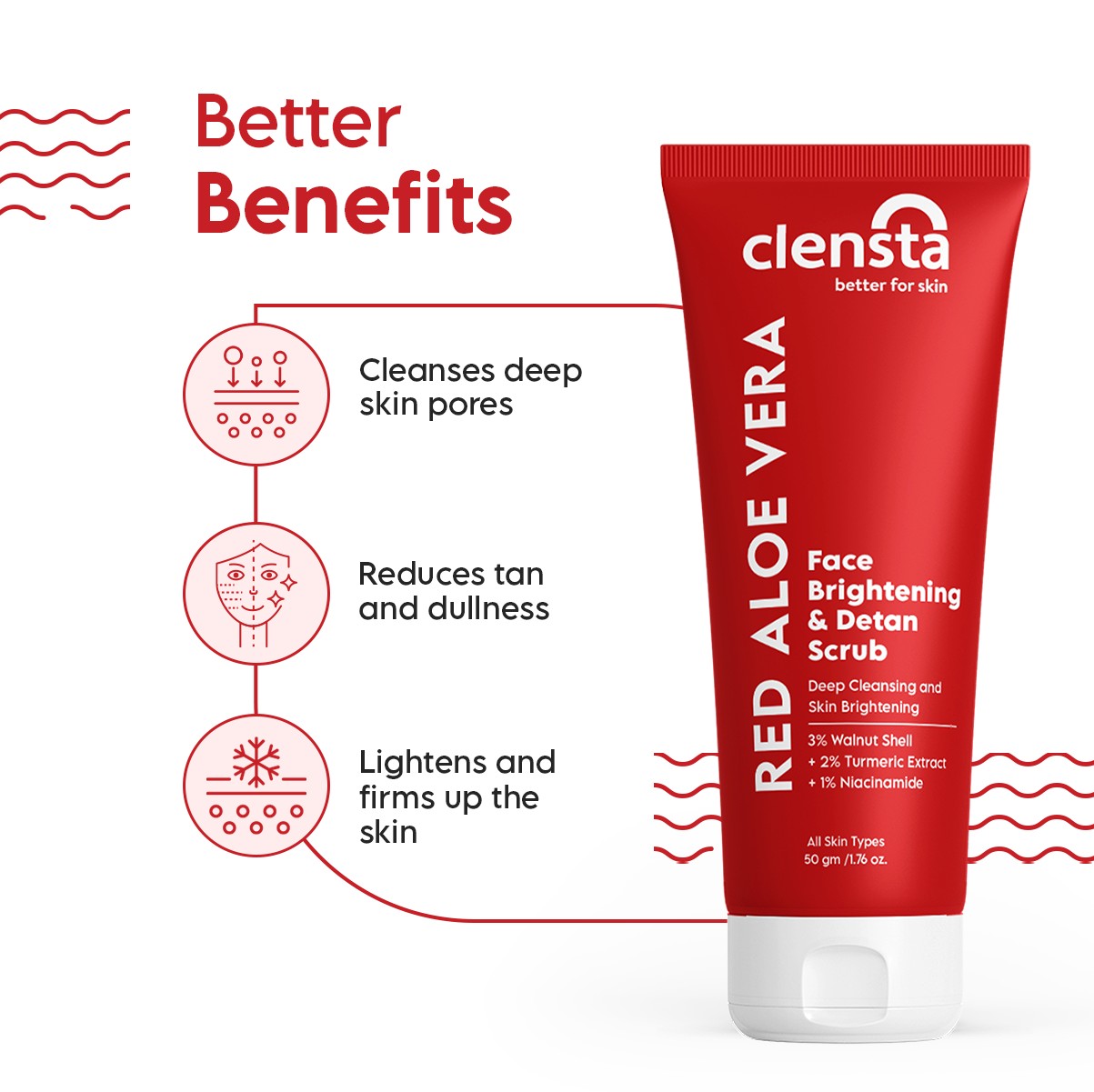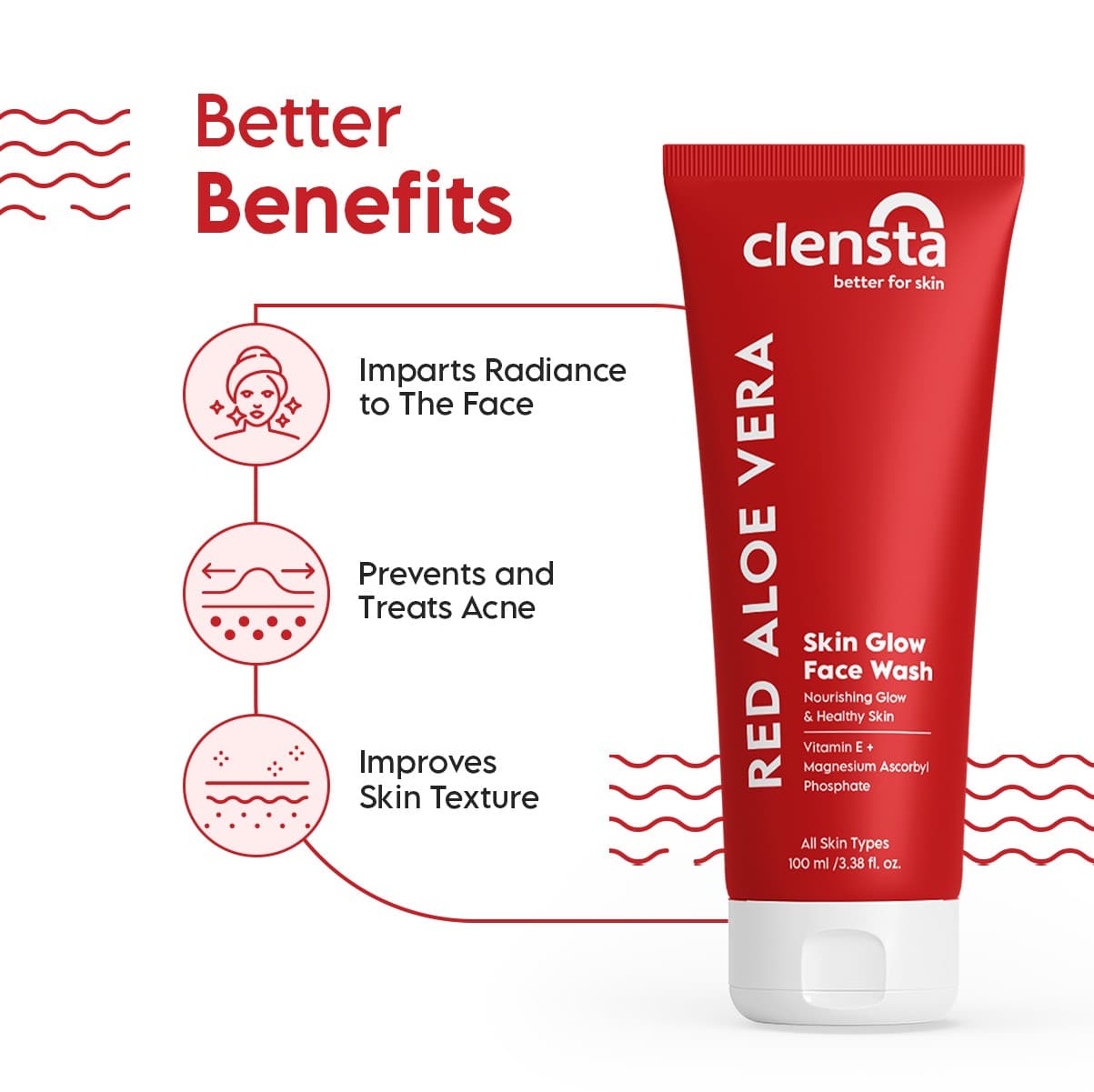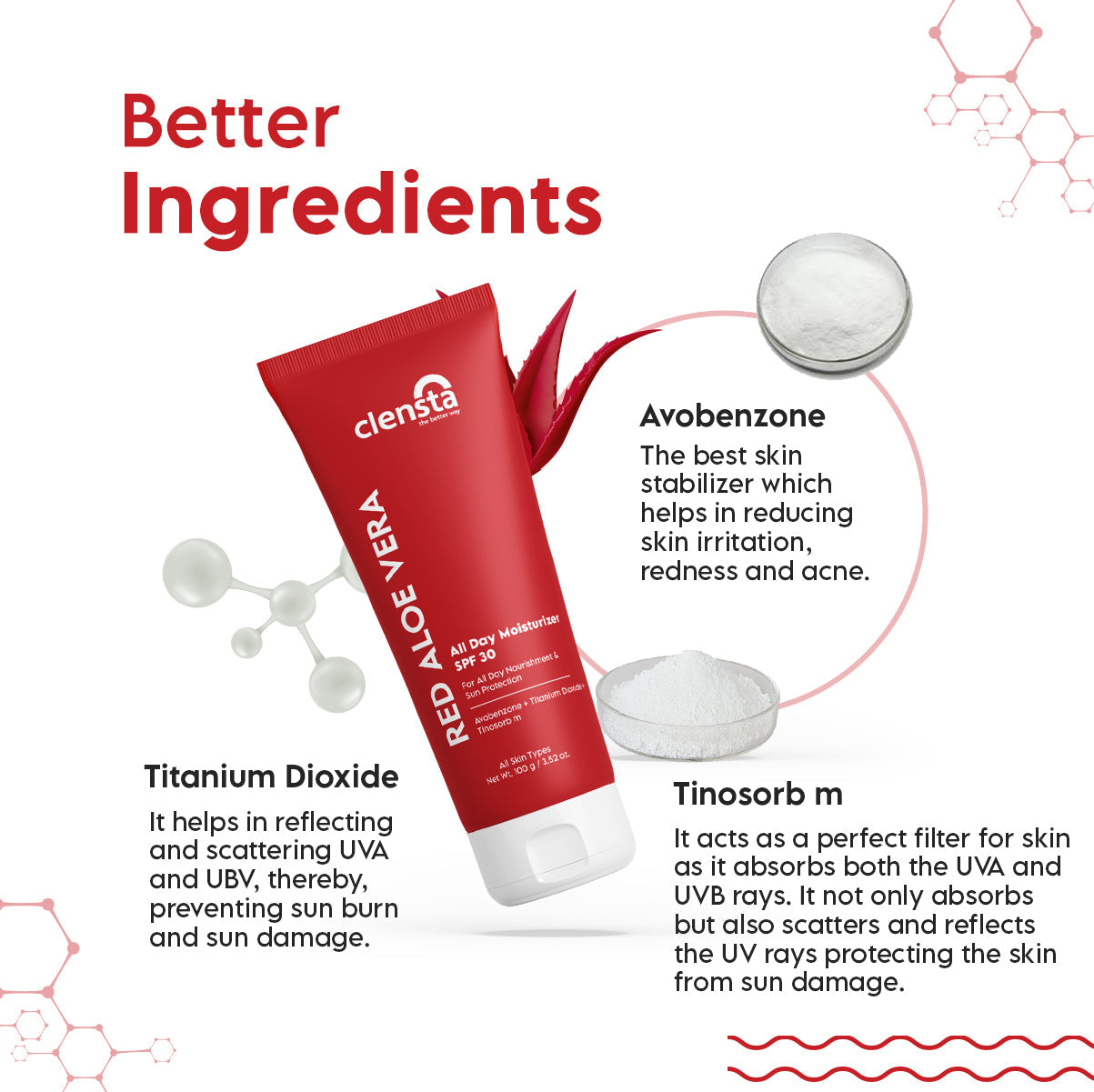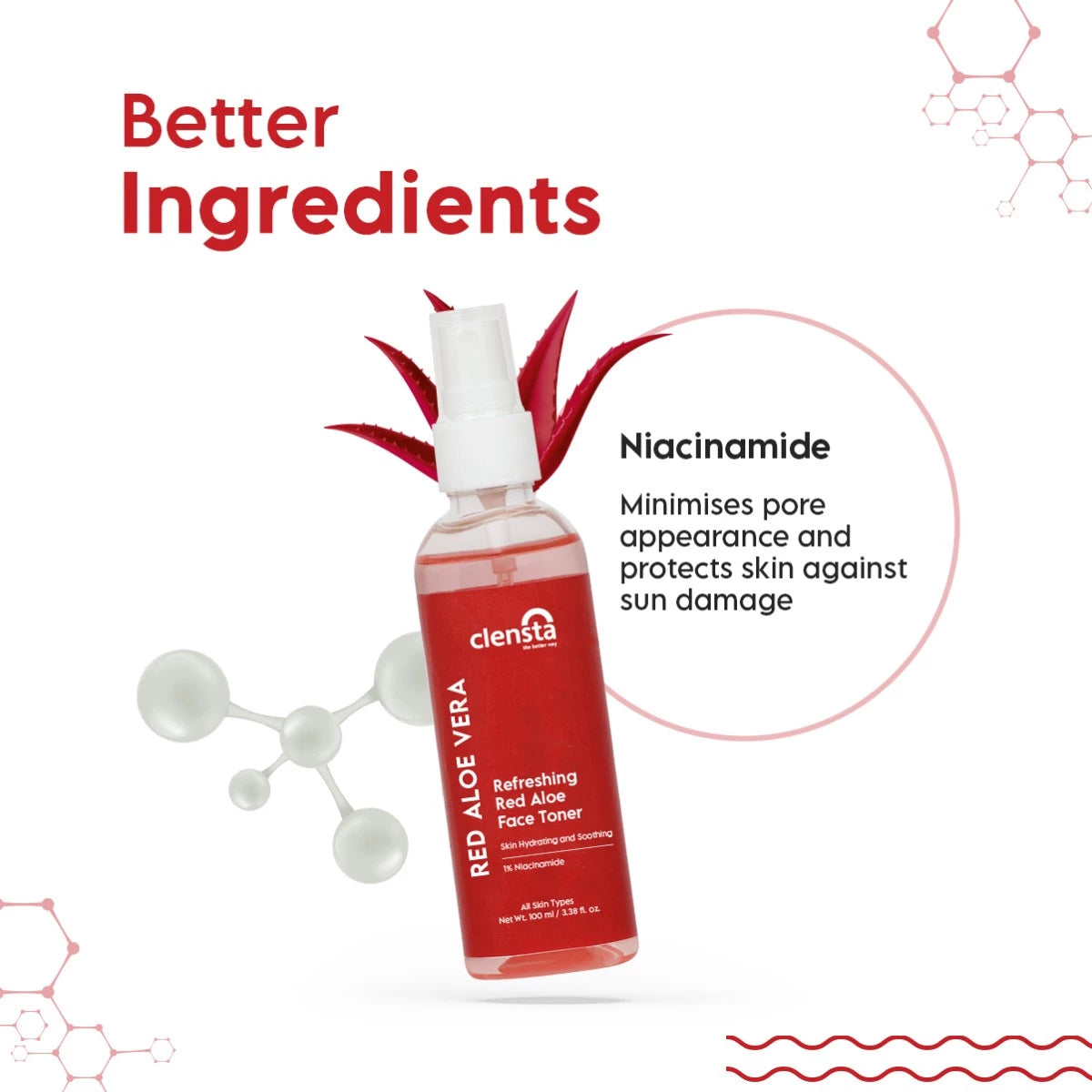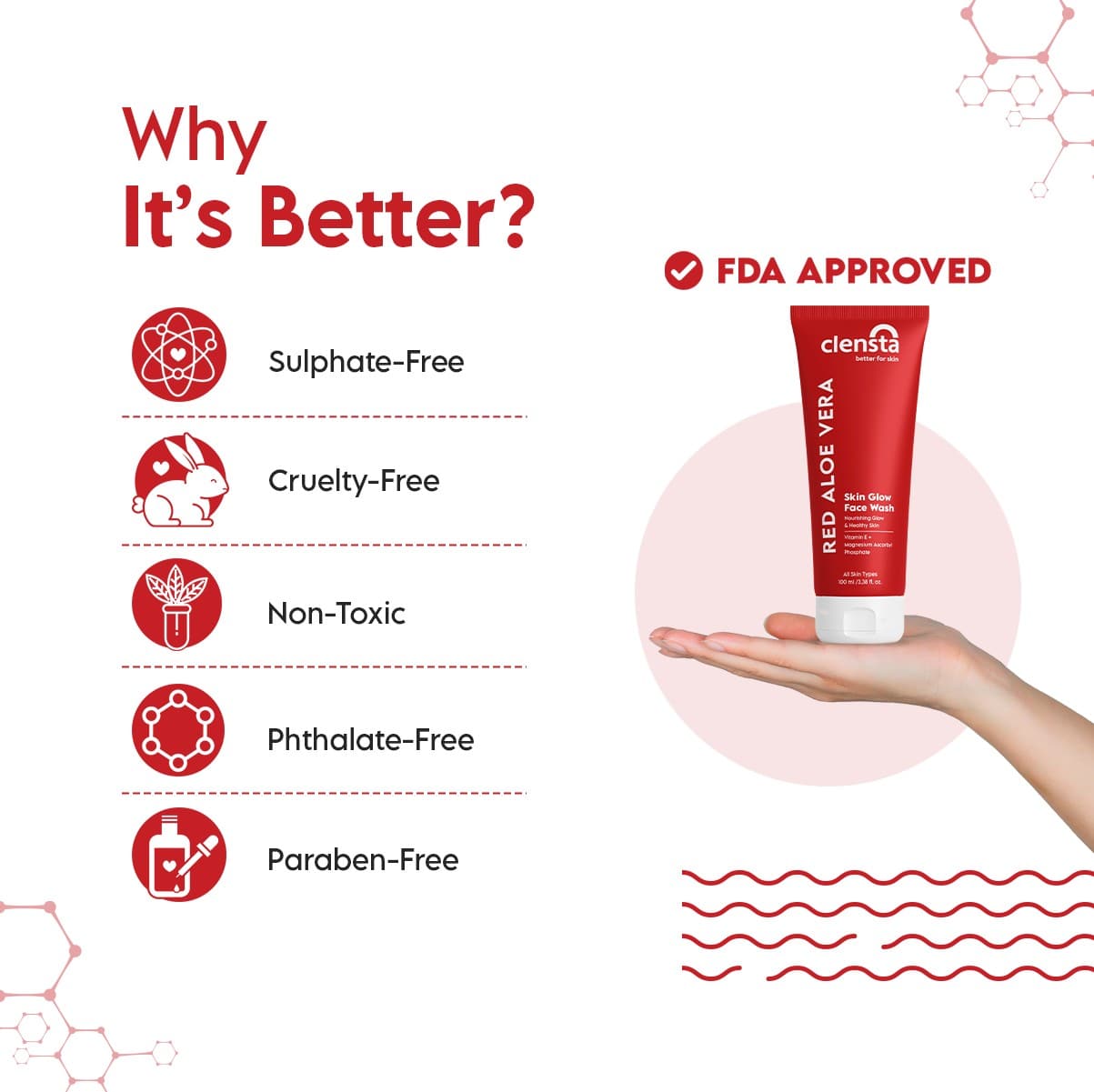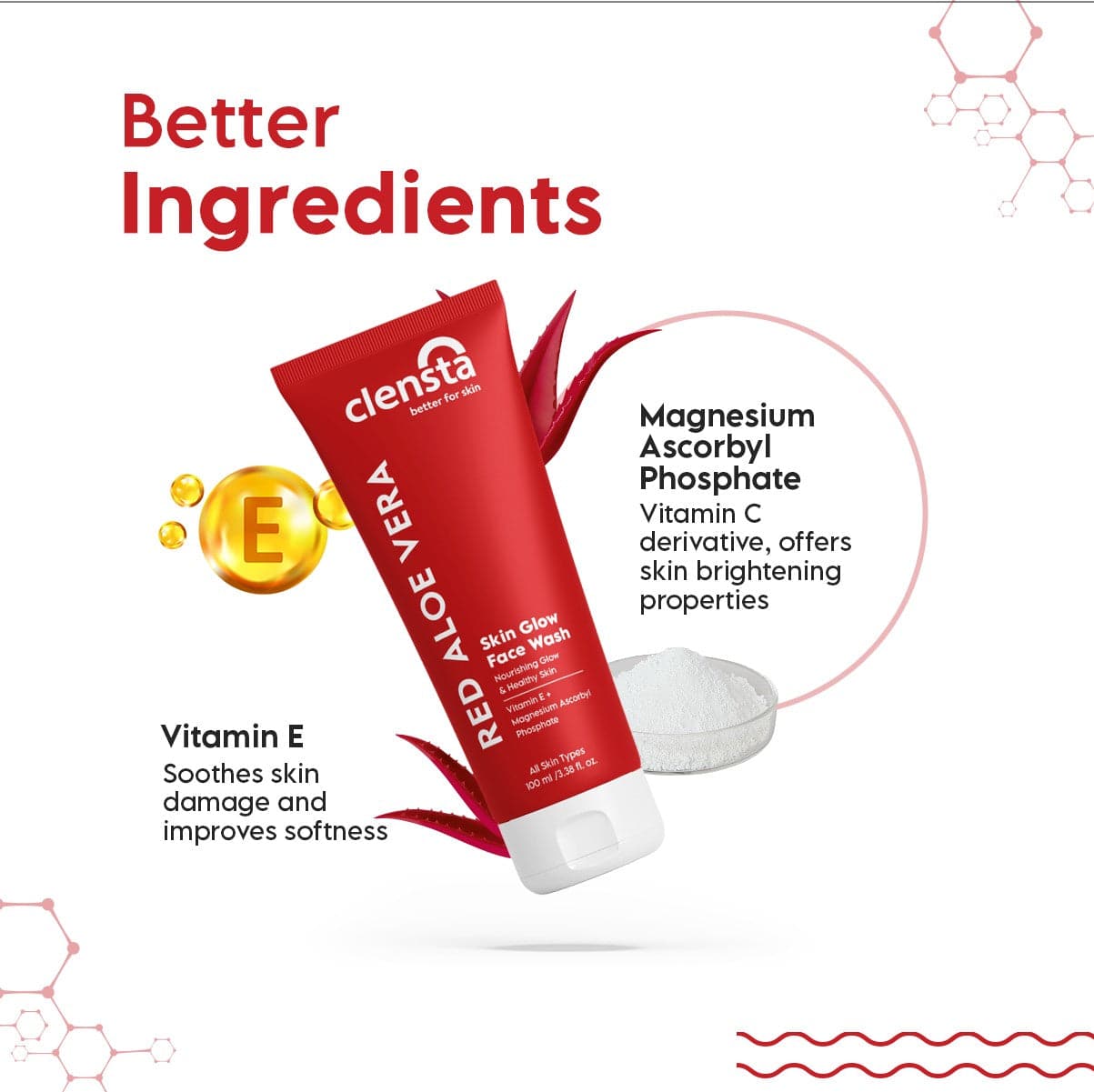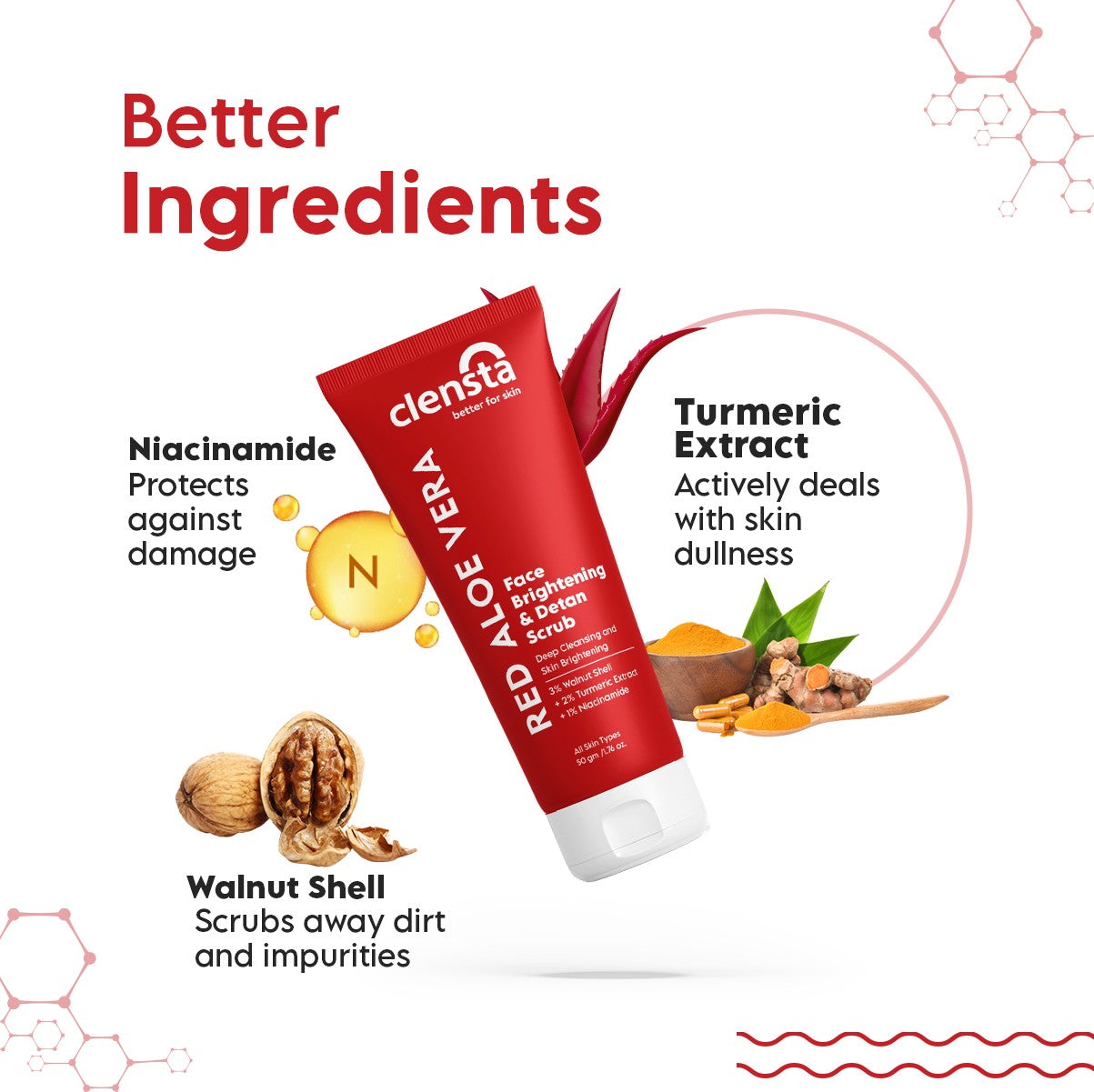 Glow & Go Skincare Set
Achieve even & balanced skin tone
OFFERS
Get FREE Red AloeVera Multipurpose Gel on prepaid orders above ₹599
Get FREE Nourishing Hydra Gel on prepaid orders above ₹899
Get 20% OFF on orders above ₹999
Get 15% OFF on orders above ₹699
What will you get?

Skin Glow Face Wash [Size: ( 100 ml )]

Face Brightening & Detan Scrub [Size: ( 50 g)]

Refreshing Red Aloe Face Toner [Size: ( 100 ml)]

All Day Moisturizer with SPF 30 [Size: ( 100 g)]
Skin Glow Face Wash:- D.M. Water, Sodium Laureth Sulfate, Cocamidopropyl Betaine, Glycerine, Cocodiethanolamide, Fragrance, Peg-150 Distearate, Red Aloe Vera Extract, Polysorbate 20, Polyquaternium -7, DMDM Hydantoin, Magnesium Ascorbyl Phosphate, Di Sodium EDTA, Allantoin, Vitamin E acetate, Citric Acid, Methylchloroisothiazolinone And Methylisothiazolinone, Colour.
Face Brightening & Detan Scrub:- D.M. water, Light liquid paraffin, stearic acid, glyceryl monostearate-SE, walnut shell, glycerin, turmeric extract, emulsifying wax, ceteareth-20, isopropyl myristate, dimethicone, niacinamide, red aloe vera extract, fragrance, titanium dioxide, DMDM hydantoin, triethanolamine, carbomer, disodium EDTA, D-panthenol, methylchloroisothiazolinone and methylisothiazolinone
All Day Moisturizer with SPF 30:-DM Water, Titanium Di Oxide, Light Liquified Paraffin, Avobenzone, Tinosorb M, Cetostearyl Alcohol, Glycerine, Propylene Glycol, Emulsifying Wax, Carbomer, Cetyl Alcohol, Phenoxyethanol, Perfume
Refreshing Red Aloe Face TonerD.M. Water, Glycerine, Red Aloe vera Extract, Niacinamide, Phenoxyethanol, Fragrance, Allantoin, D-Panthenol, Di Sodium EDTA, Triethanolamine, Colour.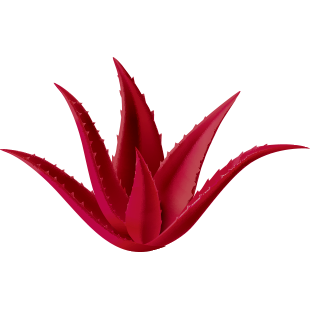 Red Aloe Vera
Red Aloe Vera shows immune-stimulating actions, reduces
the formation of melanin, and tendency towards hyperpigmentation. Therefore, it
nourishes dry skin and hair, making it smoother and livelier.
Vitamin E
Vitamin E protects against sun damage and nourishes and protects the skin from damage caused by free radicals.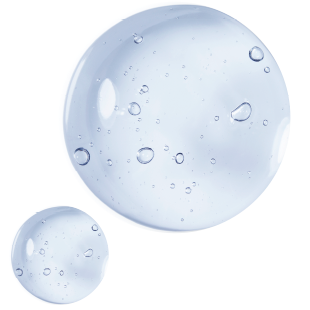 Niacinamide
It helps in minimising pore appearances and protecting against sun damage, keeping skin firm and healthy.
Titanium Dioxide
It helps in reflecting and scattering UVA and UBV, thereby, preventing sun burn and sun damage.
Walnut Shell
Reduces signs of ageing and scrubs the sun damage, dirt, and impurities from deep pores keeping the acne and blemishes away.
Turmeric Extract
It contains antioxidants and anti-inflammatory components which provide glow and luster to the skin by reducing the excess melanin in the skin.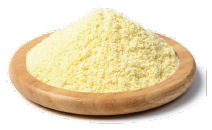 Tinosorb M
It acts as a perfect filter for skin as it absorbs both the UVA and UVB rays. It not only absorbs but also scatters and reflects the UV rays protecting the skin from sun damage.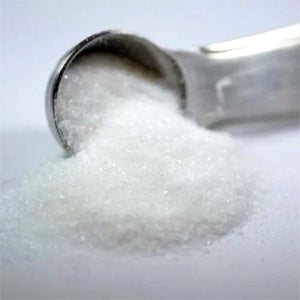 Magnesium Ascorbyl Phosphate
It is a rich formula designed to help reduce signs of ageing by brightening and balancing uneven skin tones. It lightens the skin and supports collagen synthesis.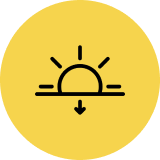 Dull Skin
Uneven Texture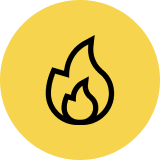 Inflammation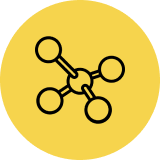 Free Radical Damage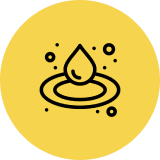 Oily Skin
Clogged Pores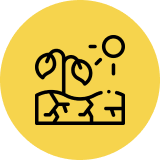 Dry Skin
Dehydrated Skin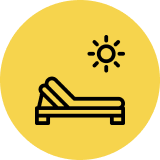 Sun Tan
Skin Ageing