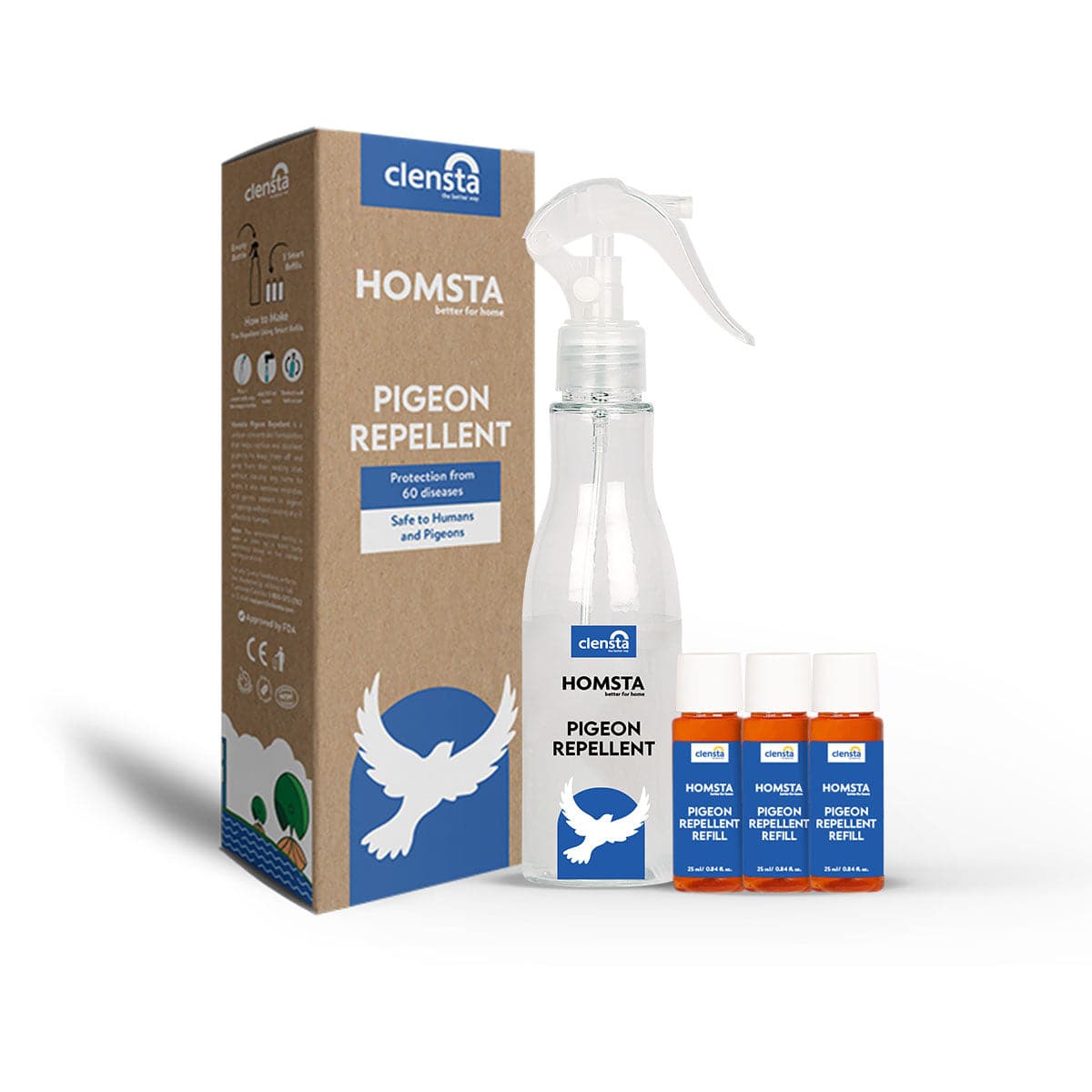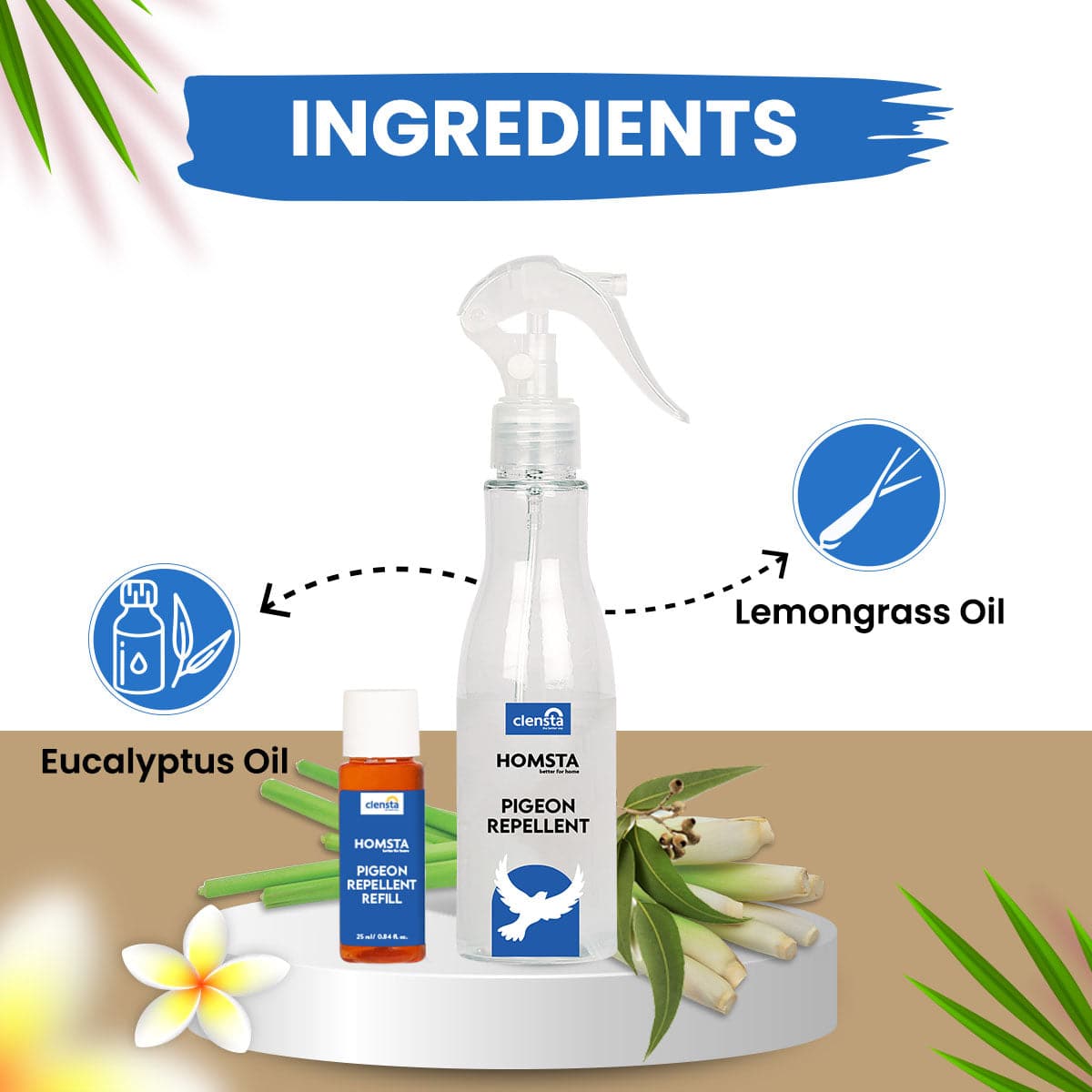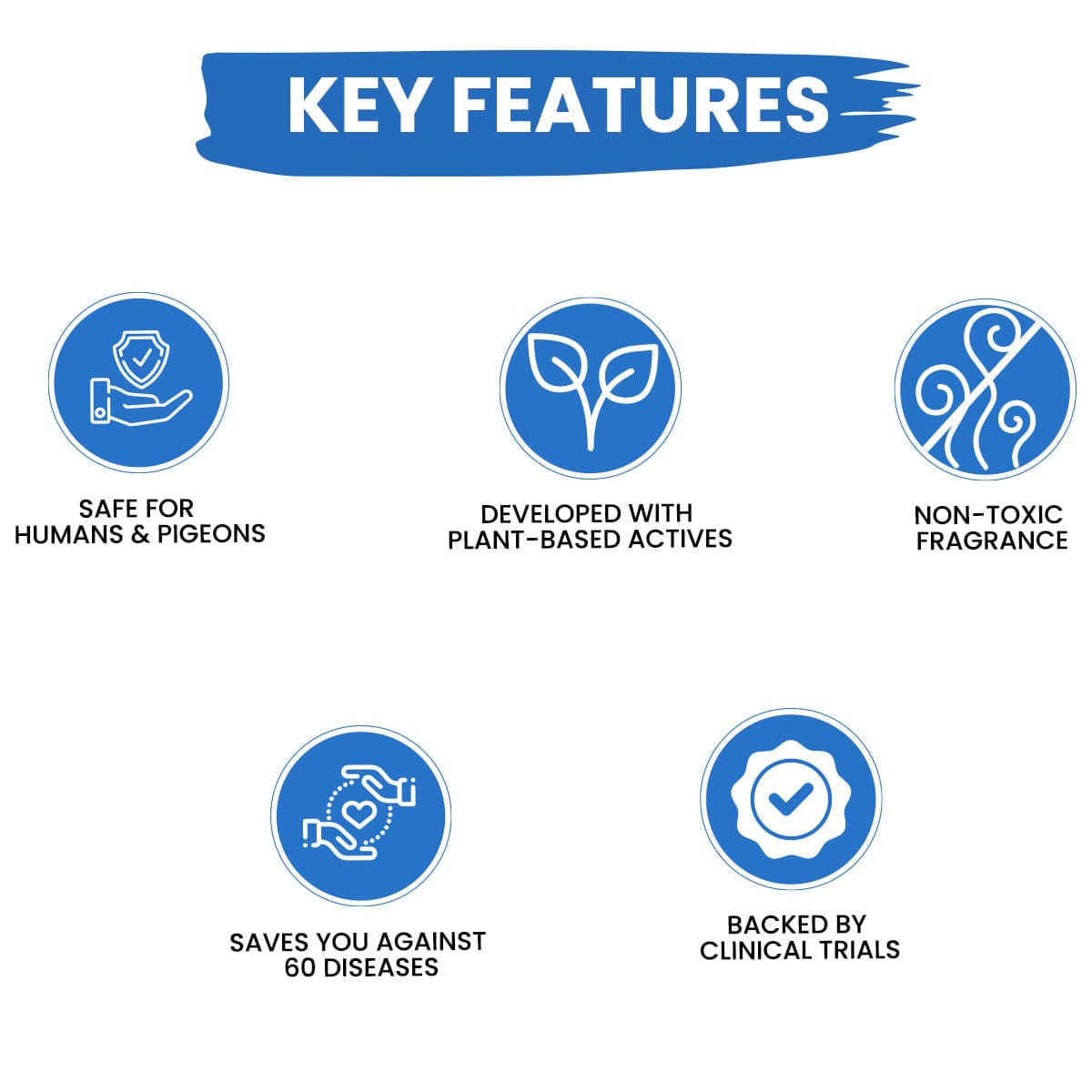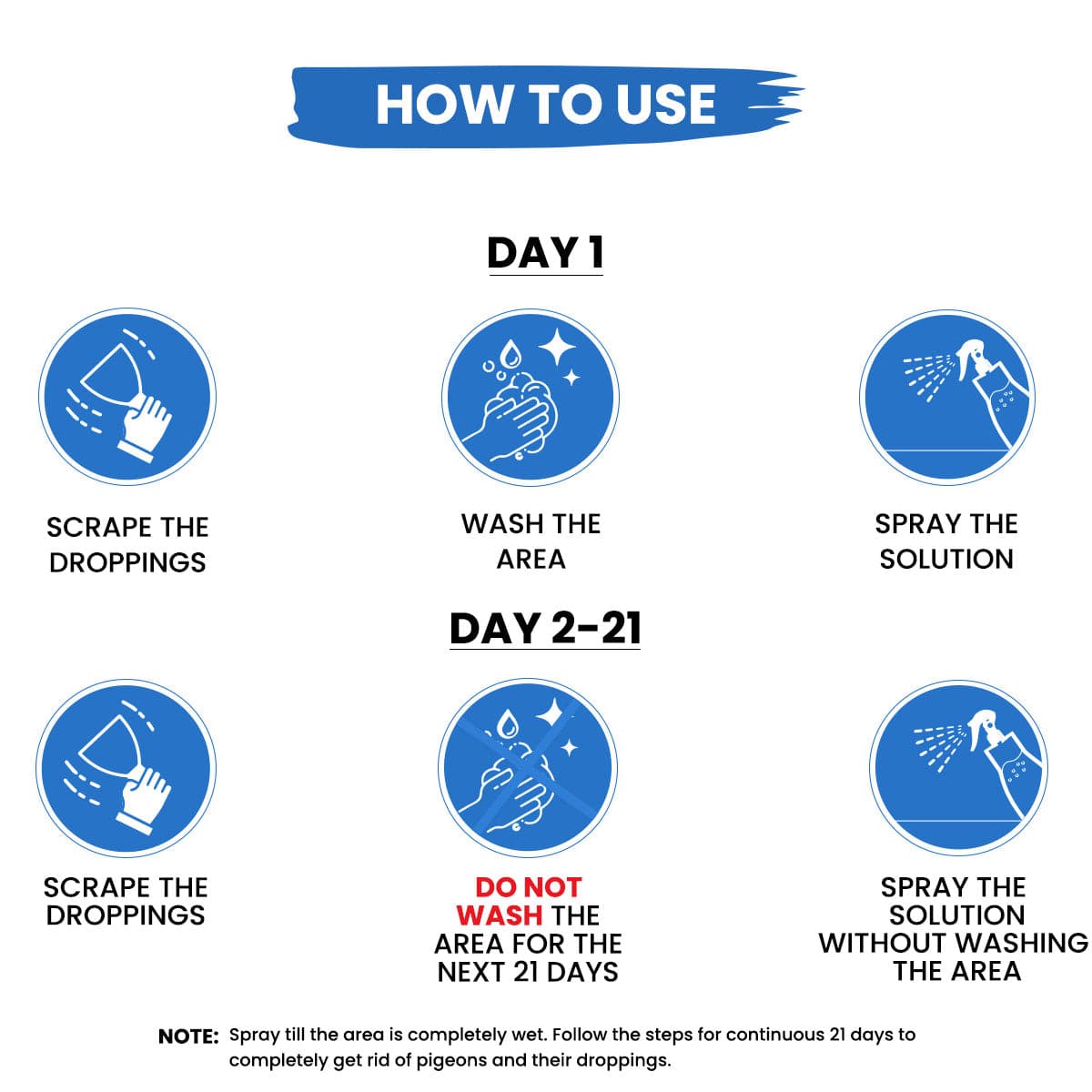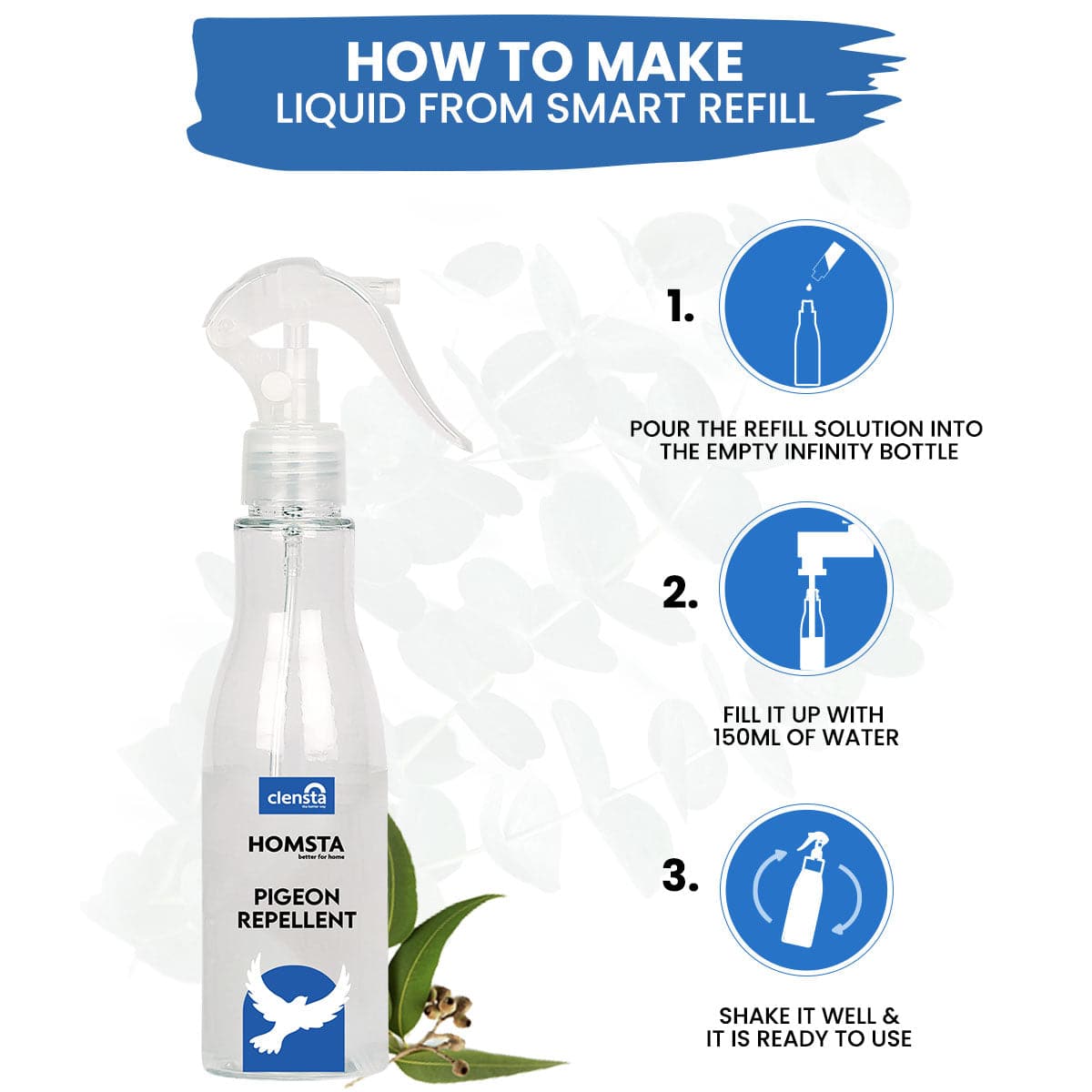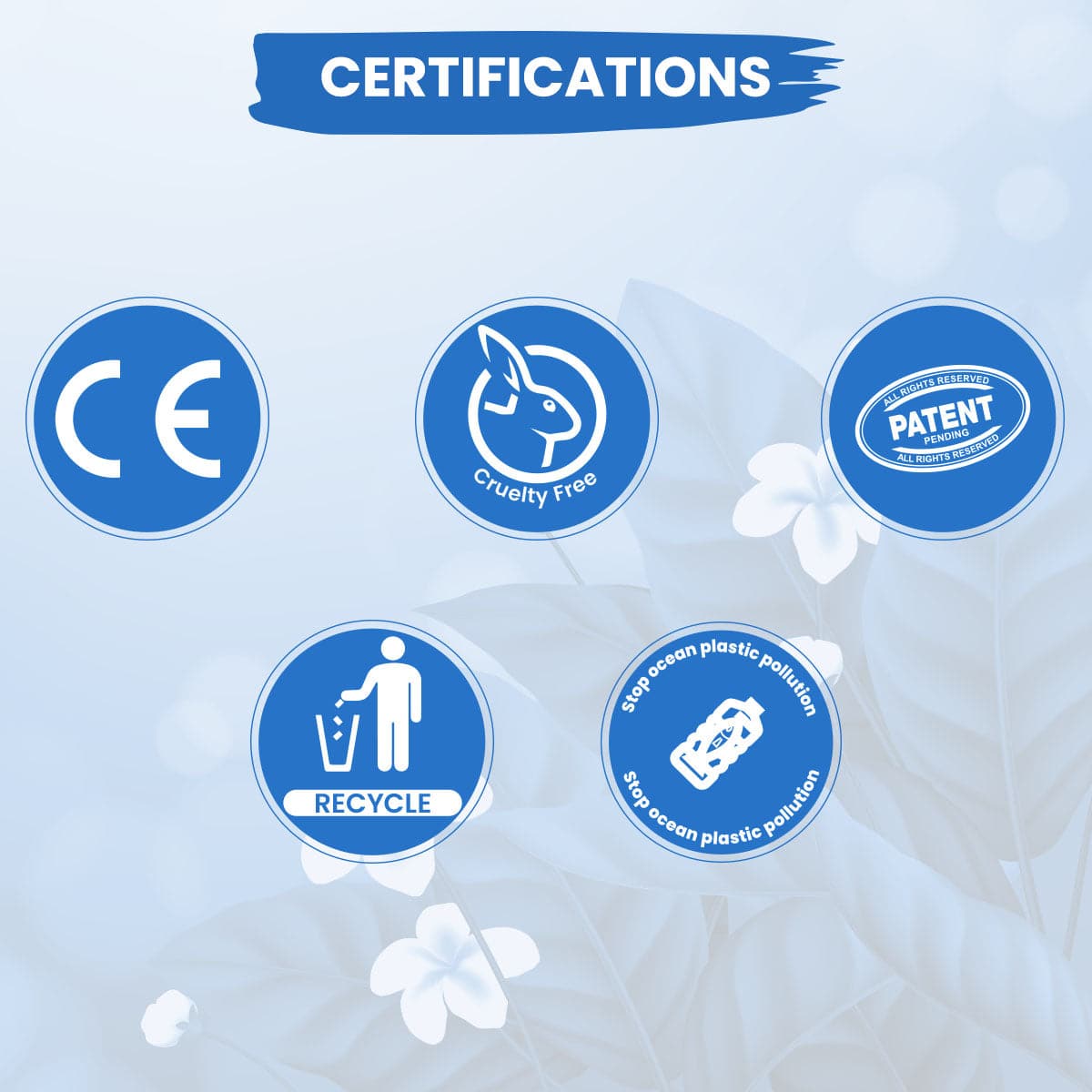 Pigeon Repellent Spray
Ward Off Pigeons Without Harming Them
OFFERS
Get FREE Red AloeVera Multipurpose Gel on prepaid orders above ₹599
Get FREE Nourishing Hydra Gel on prepaid orders above ₹899
Get 20% OFF on orders above ₹999
Get 15% OFF on orders above ₹699
Let's face it! The menace of pigeon droppings is vast and can be a tiresome job to cover up and clean every single day. Homsta has developed an entirely non-toxic and safe Pigeon Repellent Spray based on the Enhanced Bioactivity for Disinfection and Cleansing (EBDC) technology.
Enriched with Lemongrass extracts and Eucalyptus Oil, Clensta Pigeon Repellent is a uniquely formulated solution to ward off Pigeons from their nesting sites without any physical damage. This Pigeon Repellent Spray is backed by clinical trials and saves you against 60 diseases. This one-of-a-kind repellent tends to confuse the Pigeons from re-visiting their usual nesting spots while at the same time ensuring the eradication of microorganisms and germs present in the excretion.
You can use this on all kinds of surfaces, and it will effectively work to reduce the menace of pigeon droppings. To ensure no aviary is harmed, this pigeon repellent spray has revolutionary plant-actives-based ingredients!
Note: This starter pack comprises 500 ml of ready-to-use Pigeon Repellent premix alongside three 25 ml refill bottles of concentrate. If you've finished using the pre-mix, you may use the concentrates effectively by pouring them into your reusable infinity bottle and filling it with tap water. Shake it a few times vigorously, and voila, in an instant, your Pigeon Repellent is ready for use again!
Lemongrass oil, Eucalyptus oil, Alpha Terpinene, Polysorbate 80, Potassium sorbate, Water"
Eucalyptus Oil
Eucalyptus is a natural disinfectant. Due to its antimicrobial properties, eucalyptus oil can destroy bacteria, fungi, and certain viruses in your fabric and clothing.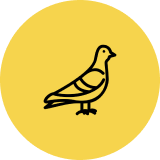 Pigeon Droppings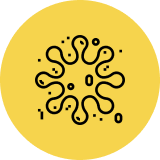 Unclean Surfaces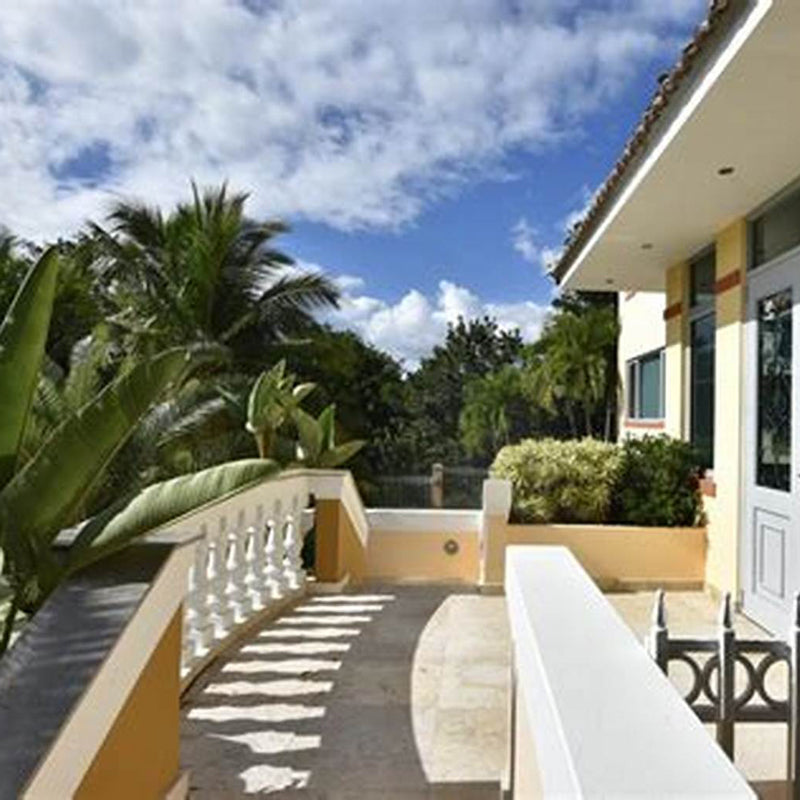 1

Day 1 - Scrape the droppings & wash the area. Post that, spray the solution

2

Day 2 to Day 21 - Scrape the droppings & spray the solution without washing the area

3

Note: Spray till the area is completely wet. Follow the steps for continuous 21 days to completely get rid of pigeons and their droppings
Frequently Asked Questions
In case of eye contact, splash with plenty of water and if the irritation persists, please consult a doctor. Although the product is non toxic, it is advised that you do not swallow it. If you have swallowed it by mistake, immediately consult a doctor.
No, the bottle is designed to leverage specific droplet sizes which would not be compatible with any other spray bottle.
It is advised to use the product as illustrated in the directions stated over the label. It depends on the surface area and the area must be covered with enough sprays to make it wet.
Clensta products have been tried and tested for easy use with all temperatures of water to dissolve the concentrate.
The product is applicable to all the pigeon roosting sites. It will hence give you great results anywhere where there are pigeons.
It is advised to leave the sprayed area until it is dry. Using it at the roosting sites is preferable.
The efficacy of the product lasts for over a month.
2-3 sprays are effective depending on the area or the surface.
The product is equally effective to all kinds of birds but largely concentrated on the pigeon repulsions.
The product is equally effective with any form of water. It doesn't decline on its efficacy rate.
It take time but it work
There is no more pigeon .Though the smell is pleasant enough.
Good product
Good product 👍 , this product is safe ur home by pegions i love this product is very good ok
Usefull buy
I sprayed it on wires and balcony railings and the pigeon it worked .
Effective!
This does help in reducing the pegion nuisance. I'm using this in my floor's duct area where pegions use to literally harass. Since past 1.5 months the nuisance has gone down