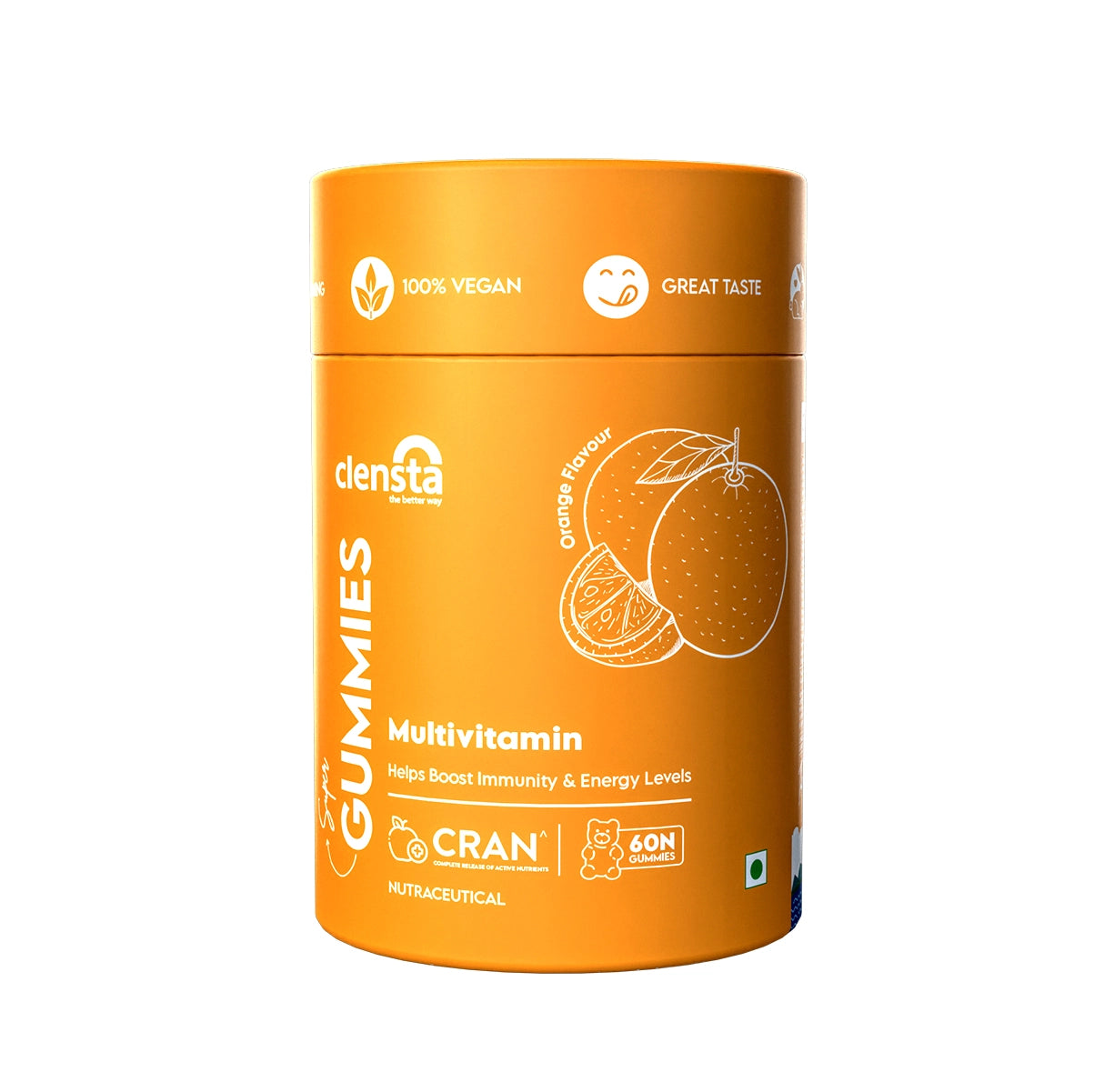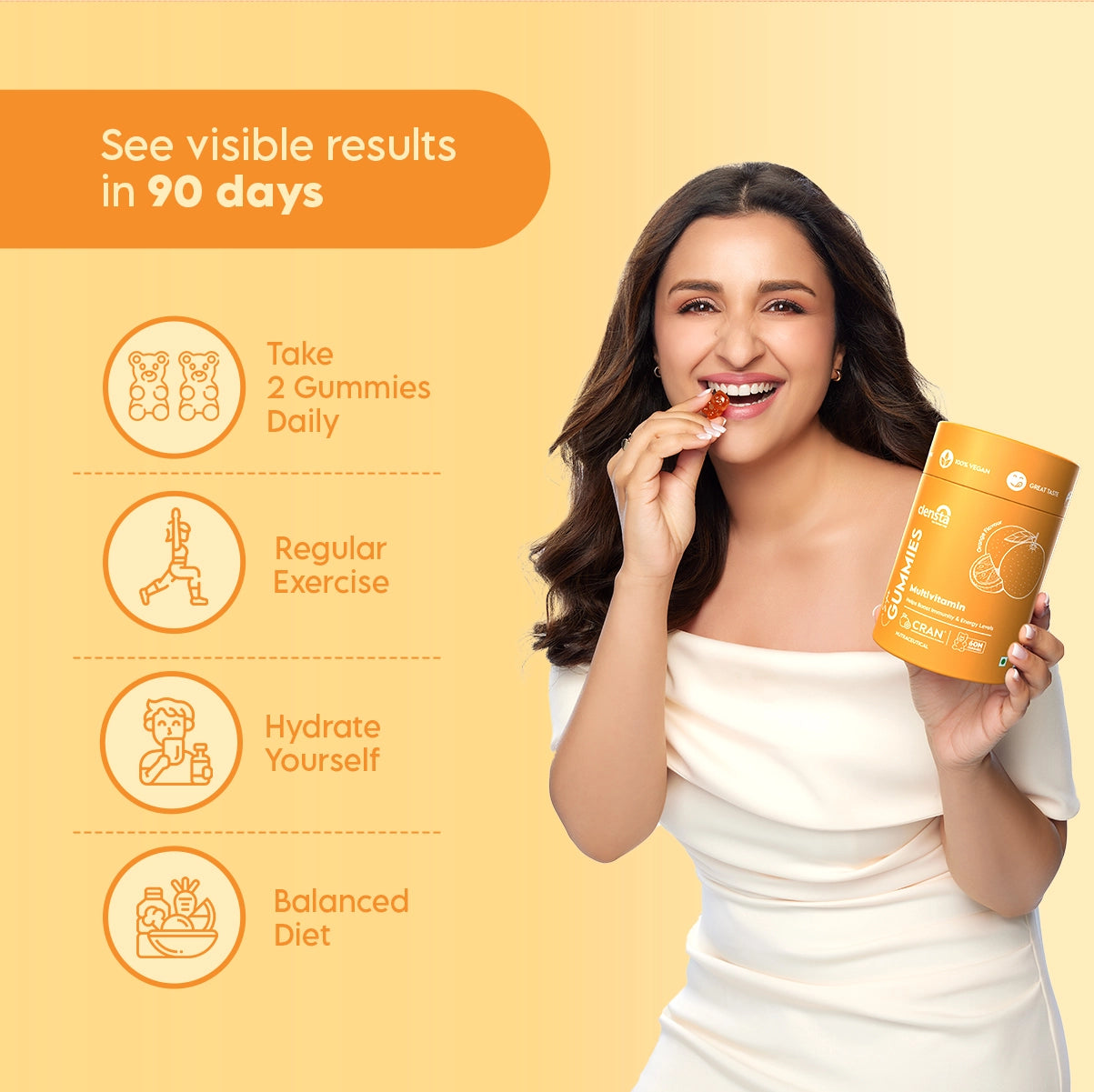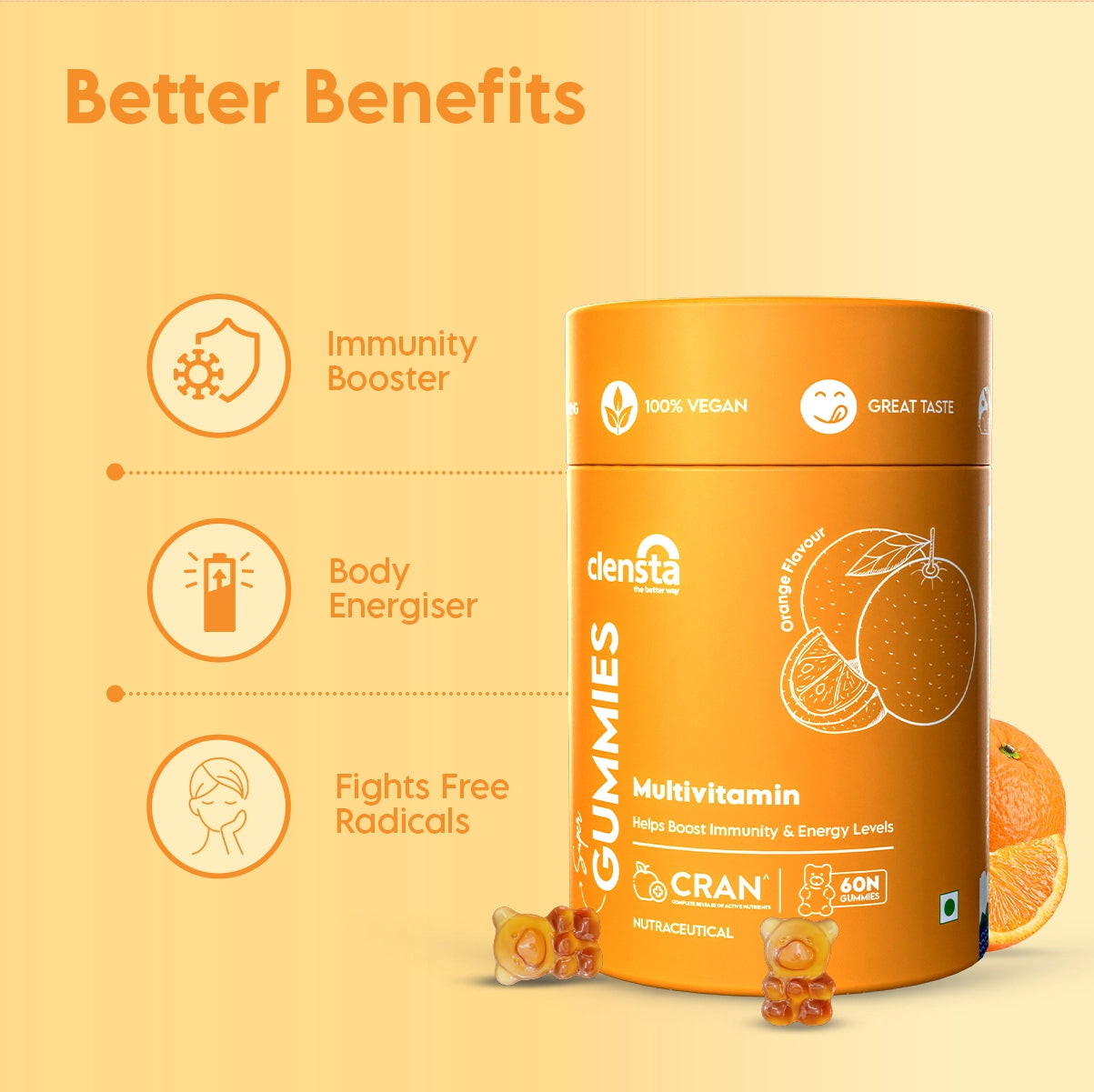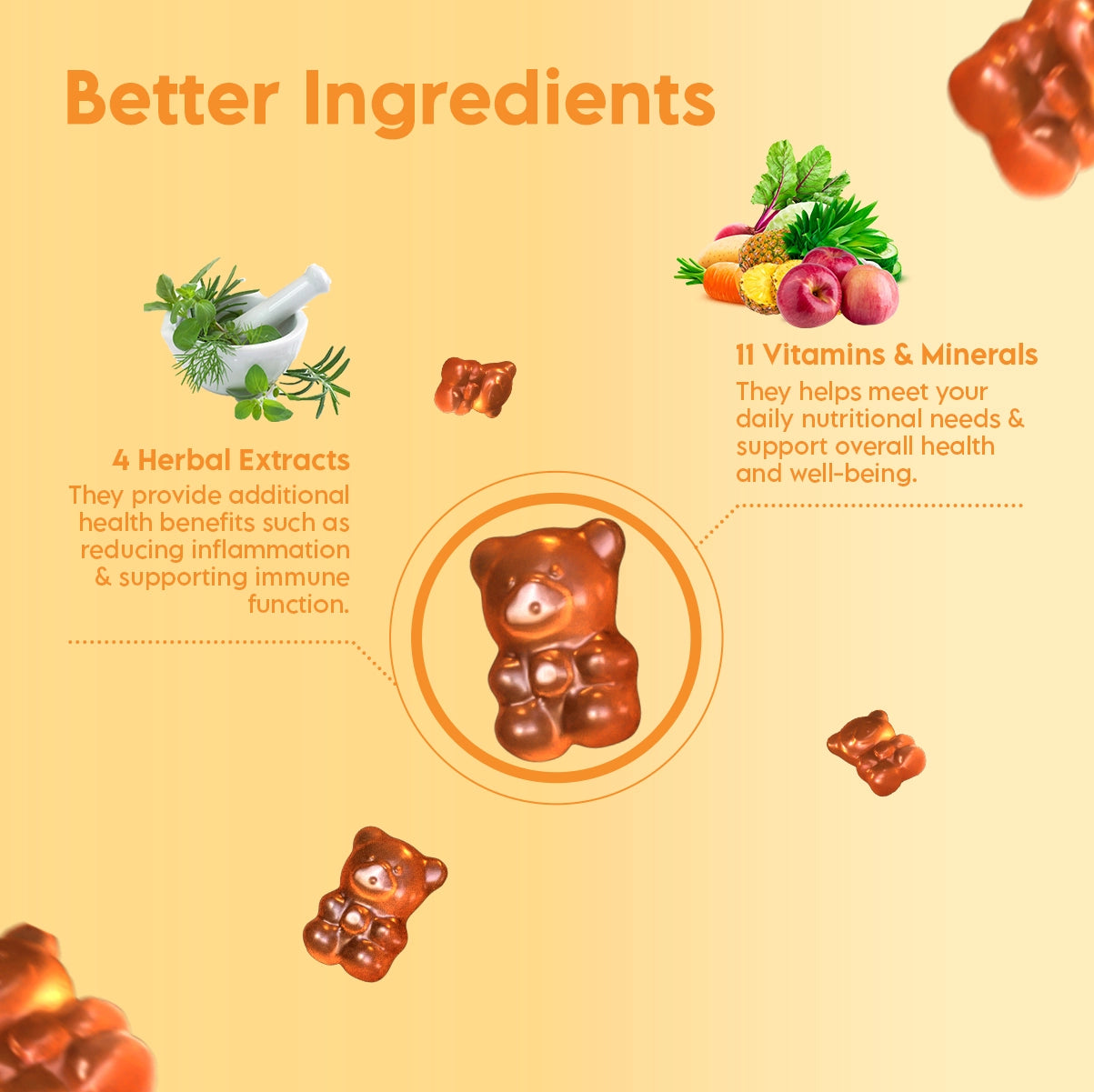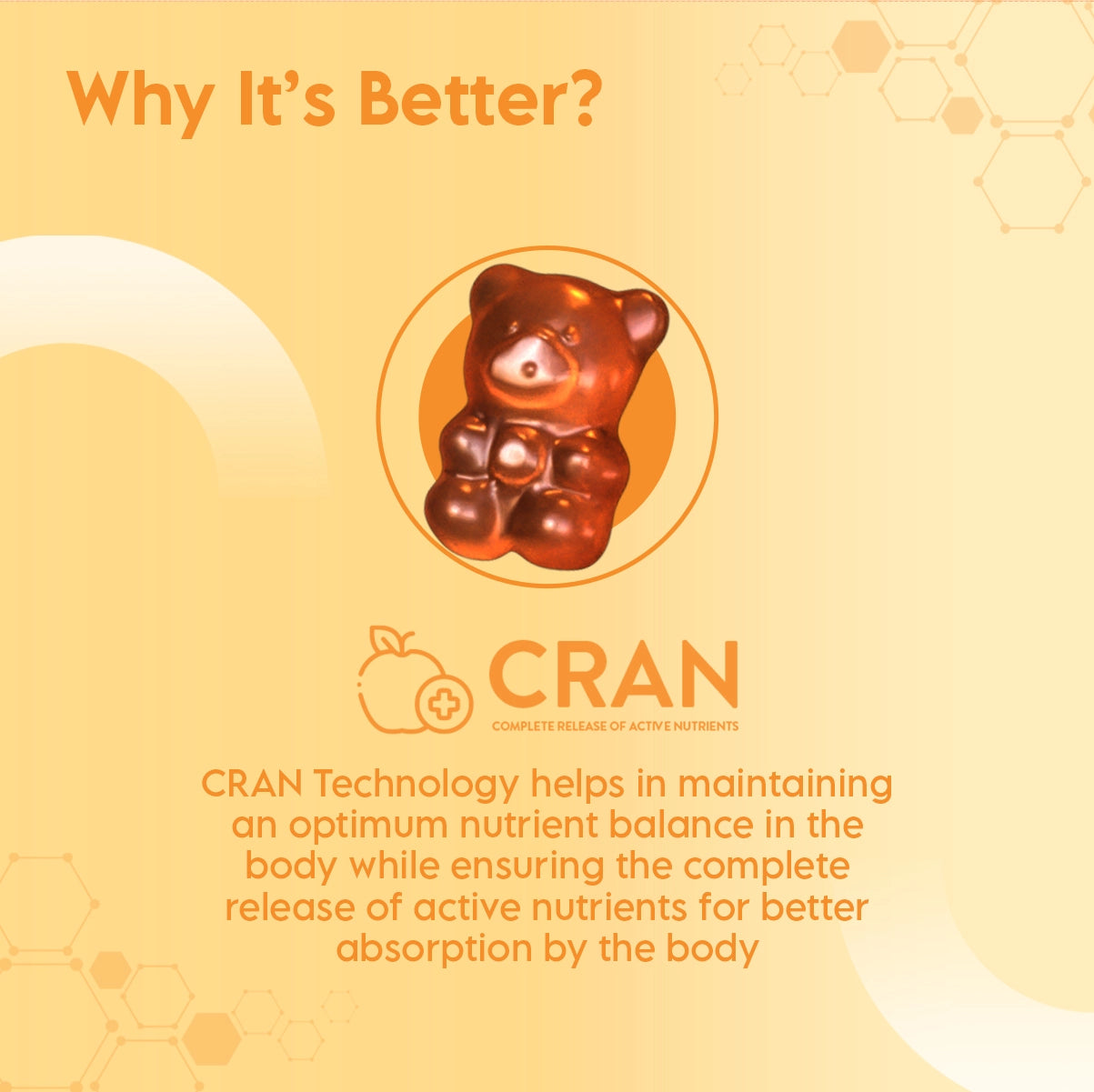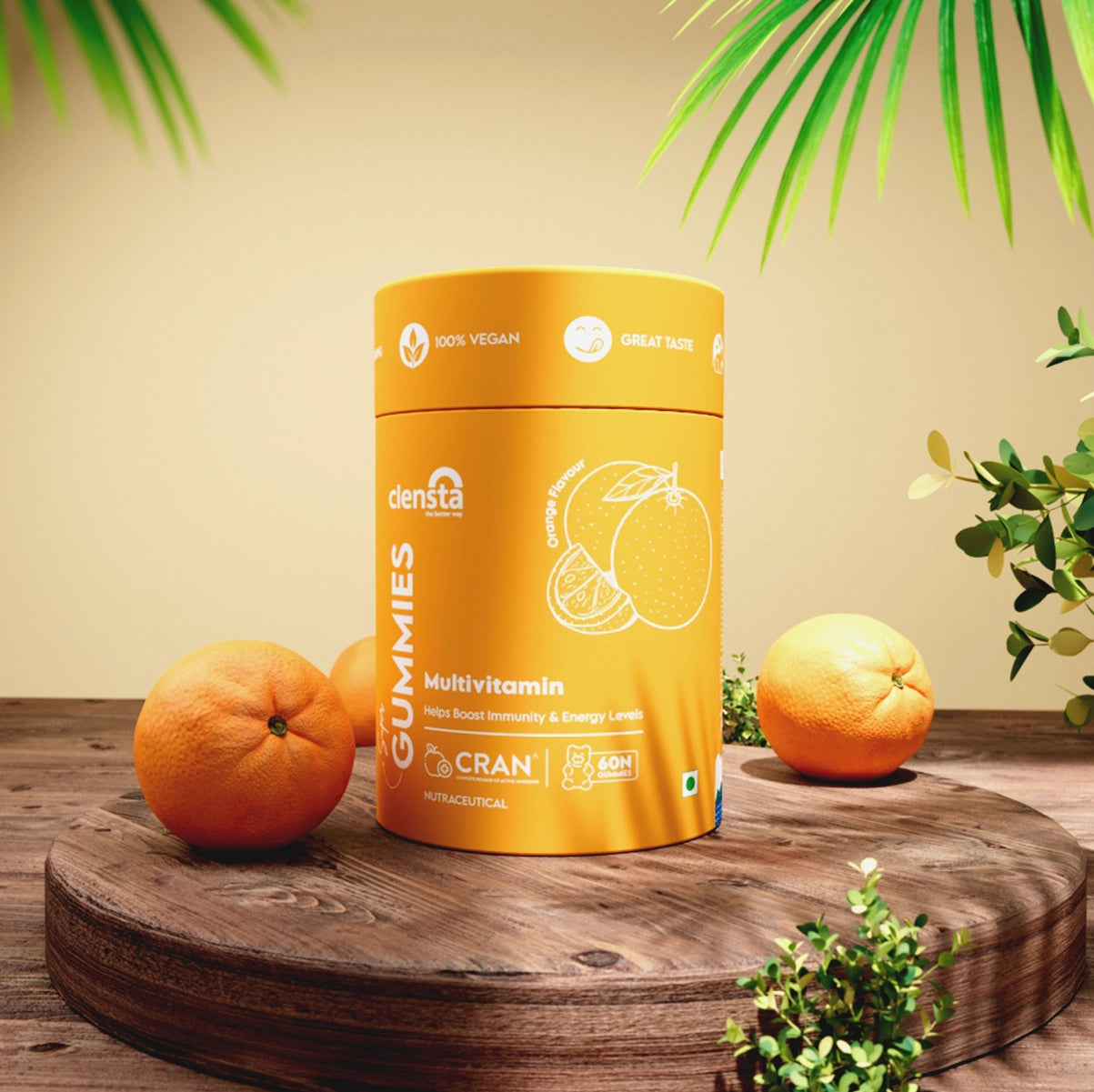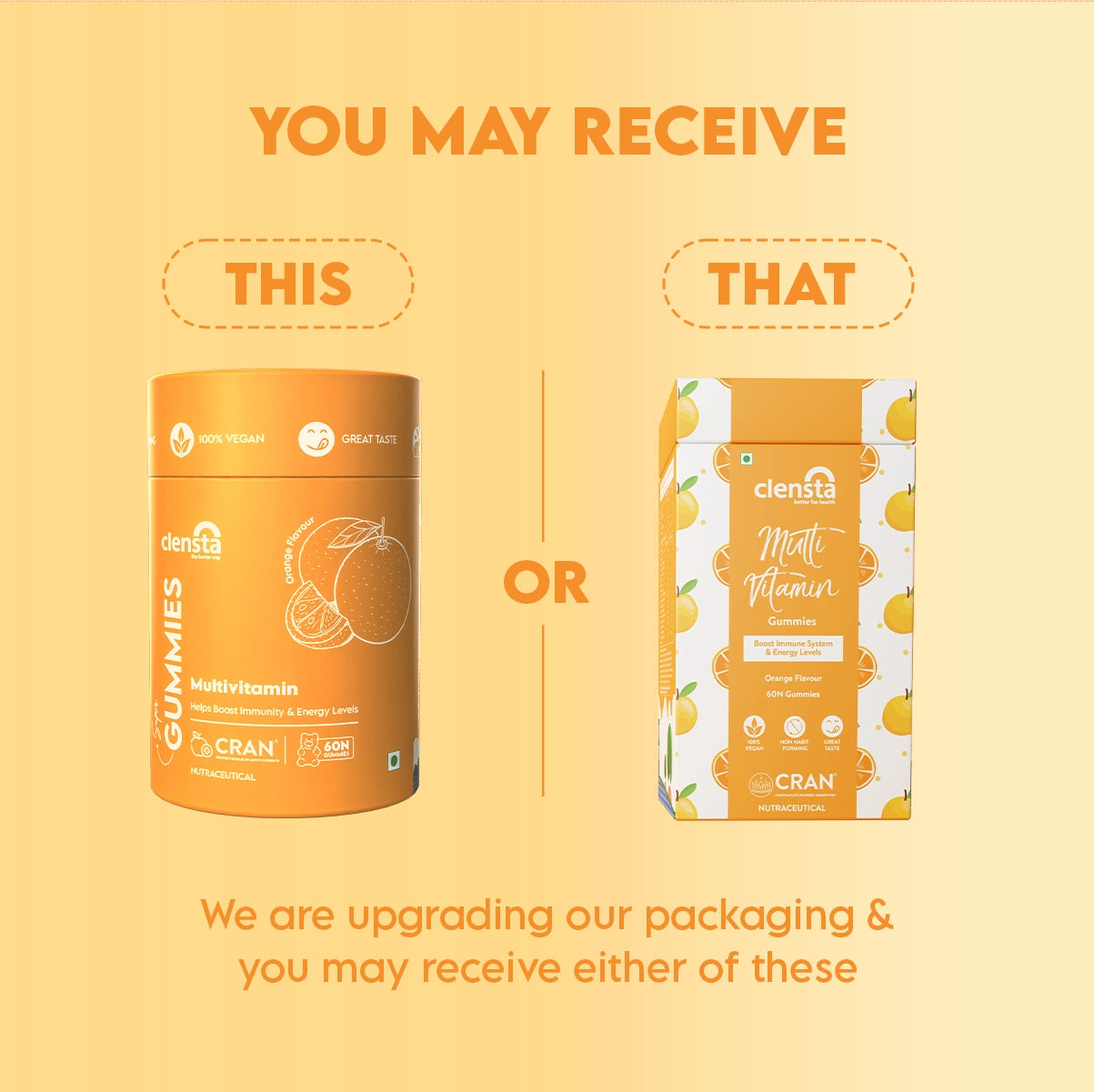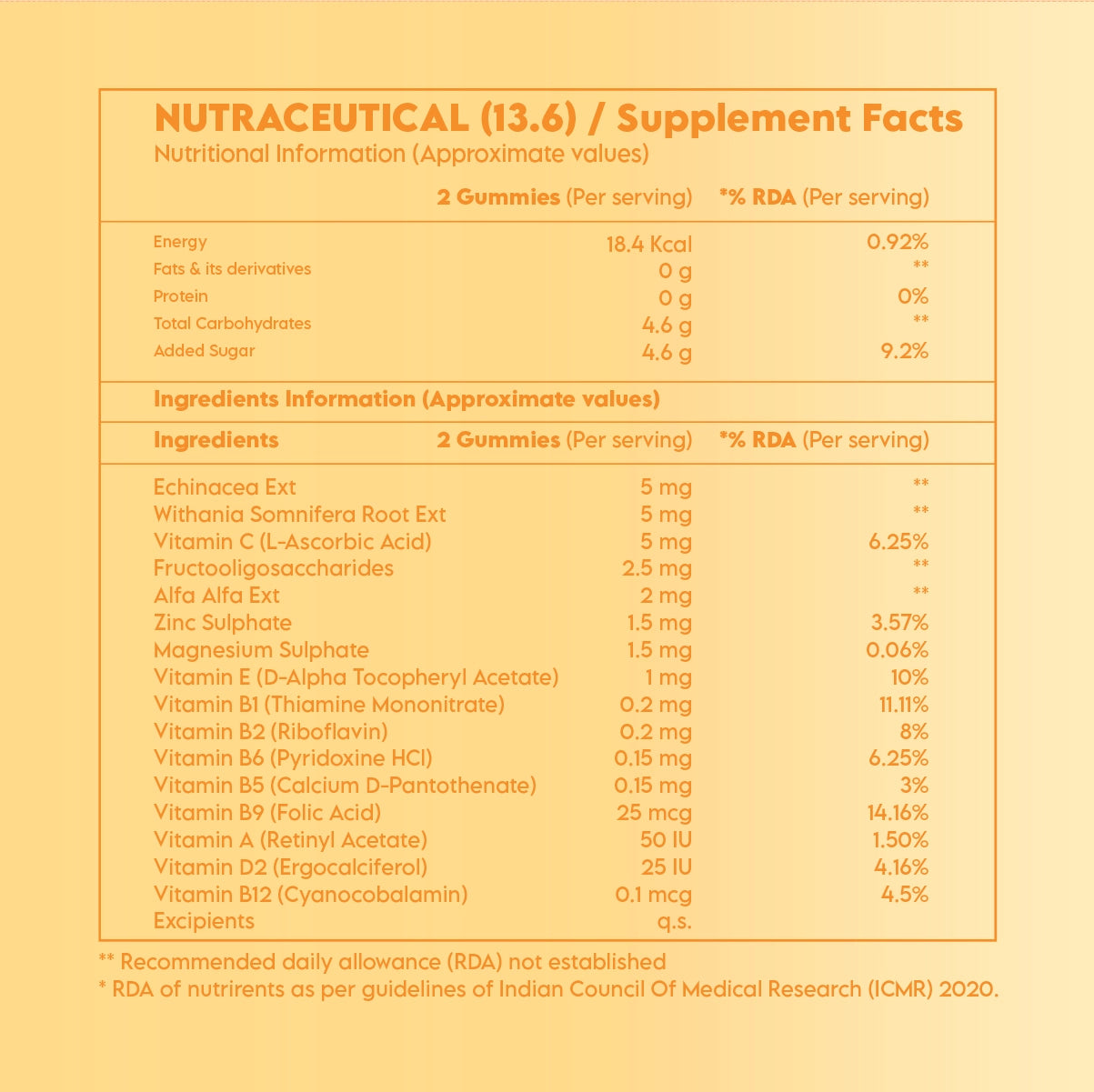 Multi Vitamin Super Gummies
Helps Boost Immunity & Energy Levels
OFFERS
Get FREE Red AloeVera Multipurpose Gel on prepaid orders above ₹599
Get FREE Nourishing Hydra Gel on prepaid orders above ₹899
Get 20% OFF on orders above ₹999
Get 15% OFF on orders above ₹699
Our daily diet is insufficient to fulfil our system's nutritional requirements. The Clensta gummies are made with natural ingredients to boost your daily vitamin intake and energy levels. The consumption of these gummies also strengthens the immune system and helps the system perform optimally.

The various vitamins in these gummies improve eye and skin health, boost immunity, provide energy and protect the cells from free radical damage. Vitamins are essential building blocks of the body that keeps you in good health. These gummies are orange-flavoured and are a delicious way to take control of your nutrition. Start living a healthy lifestyle without artificial sweeteners.

They have many benefits, like improved immunity, a better quality of life, enhanced energy, and maintaining hormonal balance. These gummies improve metabolism that helps you maintain adequate energy levels throughout the day.


Each 5g (approx 2 jelly contains) Echinacea Ext 5mg, Withania Somnifera Root Ext 5 mg, Vitamin C 5 mg(L-Ascorbic Acid), Fructooligosaccharides 2.5 mg, Alfa Alfa Ext 2 mg, Zinc Sulphate 1.5 mg, Magnesium Sulphate 1.5 mg, Vitamin E(D-Alpha Tocopheryl Acetate) 1 mg, Vitamin B1(Thiamine Mononitrate) 0.2 mg, Vitamin B2(Riboflavin) 0.2 mg, Vitamin B6(Pyridoxine) 0.15 mg, Vitamin B5(Calcium D-Pantothenate) 0.15 mg, Vitamin B9 (Folic acid) 25 mcg, Vitamin A(Retinyl Acetate) 50 IU, Vitamin D2(Ergocalciferol) 25 IU, Vitamin B12 (Cyanocobalamin) 0.1 mcg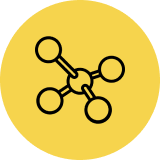 Free Radical Damage

Maintain Hormonal Balance

Immunity Booster

Provides Energy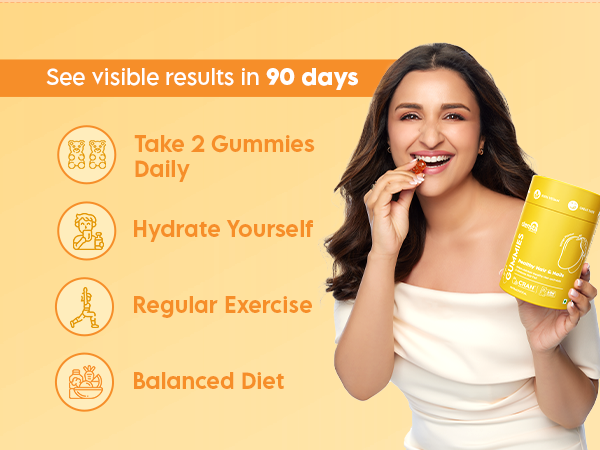 1

Take two gummies (one serving) daily or as directed by your healthcare professional.

2

Disclaimer: Consult a doctor if you're lactating, pregnant or taking any medications. Not to exceed the stated recommended daily usage. This product is not intended to diagnose, treat, cure, or prevent any disease(s).
Tasty and healthy
These gummies have orange flavour and are rich in various supplements like vitamin C, b complex, biotin and a lot more. Kids don't eat a balanced diet hence lack in nutritional value, so having one of these gummies a day helps them maintain their balance The taste is really good. It's great for gut, hair, skin and nails.
Excellent
I buy this Gummies for my father in law, he told me that this Gummies are immunity booster n he said his bone are also not paining n feel energetic even he gave to my mother in law too she also like this gummies they both said that one day two gummies is good many vitamins are there in two gummies so they are stop taking other Gummies of vitamins because they get all in two gummies an easy to sallow must buy this Gummies 👍
Great multivitamin
Amazing product easy to swallow tasty and good product earlier also I have used this productEarlier … and gonna continue it for my family 😊
Good product
Helps to boost your child's immunity.Provides energy.Stronger bones, teeth.Improves eye, skin health.Helps growing child with essential vitamins, minerals and nutrients.Best gummies
Useful Product
Today, in the stampede life of people, they do not pay proper attention to the diet and do not eat everything that is necessary for their body. Multivitamin is necessary to keep myself fit and healthy, my choice is #No1 product in clensta Because it has 23 types of multivitamins and multiminerals essential which takes full care of our body. It contains Vitamin C, E3, B12 and Zinc which supports our immune system. It has many benefits in our daily life that's why we should take clensta Multivitamins & Multiminerals so that we can stay active
Awesome
I found the amazing product from carbamide forte that is multivitamin gummies for immunity, it's taste is awesome. I really liked this .