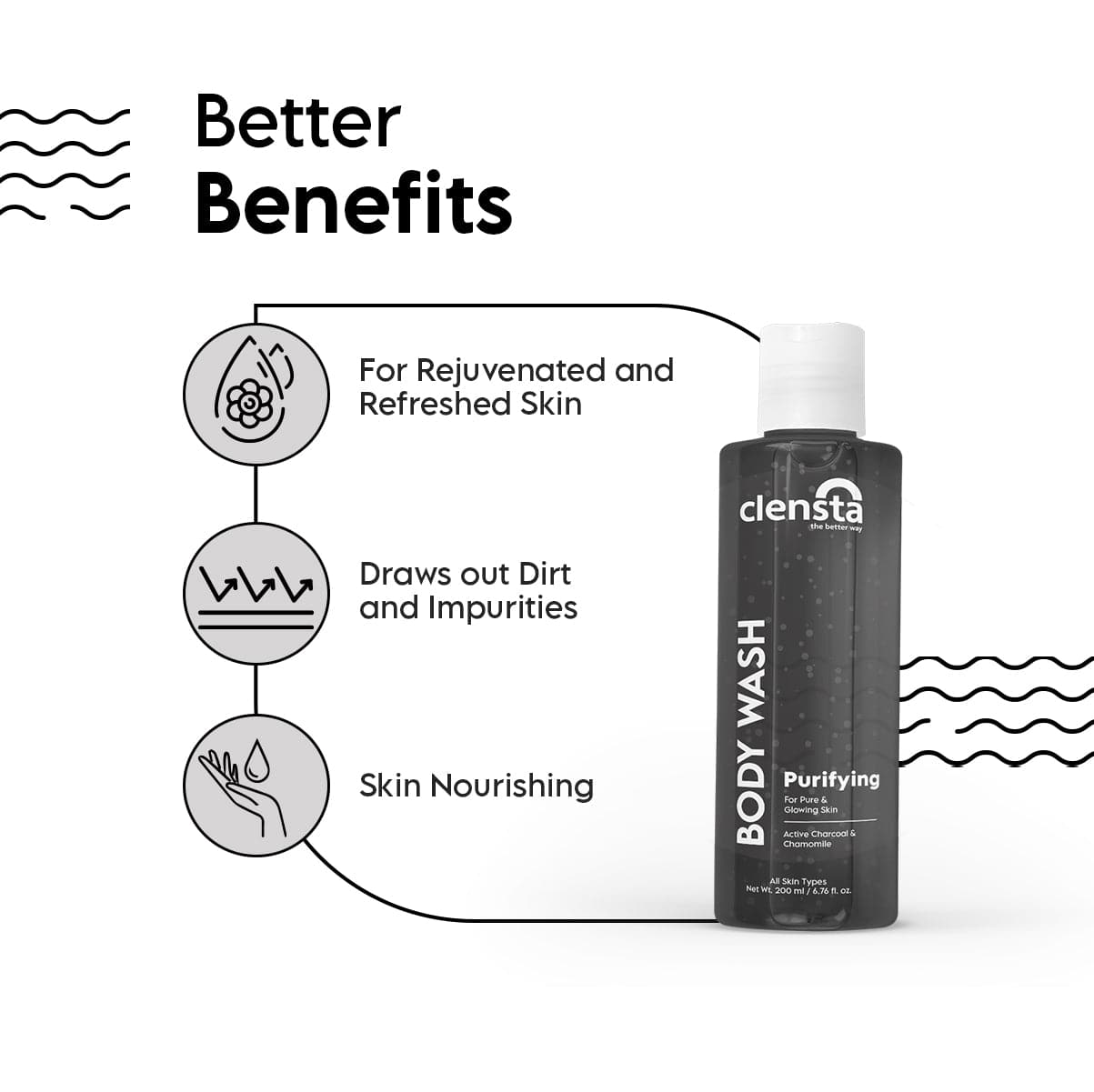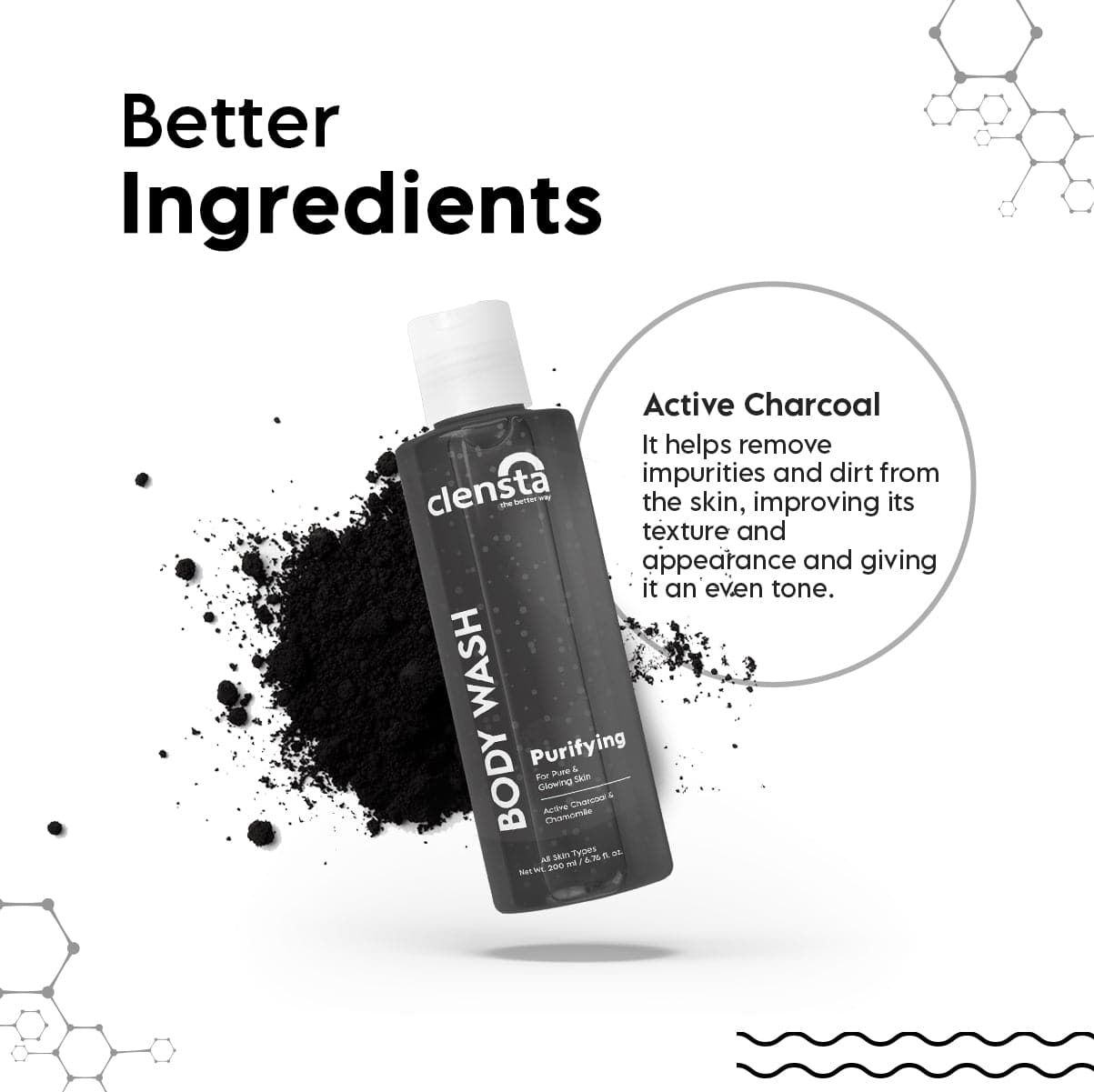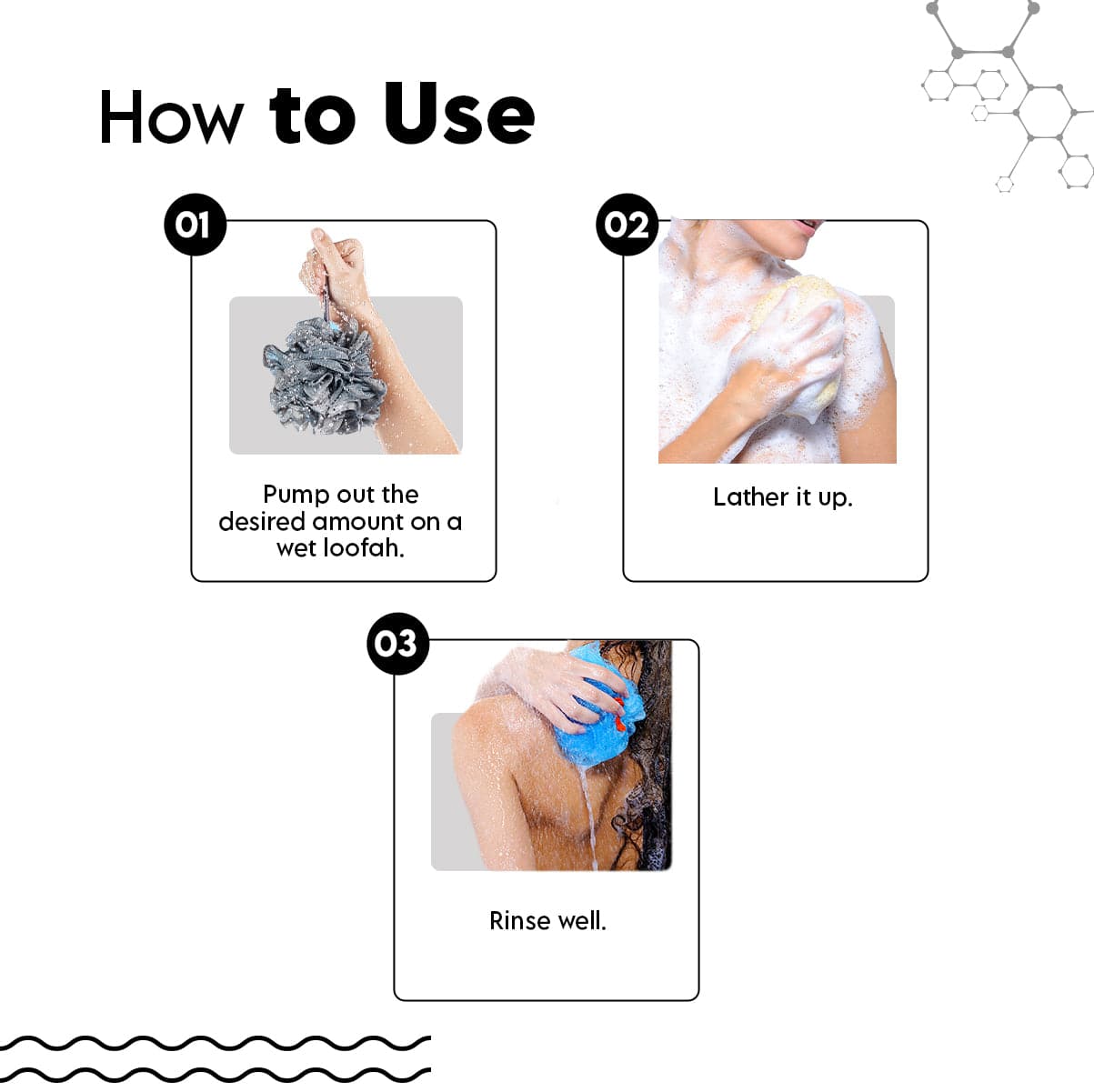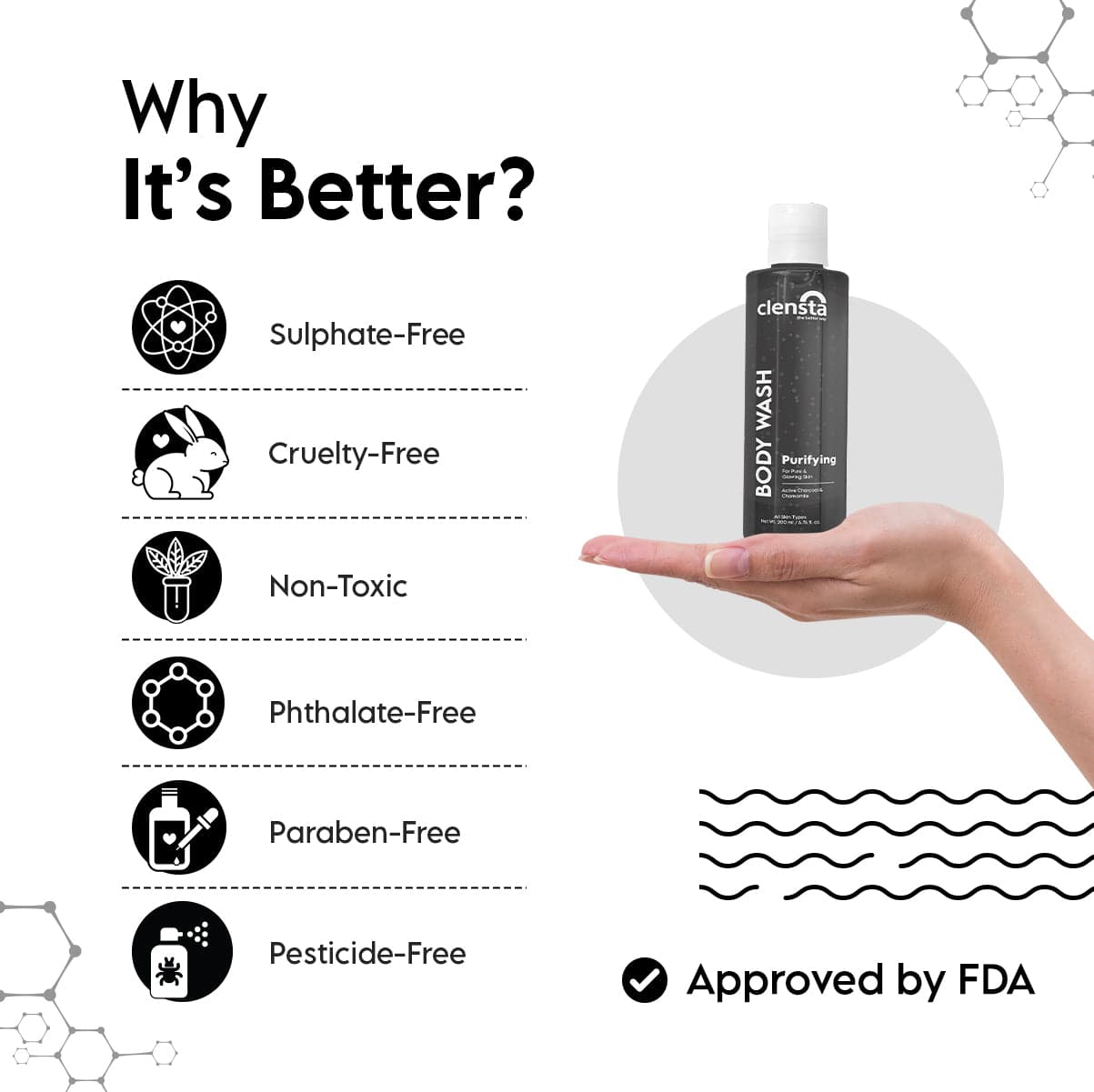 Purifying Body Wash(Pack Of 2)
For Pure and Glowing Skin
OFFERS
Get FREE Red AloeVera Multipurpose Gel on prepaid orders above ₹599
Get FREE Nourishing Hydra Gel on prepaid orders above ₹899
Get 20% OFF on orders above ₹999
Get 15% OFF on orders above ₹699
The Clensta Purifying Body Wash is made with activated charcoal that helps remove impurities and improve the skin's texture. This activated charcoal body wash removes oil, dirt, and other impurities from the skin and rinses off easily to reveal clean and smooth skin.
Use this body wash to give your skin the best detox and freedom from everyday pollution that quickly strikes your skin. The Red Aloe Vera extracts in this body wash deeply exfoliate, cleanse, and detoxify your skin to give you stress-free care and leave your skin feeling fresh. This body wash leaves you feeling refreshed and helps draw out the effects of pollution on your skin. This activated charcoal body washes gently cleanses your body while retaining its natural moisture, keeping it far from rashes and dryness.
It provides germ protection, and long-lasting freshness, and is mild on your skin. Follow this body wash with the Clensta Deodorizing Body Lotion, and your skin will thank you for it.
DM Water, Sodium Lauryl Sarcosinate, CAPB, Decyl Glucoside, CMEA, Charcoal Powder, Polyquaternium 7, Glycerine, Red Aloe Vera Extract, Chamomile Extract, EDTA, Sodium Chloride, Perfume, Colour
Activated Charcoal
It helps remove impurities and dirt from the skin, improving its texture and appearance, and leaving behind an even tone.
Body Odour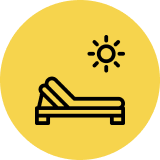 Sun Tan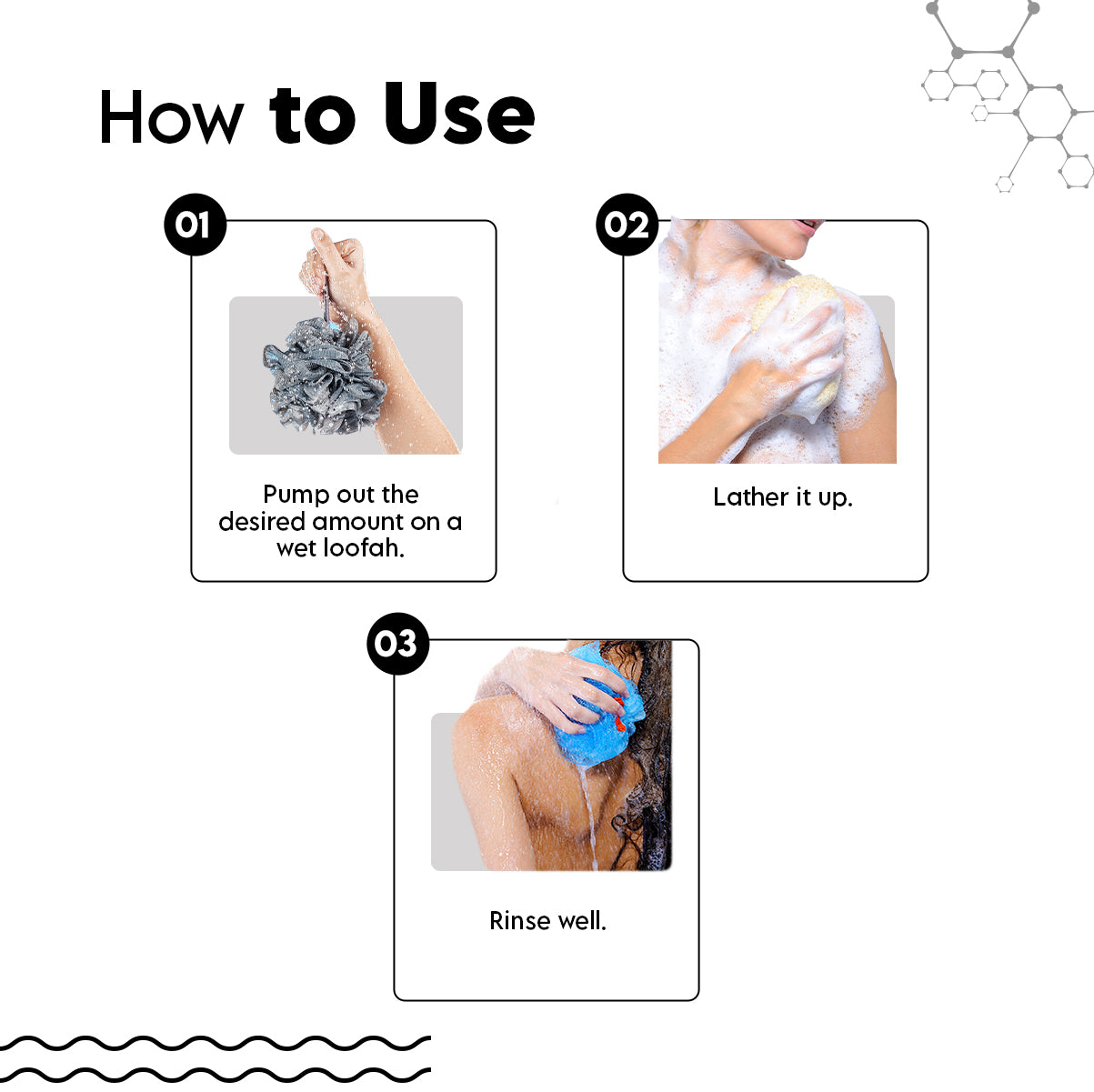 1

Pump out a desired amount on a wet loofah

2

Lather it up

3

Rinse well
Nice Fragrance
Love the fragrance, it comes in very good packaging, original product. After 1 month if use m posting this review. Don't make skin dry. It conditioning skin
ABSOLUTELY AMAZING
Okay, This is one of the best shower gels out there. The aroma and everything is absolutely sensational. I love the relaxing and soothing effects that it gives. Its a must buy. Thank you so much Clensta for delivering it in a good package.
Satisfied customer ♥️💫
Go for it ❤️ very good scent.... long-lasting ♥️
Good showergel for everyone
I was using this gel since longtime it not only moisturising my skin but also increased my tone. Thank you Clensta for this amazing product