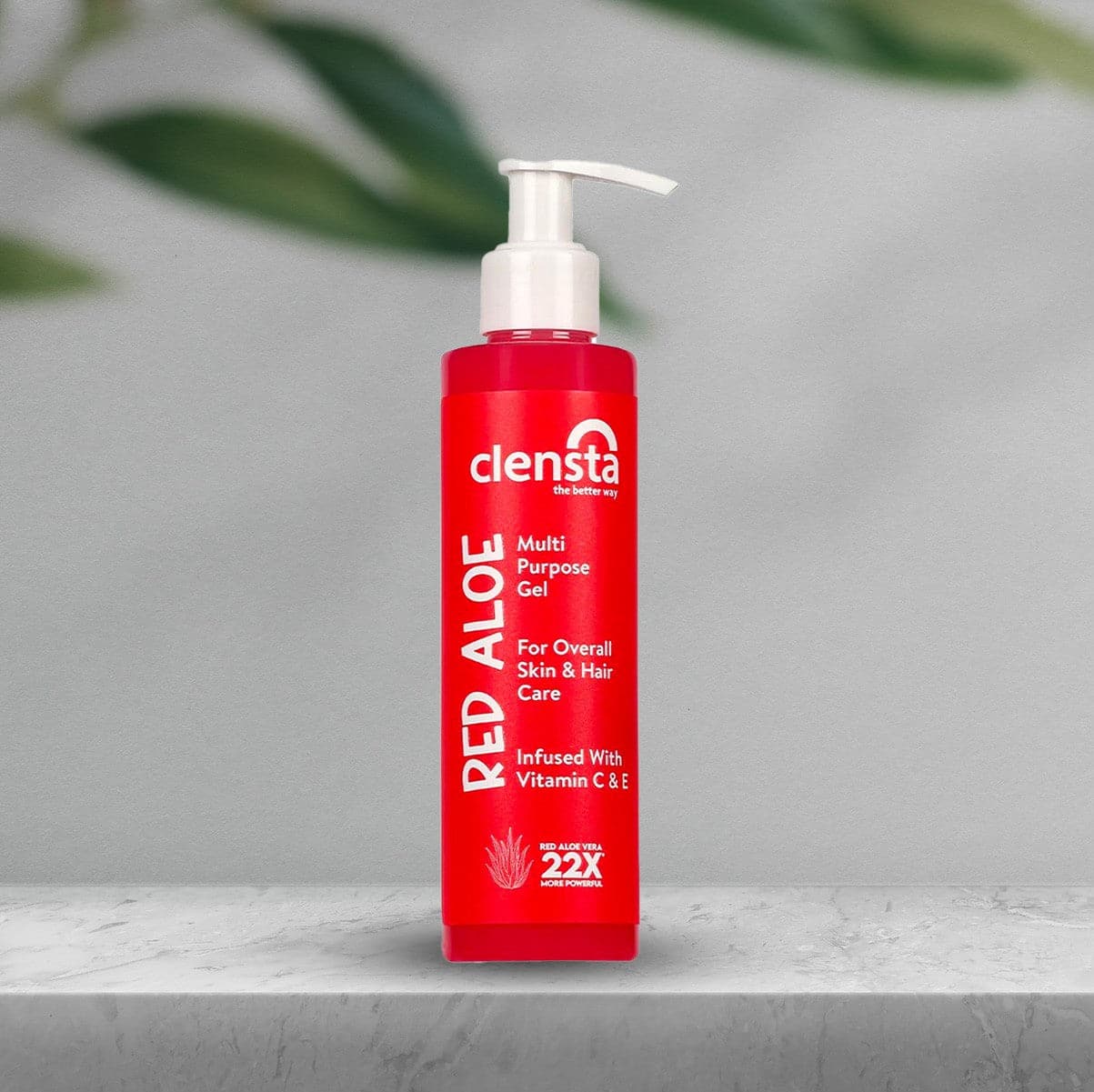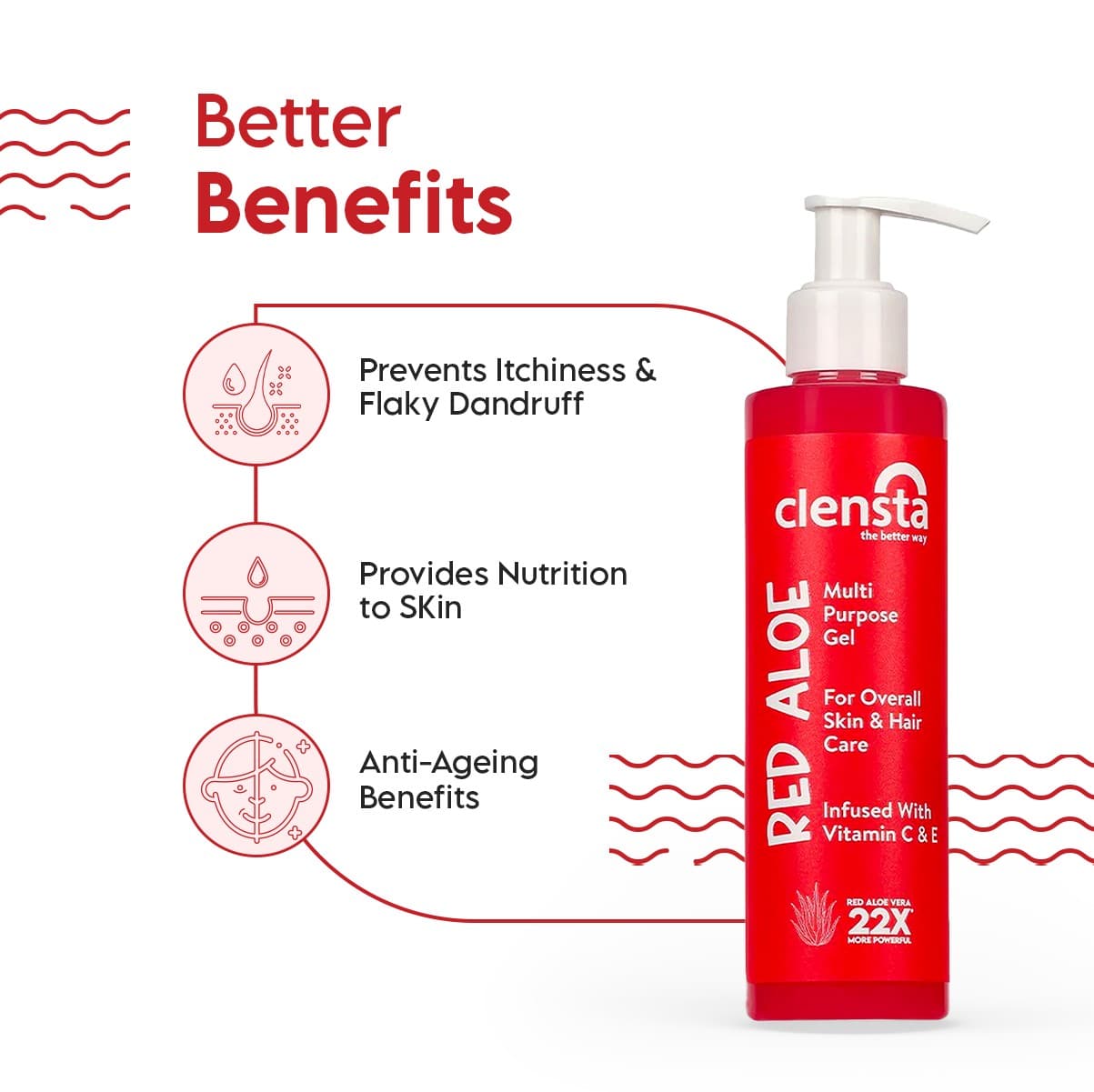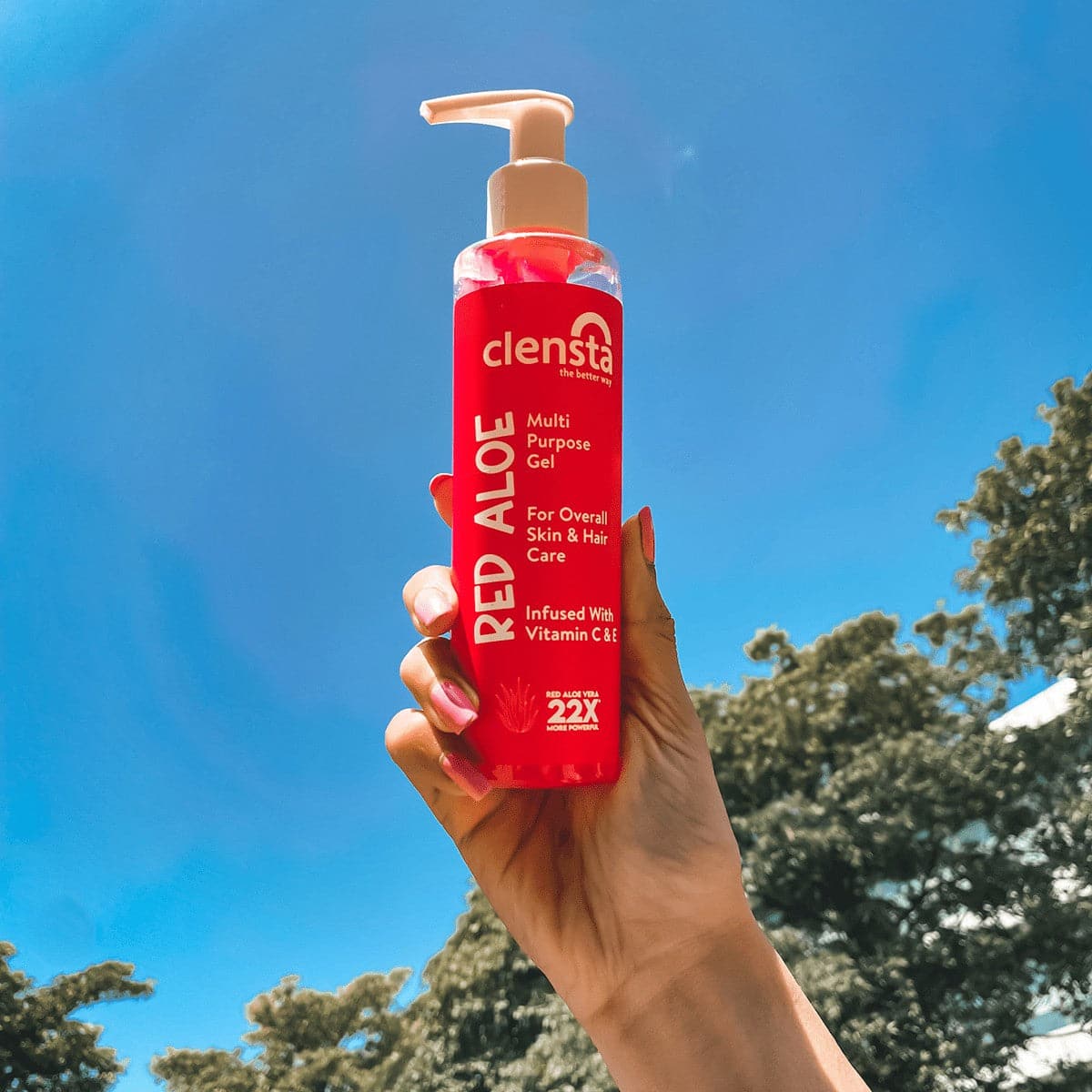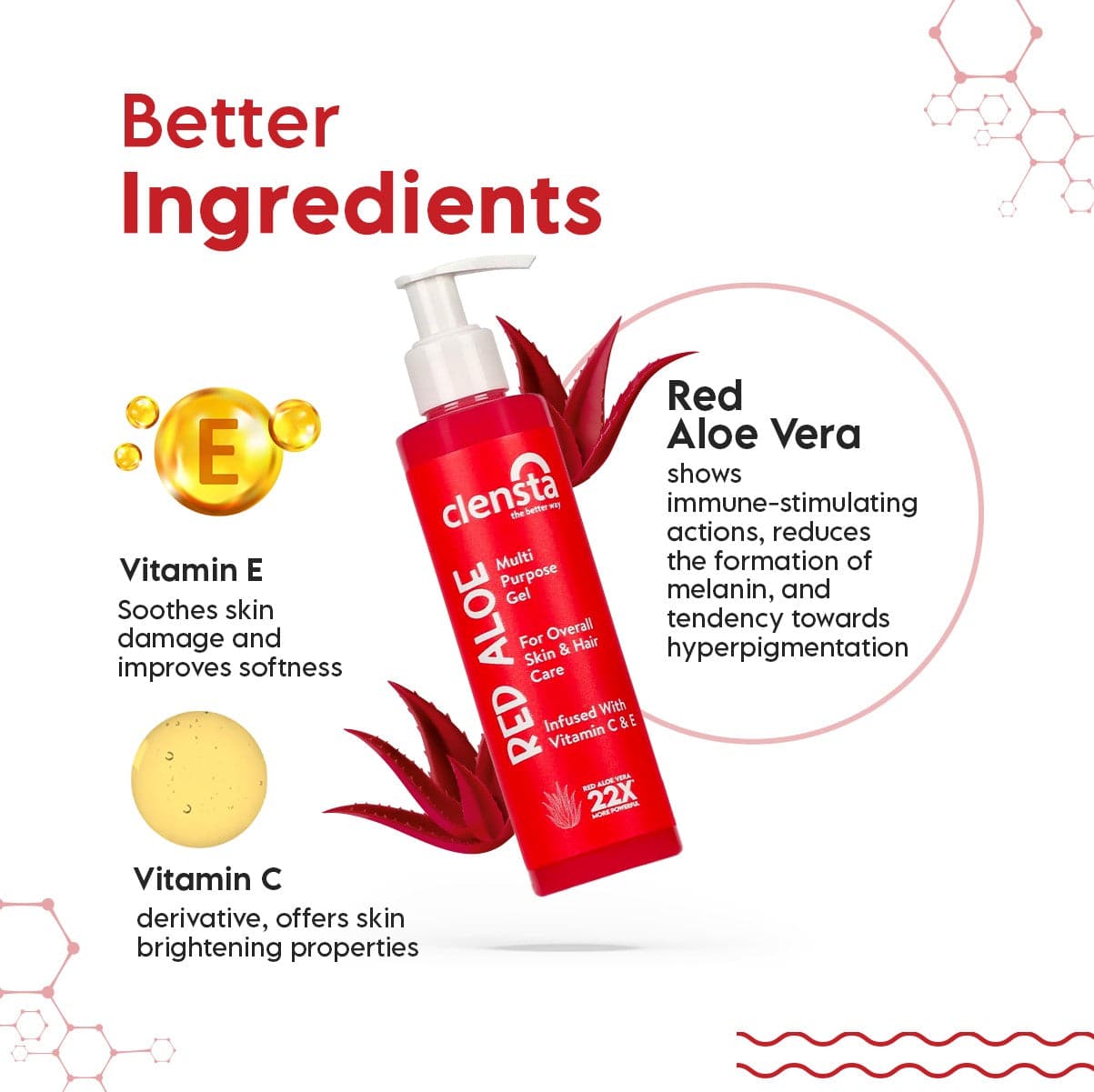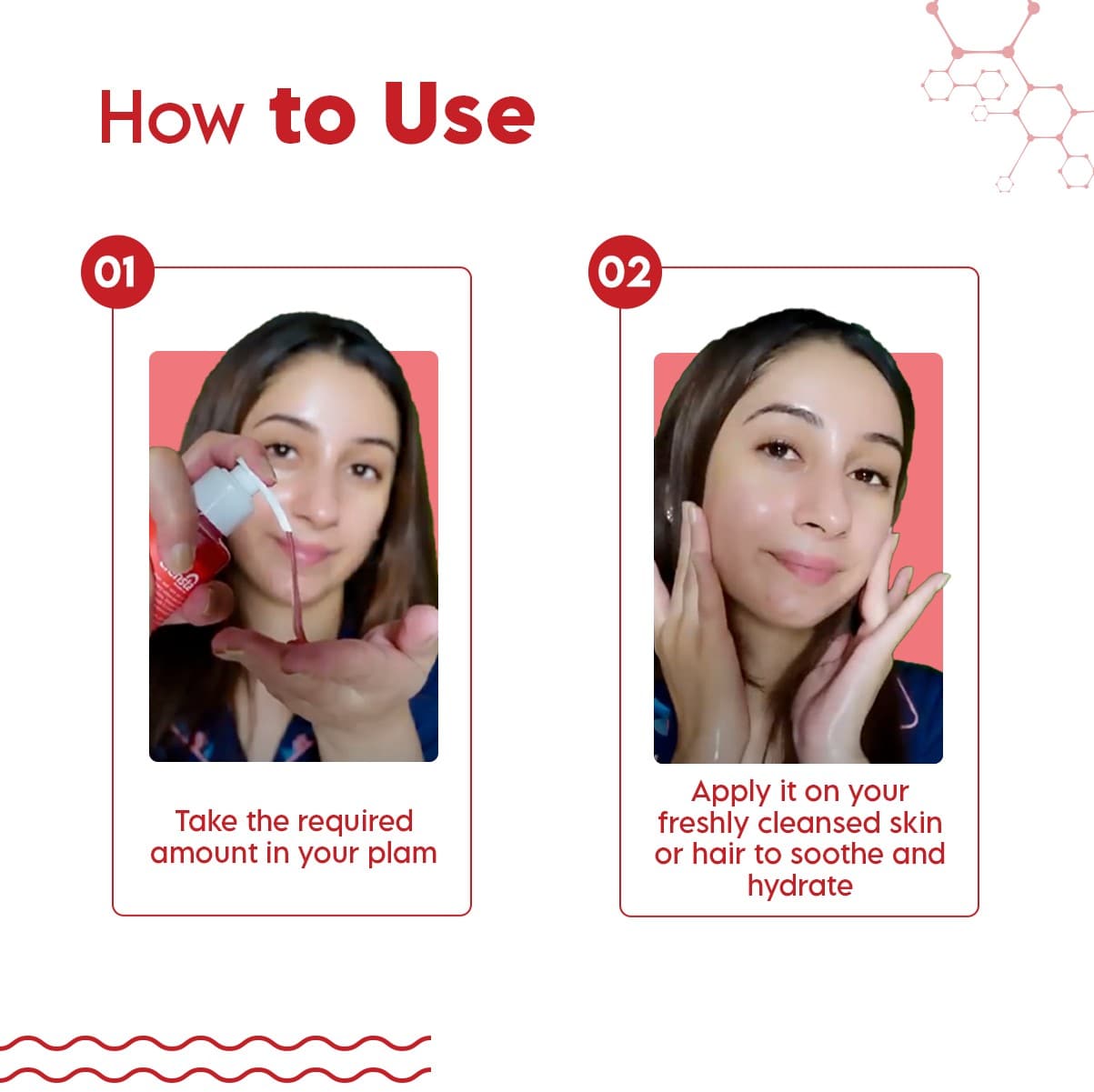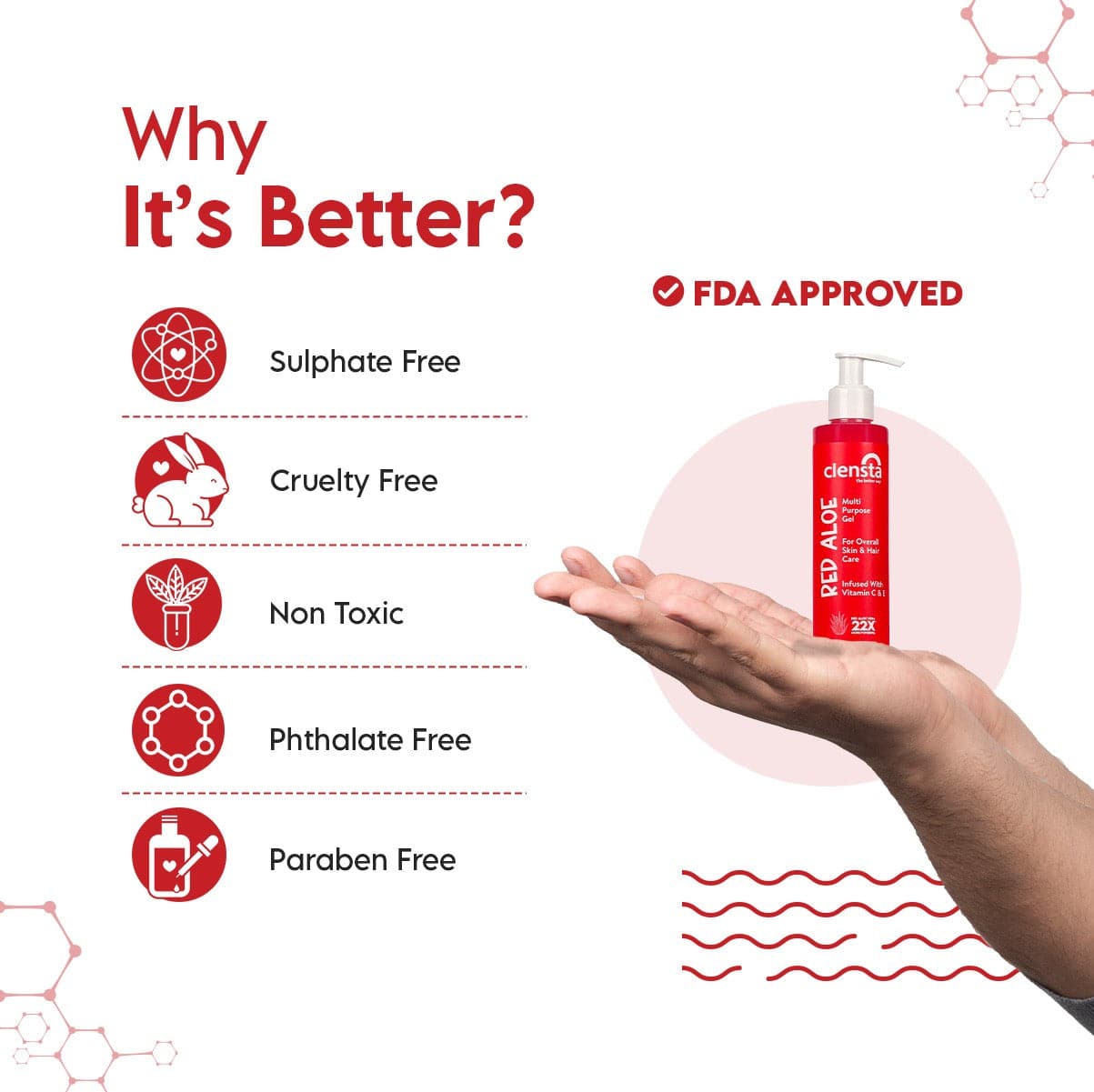 Red Aloe Vera Multi Purpose Gel
For Overall Skin and Hair Care
OFFERS
Get FREE Red AloeVera Multipurpose Gel on prepaid orders above ₹599
Get FREE Nourishing Hydra Gel on prepaid orders above ₹899
Get 20% OFF on orders above ₹999
Get 15% OFF on orders above ₹699
Red Aloe Vera is known for its skin-relieving and relaxing properties. This Red Aloe Vera multipurpose gel hydrates your skin to give you long-lasting hydration that lasts all day. This gel is infused with Vitamin C and E. While Vitamin C improves wrinkles and overall skin appearance, Vitamin E reduces sun damage to the skin. This gel provides intense, long-lasting hydration to your skin and can also be used on your hair to give you smoother, frizz-free hair. The Red Aloe Vera gel agents soothe the itchiness, making hair strong and shiny. The gel also aids in preventing a flaky scalp. You can use this gel on your face for an even skin tone and reduction in dark circles, acne, dark spots, and pimples. Use it on your hair for strong, shiny, and dandruff-free hair. You can also leave it in your hair for shinier and healthier hair!
DM Water, Acrylates/C10-30 Alkyl acrylate crosspolymer, Glycerine, Red Aloevera Extract, Propylene glycol, Butylene glycol, Vitamin E, Niacinamide, Phenoxyethanol, Perfume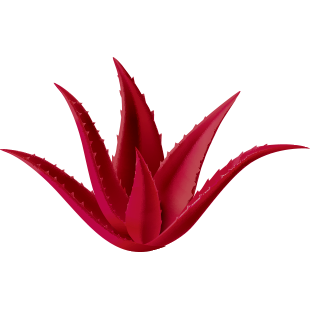 Red Aloe Vera
Red Aloe Vera shows immune-stimulating actions, reduces
the formation of melanin, and tendency towards hyperpigmentation. Therefore, it
nourishes dry skin and hair, making it smoother and livelier.
Vitamin C
Vitamin C protects the cells and keeps them healthy. It promotes collagen production and protects against sun damage. It hydrates and brightens the skin.
Vitamin E
Vitamin E protects against sun damage and nourishes and protects the skin from damage caused by free radicals.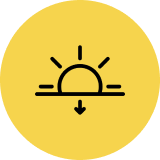 Dull Skin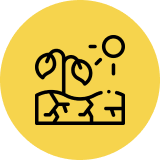 Dry Skin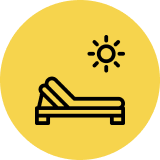 Sun Tan
Skin Ageing
1

Take the required amount in your palm

2

Apply it on your freshly cleansed skin or hair to soothe and hydrate
Frequently Asked Questions
You can safely use the Clensta Red Aloe Multipurpose Gel twice daily.
Red Aloe Vera has multiple benefits for your skin. You can use it anywhere you want on your body.
The Clensta Red Aloe Multipurpose Gel is infused with Red Aloe Vera, Vitamin C, and Vitamin E. It is non-comedogenic and anti-inflammatory in nature.
All Clensta products are formulated to be safe and effective for both men and women.
Red Aloe Vera has a high water content which hydrates and moisturises oily skin without making it greasy or oily.
Red Aloe Vera has multiple properties that make it an effective bacteria killer and useful for acne treatment. It also helps keep skin supple and moisturised that works on blemishes, dullness, and pigmentation.
Amazing product
This aloevera is really amazing. It is light weight gel. This aloevera gel is best alternative for natural aloe vera plant
awesome product
I am liking the product i am using since 4 month this is my 2nd bottle i use this daily for my skin suitable for me and liking the quality as well go for it give try once
This organic aloevera gel is amazing! ✨
Excellent product!! 💯I loved the soothing and moisturising effect that it leaves on my skin! Totally worth a buy! I've been using it for past few days and i really love it! It's soo natural!Sulphate and paraben free formula! Best for any skin and hair problems. ✨
Great aloe Vera
The aloe Vera gel is so smooth for the skin and hair . It gives a shiny texture to the hair and hair becomes less frizzy
Pure
Pure aloevera gel ..one of the best in the market ...love it ❤️
Amazing
Very nice product, my skin became much better after using this gel n face wash