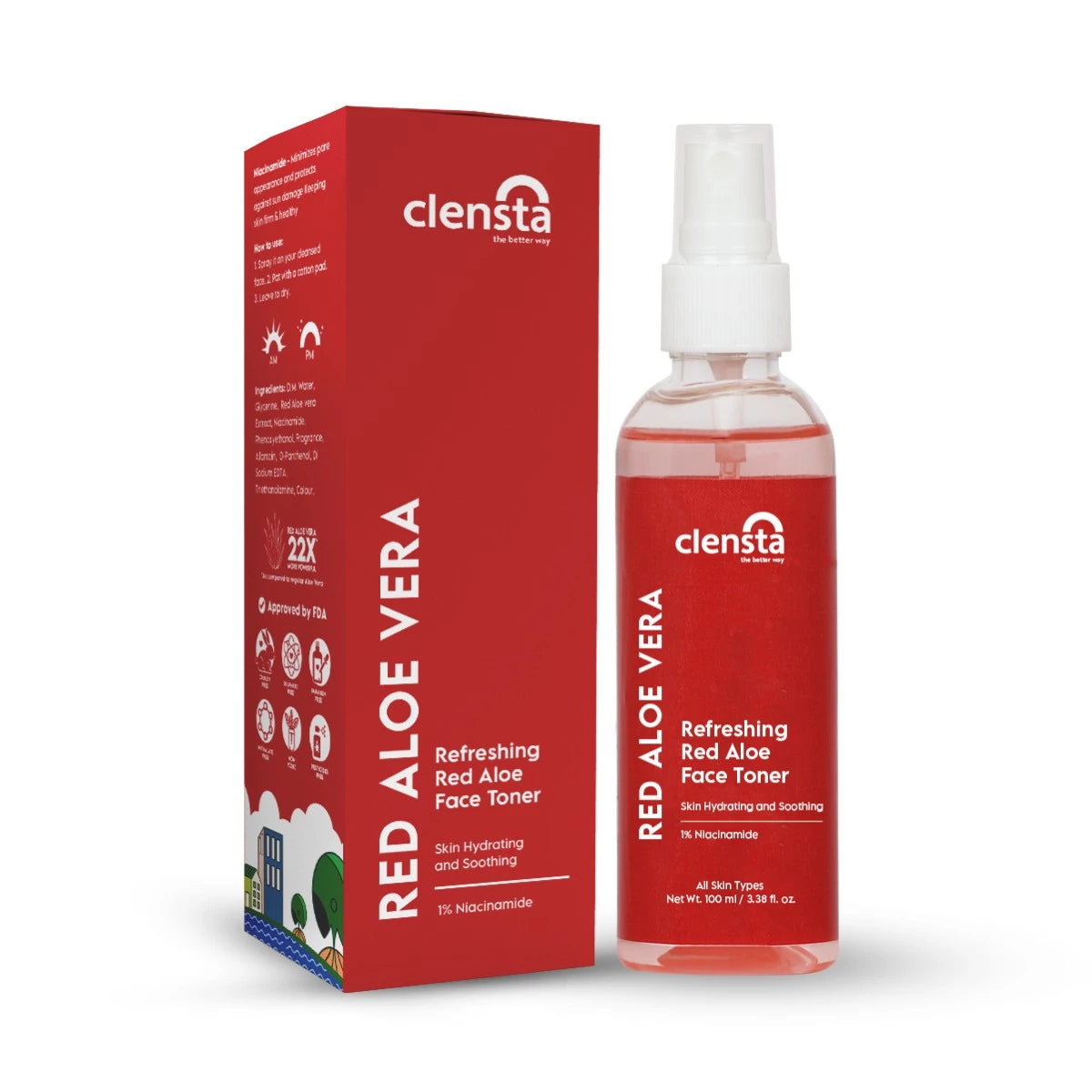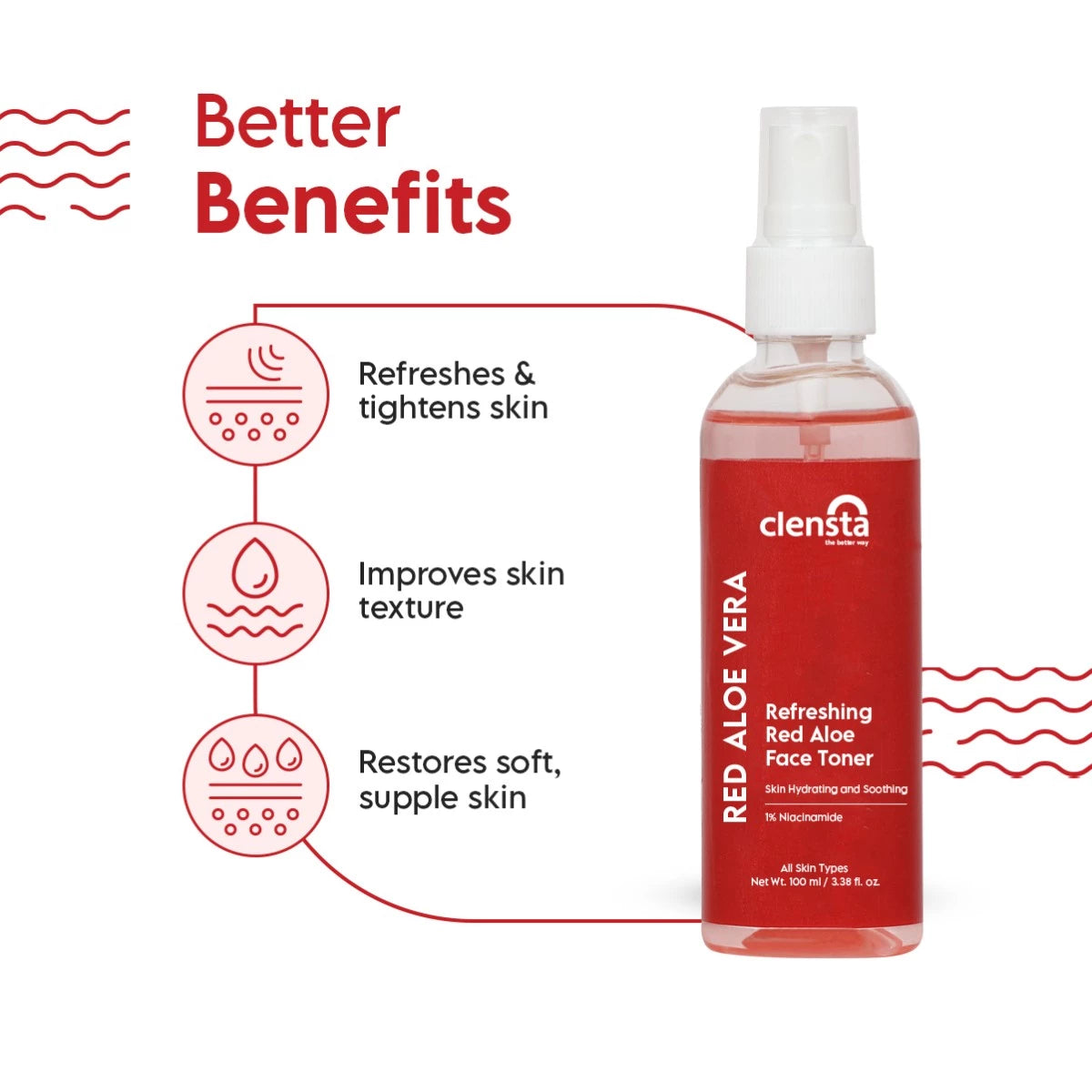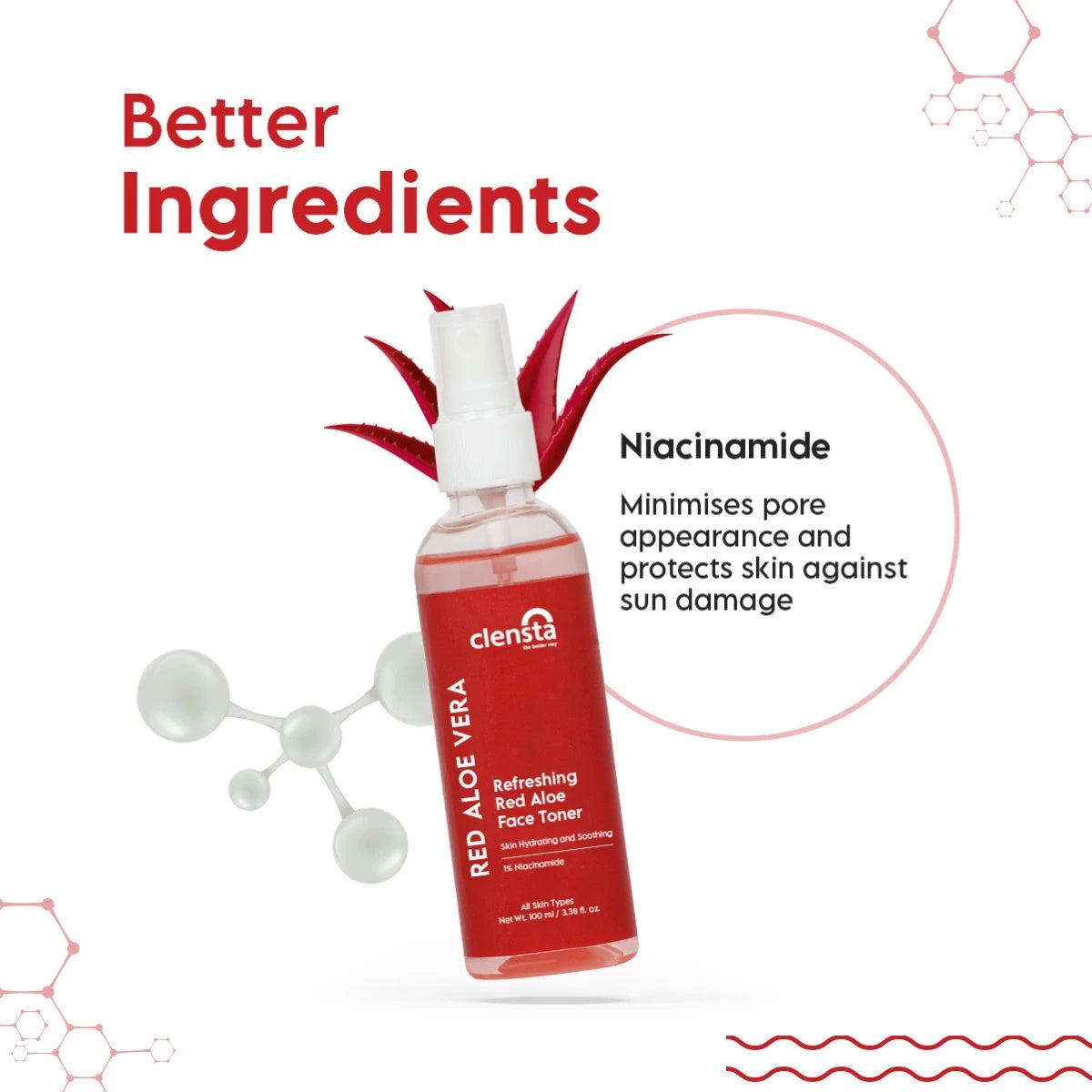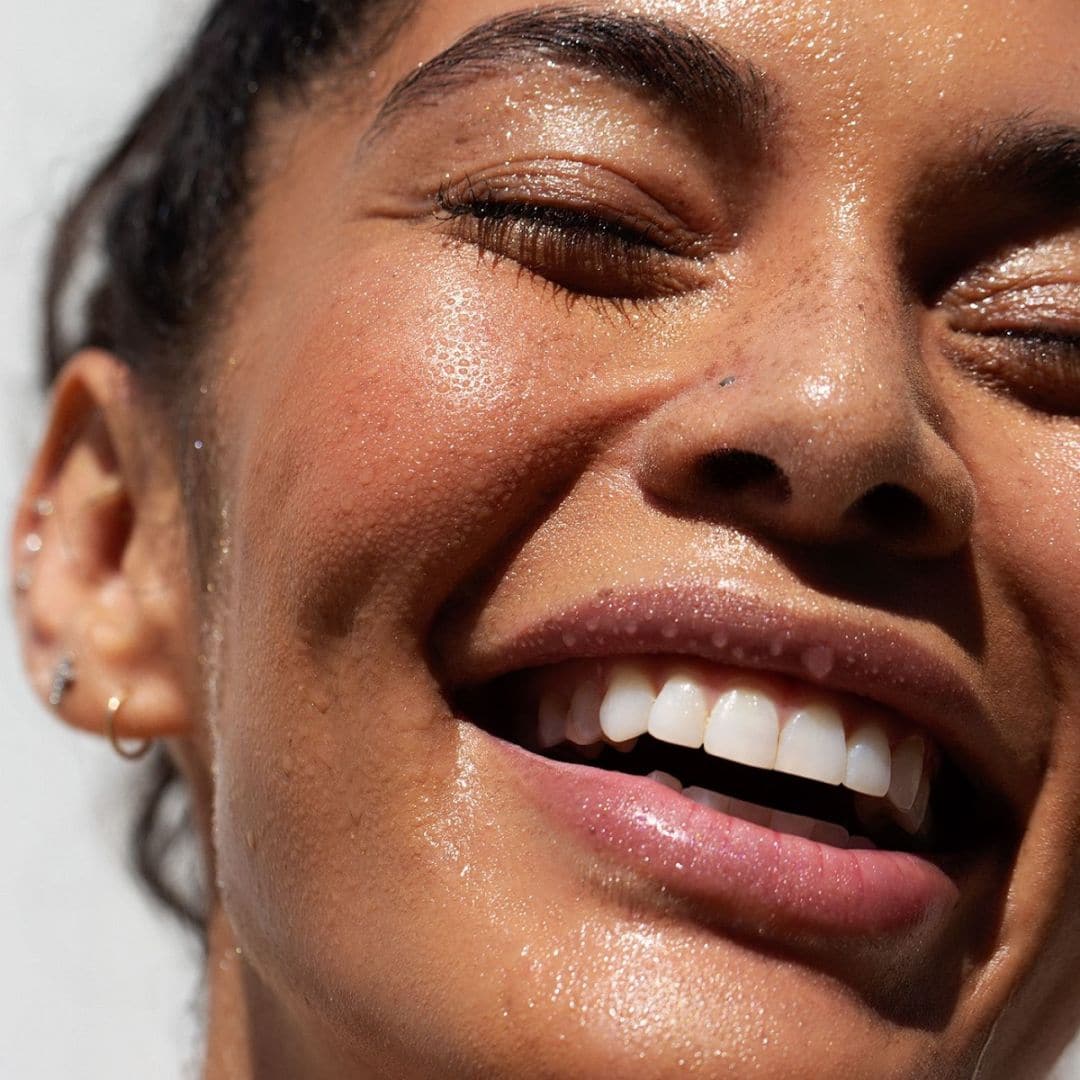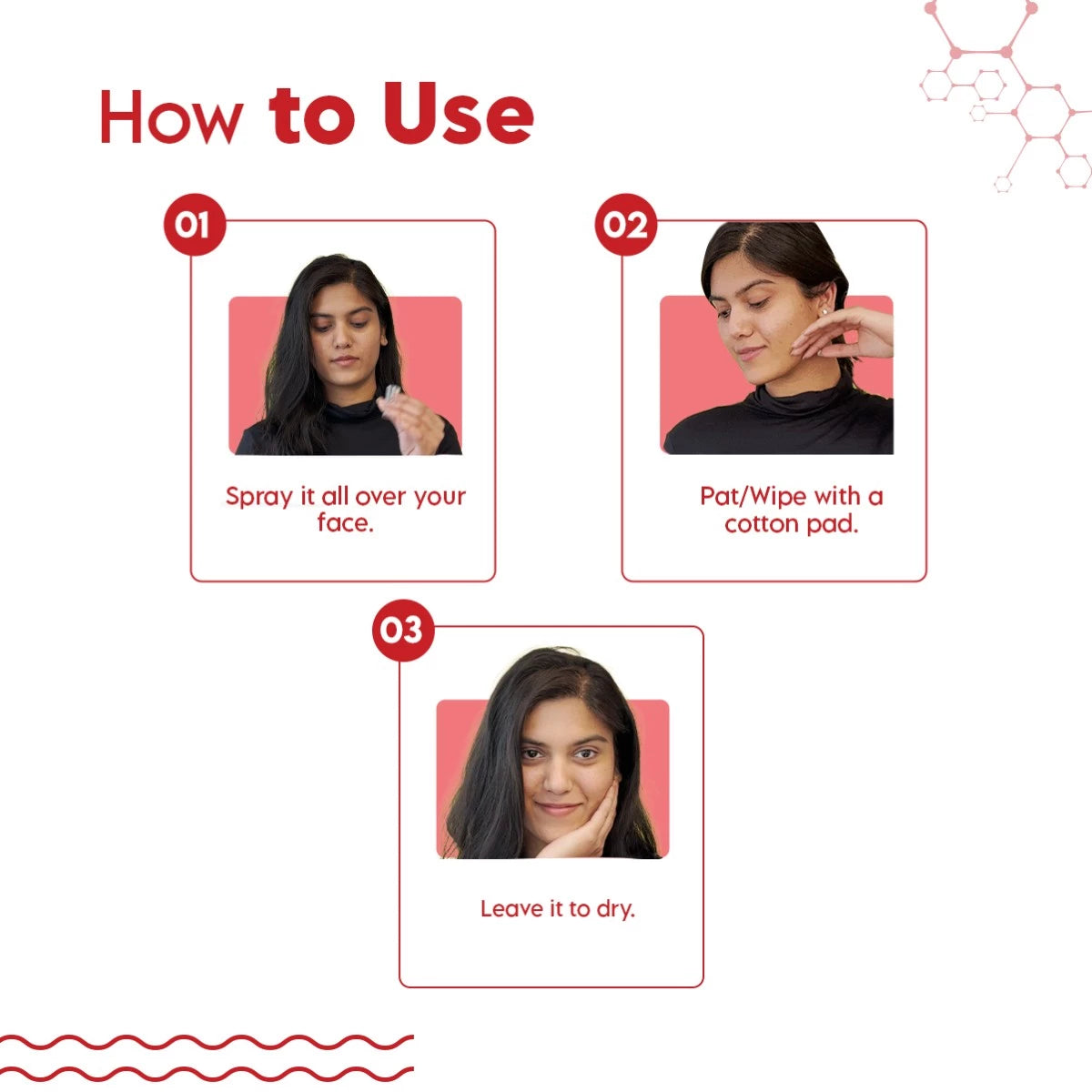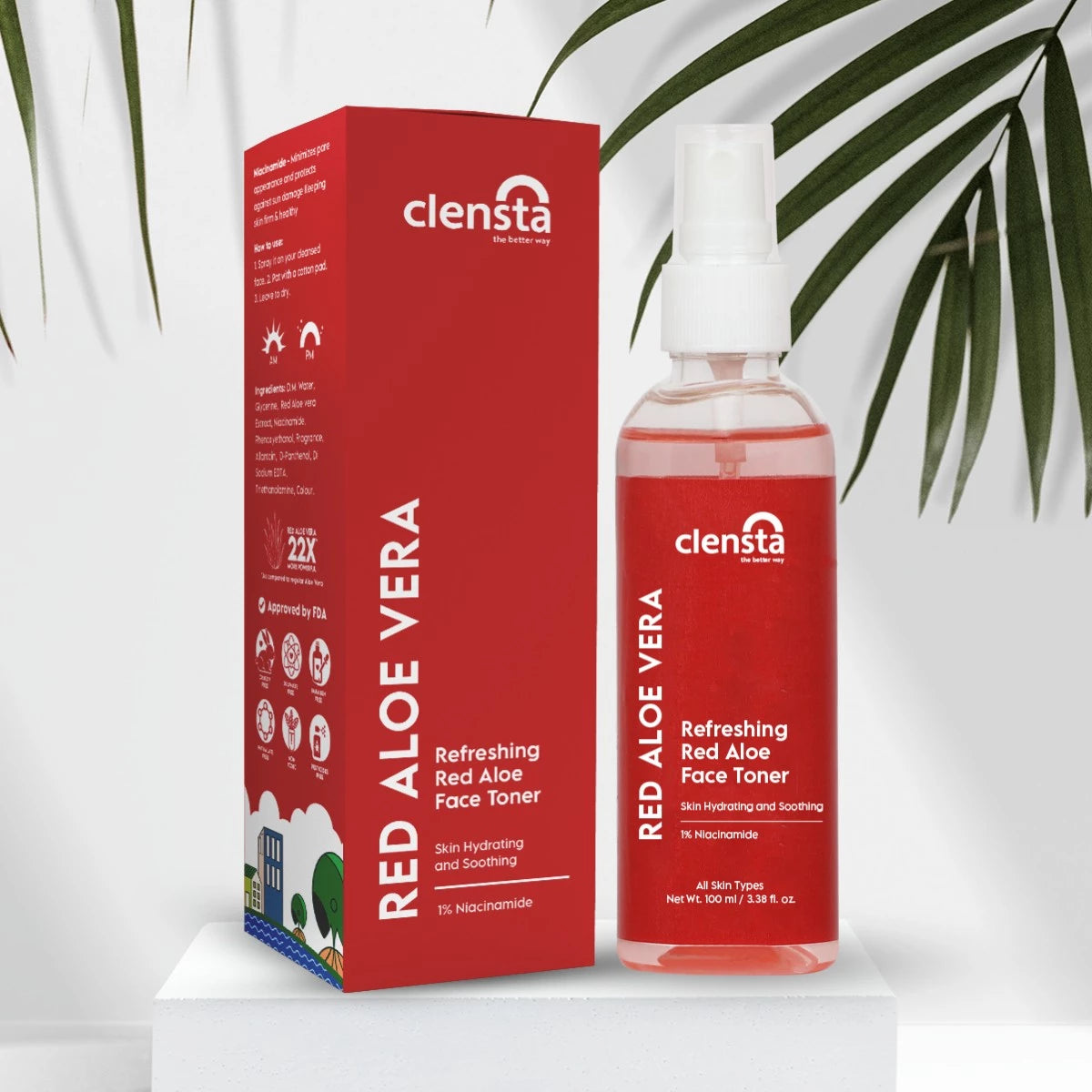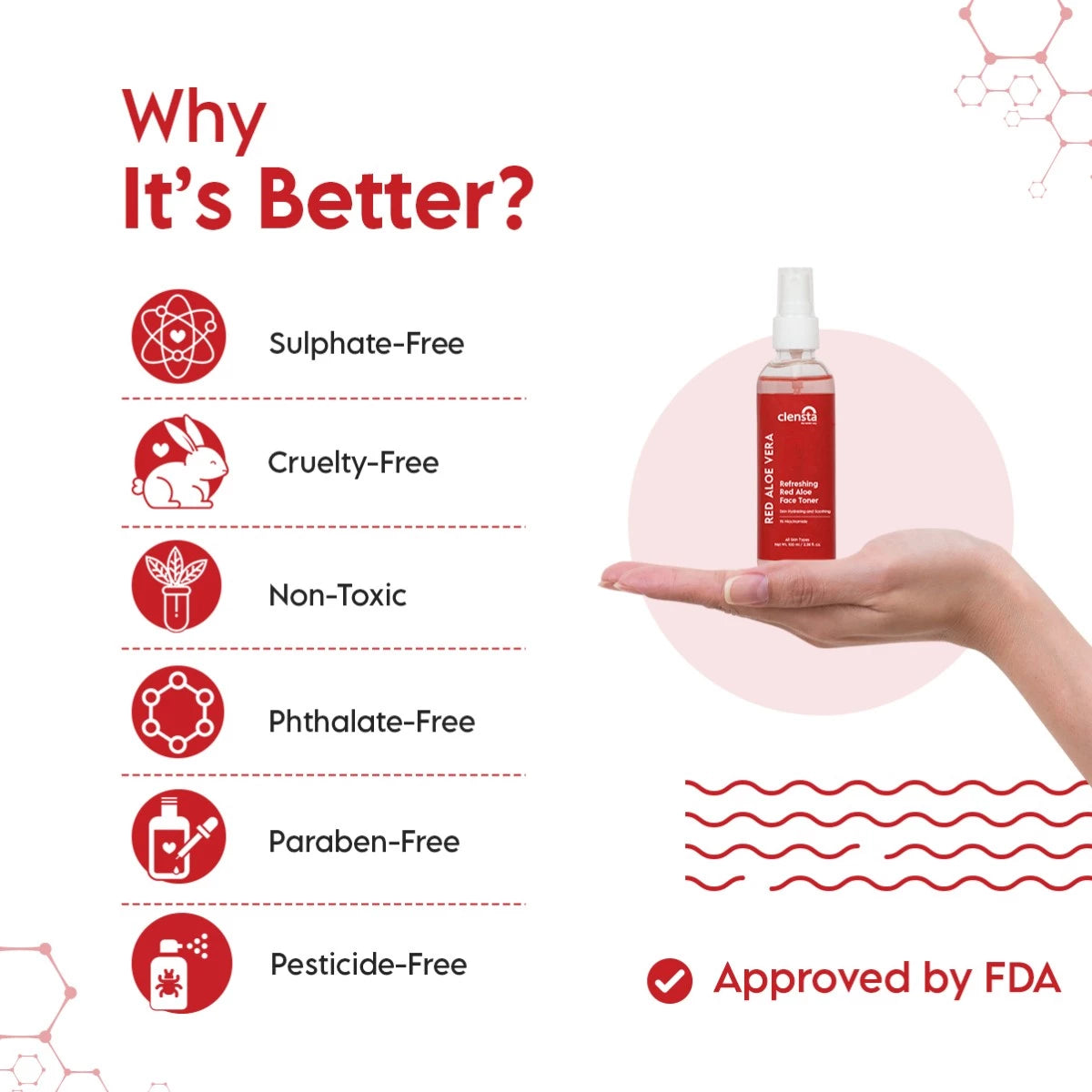 Refreshing Red Aloe Face Toner
Skin Hydrating and Soothing
OFFERS
Get FREE Red AloeVera Multipurpose Gel on prepaid orders above ₹599
Get FREE Nourishing Hydra Gel on prepaid orders above ₹899
Get 20% OFF on orders above ₹999
Get 15% OFF on orders above ₹699
A super refreshing, nourishing, and skin toning Face toner for complete skin care and adds a youthful glow. The toner is filled with the freshness of red aloe vera and niacinamide that further helps to tighten pores, exfoliate, and rebalance the imbalanced skin tone & texture.
Niacinamide, a skin healing and regenerating ingredient, helps reduce pigmentation and combats skin dullness and itching, making skin irresistibly refreshed and smooth right after first use. The Red Aloe Vera Toner soothes inflammation, retains the skin's natural moisture, and prevents signs of ageing making skin youthful and vibrant again!
The presence of essential antioxidants makes it the best face toner for dry, oily, and combination skin. Use it twice daily to get vibrant, soft, and glowing skin forever. It is recommended to use it overnight for best results, as the nighttime is the best skin repairing and healing time.

D.M. Water, Glycerine, Red Aloe vera Extract, Niacinamide, Phenoxyethanol, Fragrance, Allantoin, D-Panthenol, Di Sodium EDTA, Triethanolamine, Colour.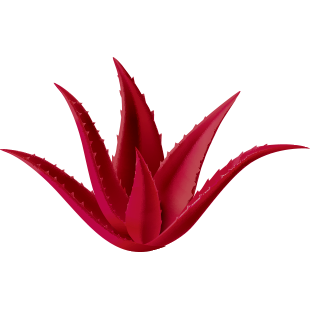 Red Aloe Vera
Red Aloe Vera shows immune-stimulating actions, reduces
the formation of melanin, and tendency towards hyperpigmentation. Therefore, it
nourishes dry skin and hair, making it smoother and livelier.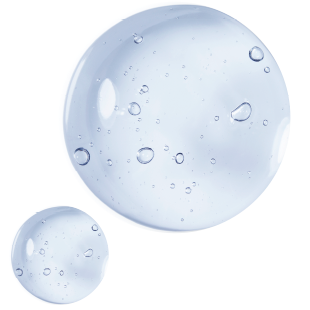 Niacinamide
It helps in minimising pore appearances and protecting against sun damage, keeping skin firm and healthy.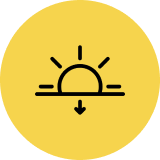 Dull Skin
Uneven Texture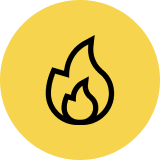 Inflammation
Clogged Pores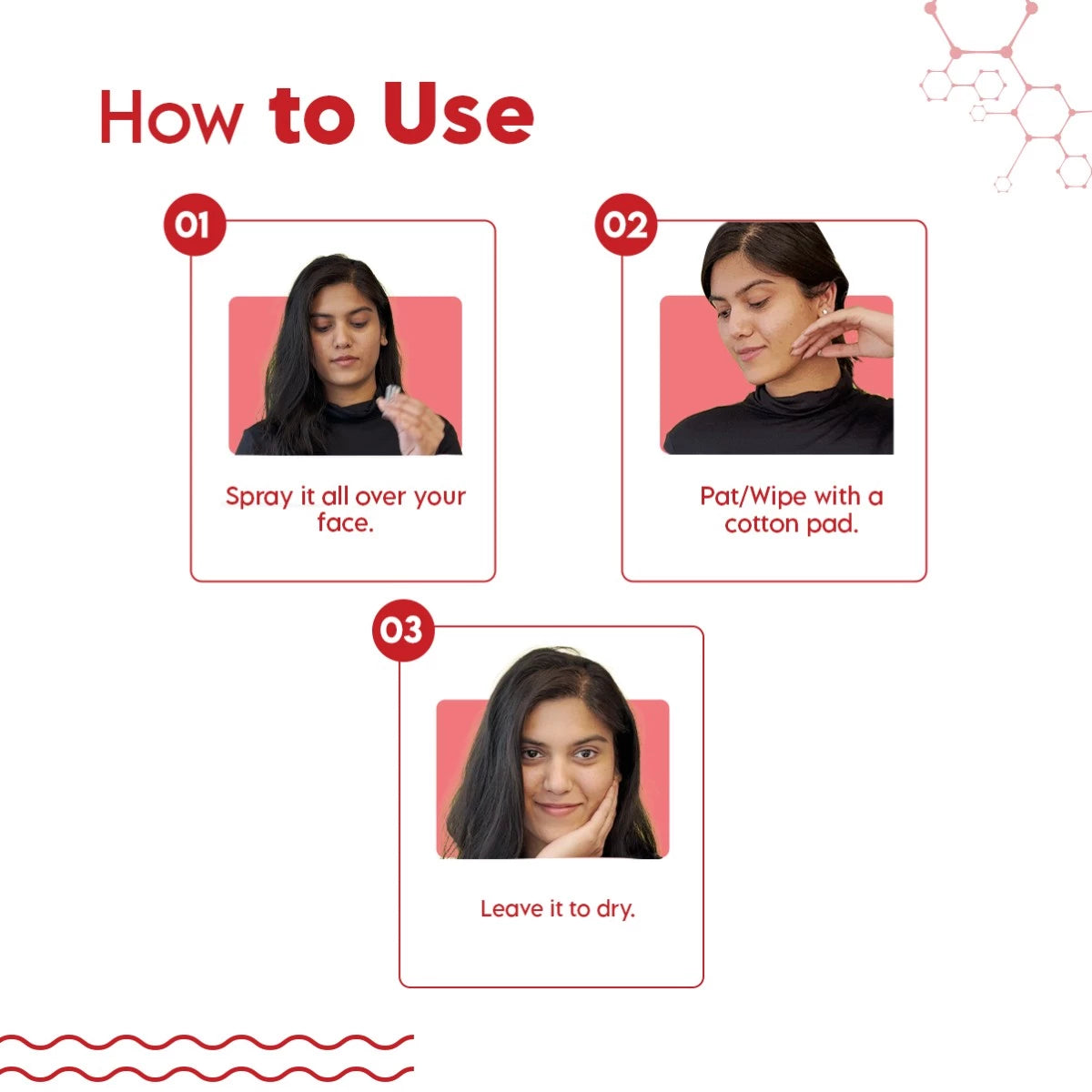 1

Spray it on your cleansed face.

2

Pat with a cotton pad.

3

Leave to dry.
Frequently Asked Questions
Yes, a face toner should be a part of your daily skincare routine.
All ingredients of this toner for the face are vegan and paraben-free.
This skin toner is suitable for all skin types. It is the best face toner for glowing skin.
Yes, the Refreshing Red Aloe Toner is the best toner for acne-prone skin.
The Refreshing Red Aloe Toner can be used on all skin types. It is a good face toner for oily skin and combination skin.
Yes, one should apply a face serum after the toner as the toner will help your skin breathe, and that way, the skin will be able to absorb the serum better.
Leaving a toner on your face before applying a moisturizer keeps your skin damp and helps it stay moisturized for a long time.
Your skin will feel refreshed, moisturized, and smooth right from the first use of this skin toner.
Red Aloe Vera and Niacinamide have soothing, calming effects on the skin and help reduce inflammation and acne spots. This face toner is the best choice for acne-prone skin.
The Refreshing Red Aloe Toner can reduce acne spots and pigmentation. It effectively works on reducing them.
The Refreshing Red Aloe Toner can be used for acne-prone, oily skin and make it brighter and smoother.
Do not wash the tone for face off after you apply it. It can be left on the skin, and you can follow it up with a moisturizer.
Awesome product for face
As my skin is so oily nd sensitive for this skin this soother facial tonner is so amazing .It's results is so good as it's 100% alcohol free product.awesome fragnance with no chemical nd make skin smooth and shiny at home.very easy to use.I suggest to all ladies to use this product as it's very simple step to use at home nd glow our skin
Amazing Product
The product is amazing. My skin is so sensitive, I literally feel very good after applying this and skin feels so refresh and clean. It's 100% alcohol free & Chemical free soothing facial toner. Nice fragrance, It has watery texture and absorbs into the skin quickly. Clean and kind skincare for all. It works well and value for money.
Amazing product. Must try.
I never saw any advertisement for this product. I just happened to try this product and believe me this toner is way way better than the normal rosewaters that we see on ads.. The fragrance is so refreshing and mild. I am definitely going to buy this again.
Very good👍
I really liked it because toner is tested by dermatologically and designed for sensitive skin, I am very happy to use this toner its started to work on appying of first day its provided full day freshness and given skin glowing face . There is no any harmfull chemical are added so it is best and awesome
Good toner...
This toner is nice.I liked it. As it is a 100% alcohol free facial toner which does not dry my skin and removes any alkaline residue left after cleansing. After using it I just feel the fresh feeling on my skin. Its a good toner with no smell, very water and best of all its affordable.I just wash my face with my regular facewash and with the help of a cotton pad apply this toner all over my face and neck area.I let it stay on my skin for some time before I apply my moisturizer. Voila! I just love that freshness...
Refreshing Red Aloe Face Toner