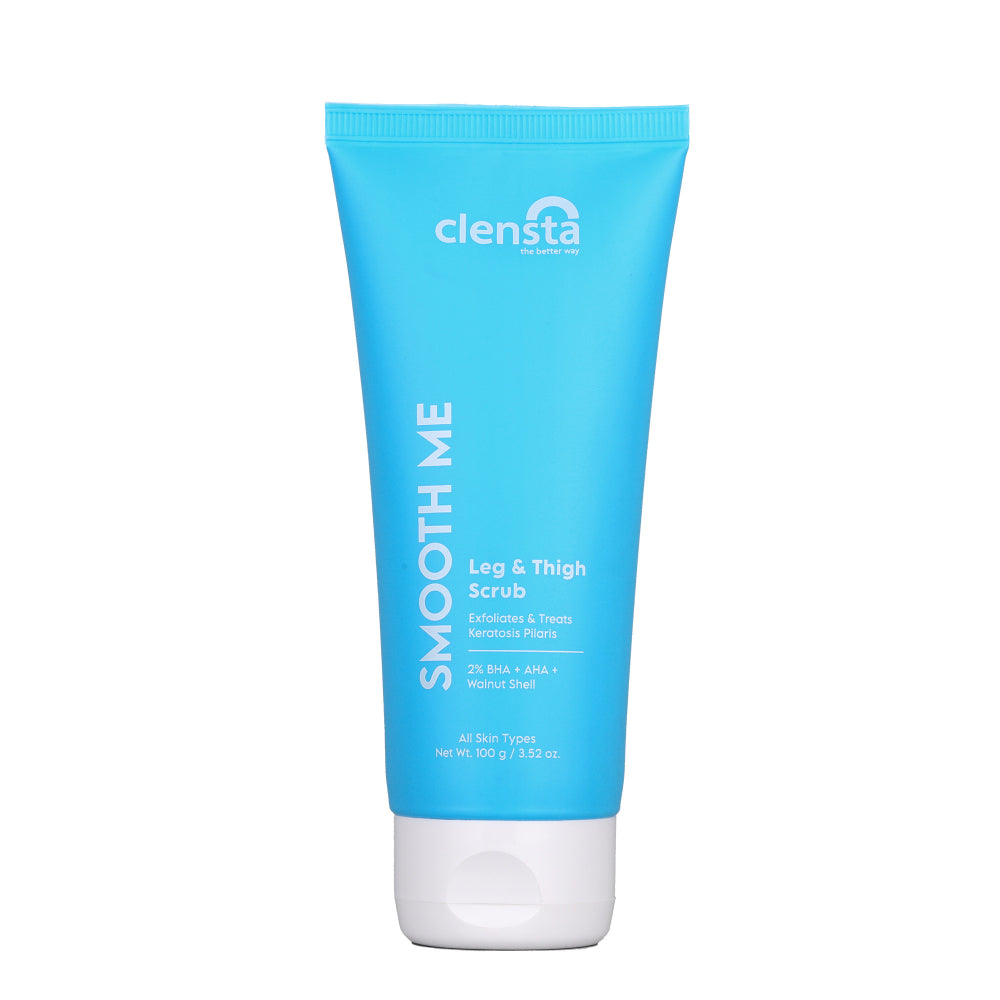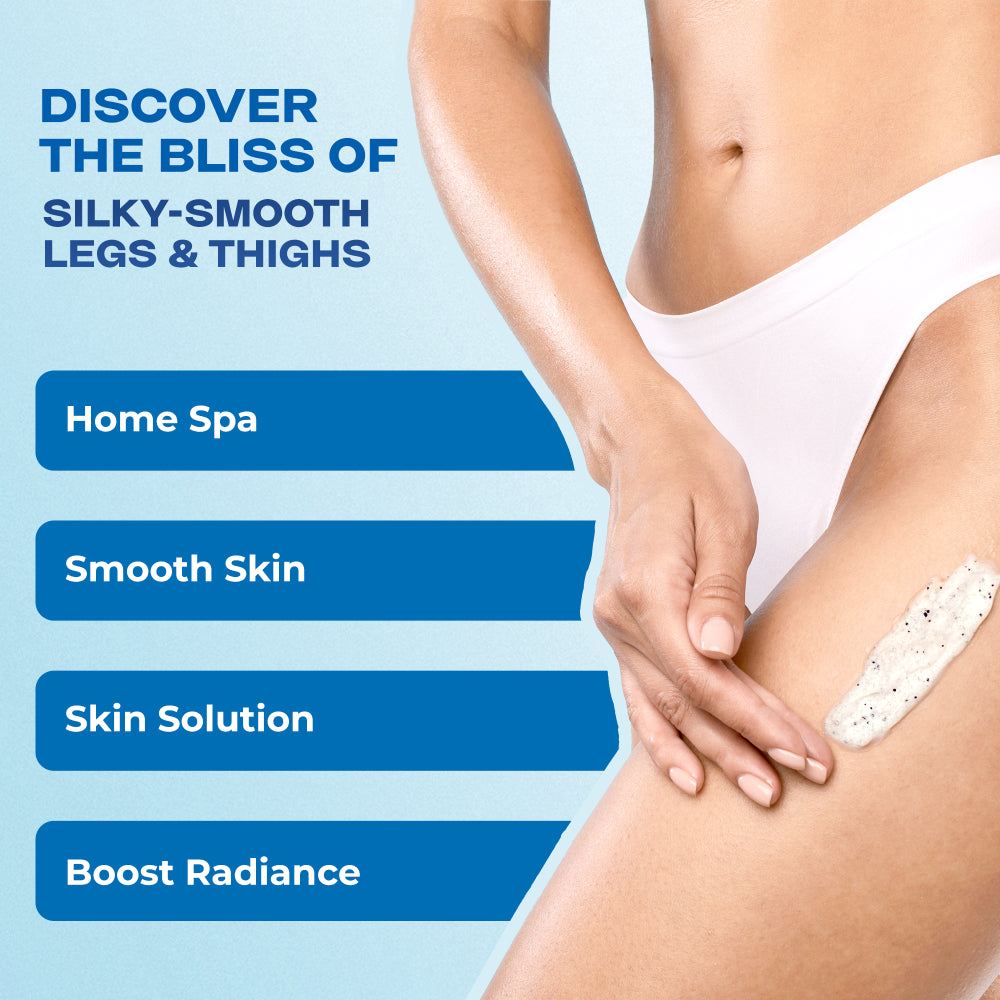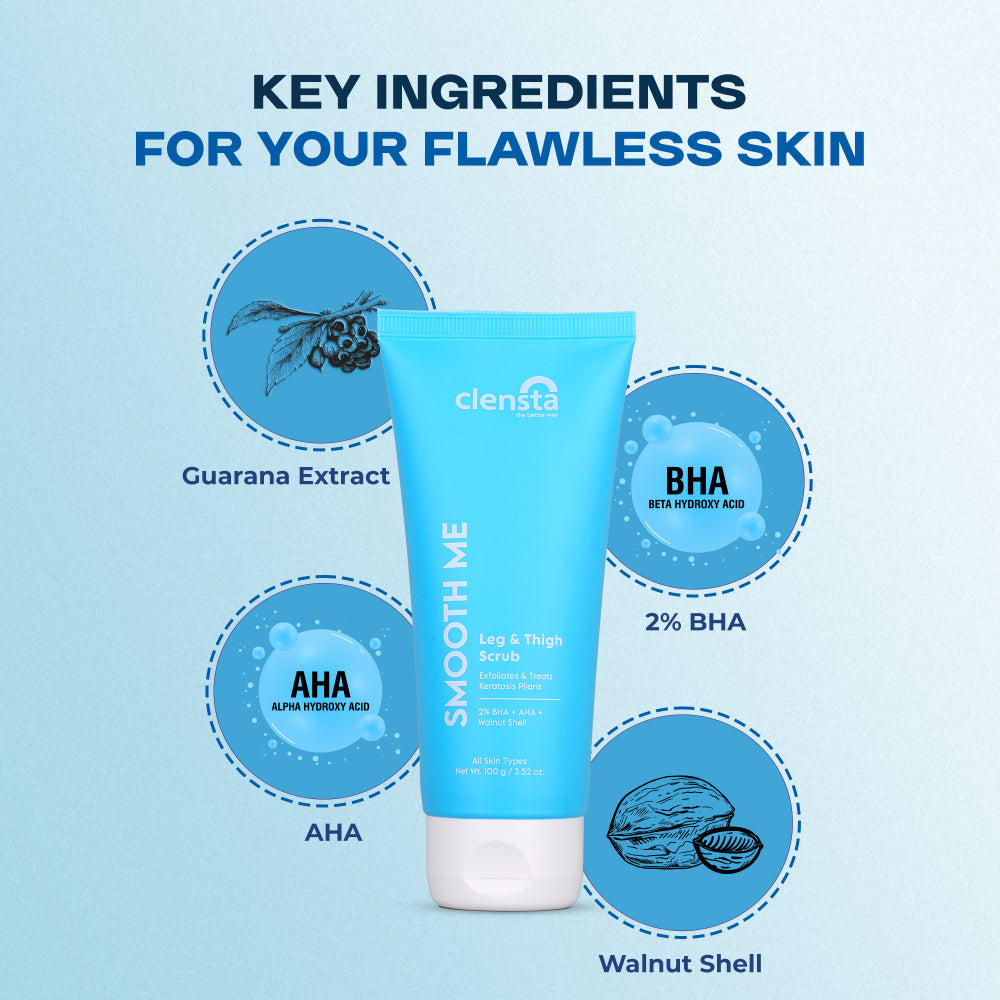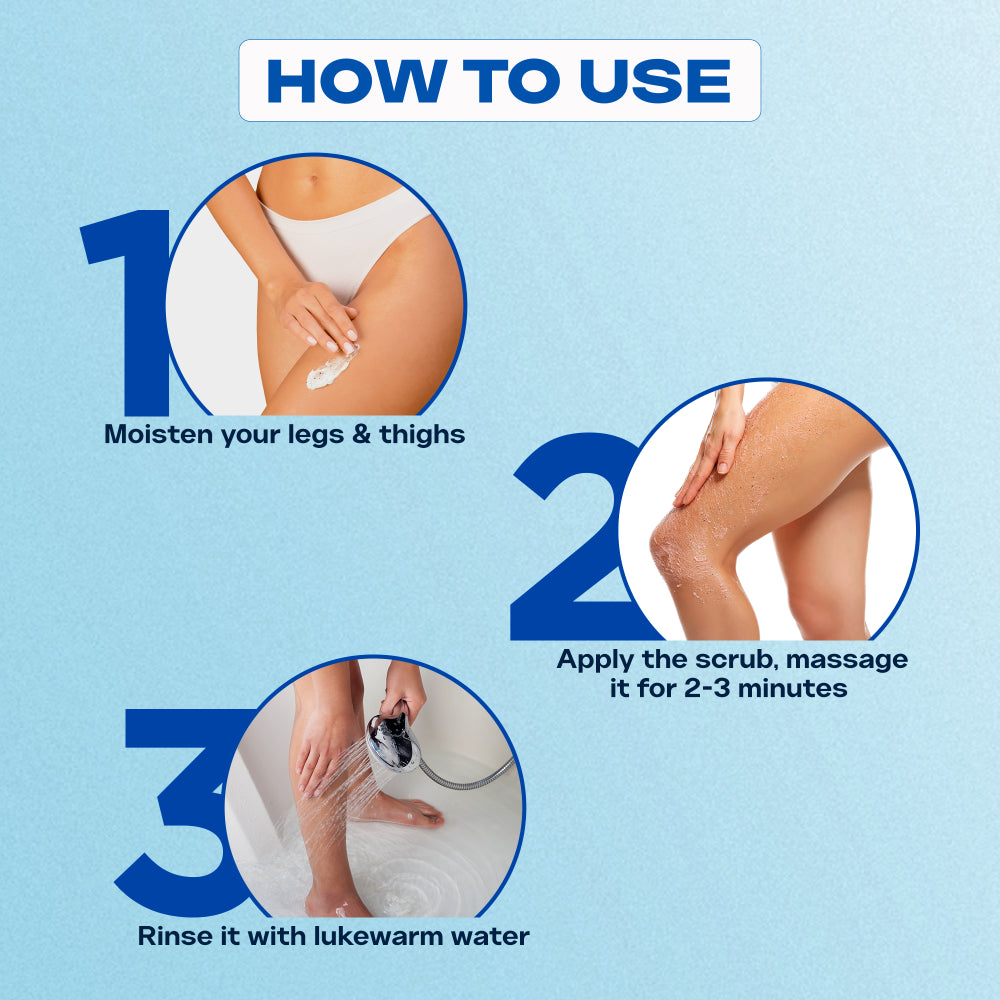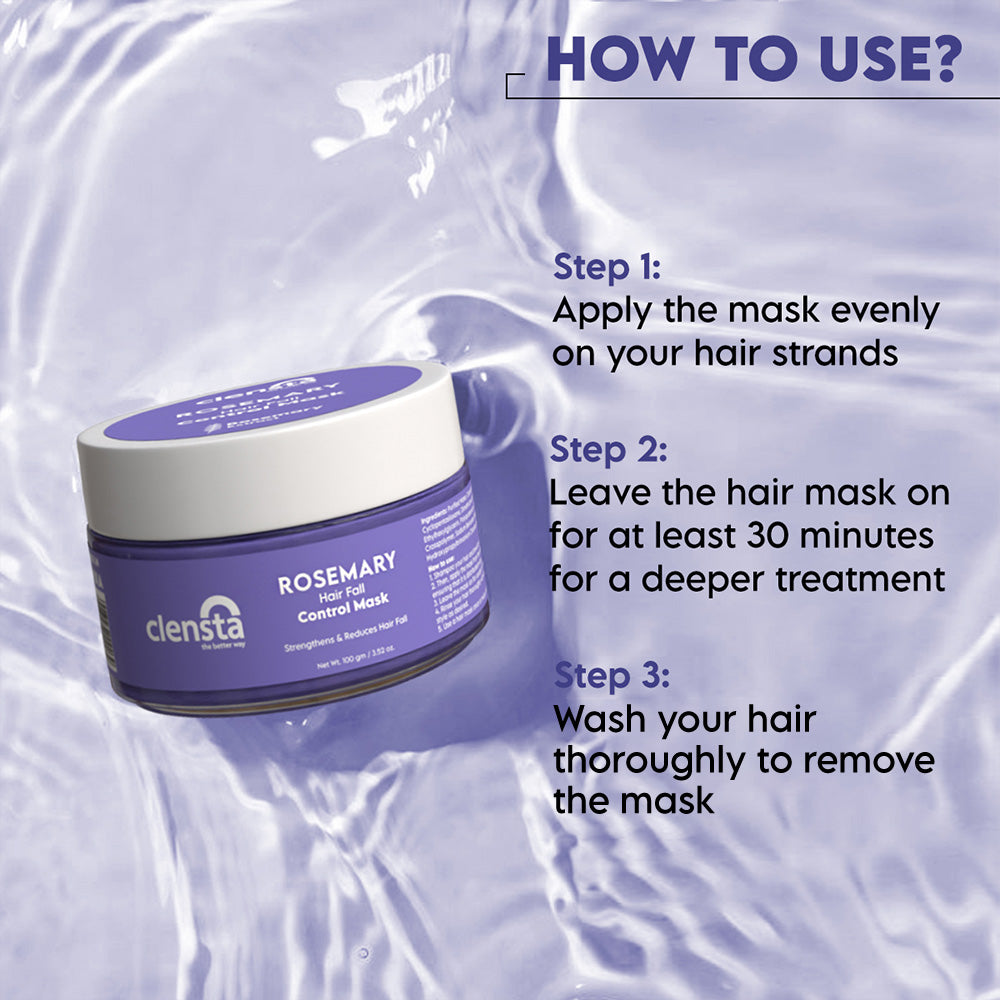 Smooth Me: Leg and Thigh Scrub With Guarana Extract, 2% BHA + AHA + Walnut Shell That Exfoliates, Banishes Dryness and Makes The Skin Radiant
Exfoliates & Treats Keratosis Pilaris
OFFERS
Get Flat 30% off on orders above ₹799
Get Flat 20% off on orders above ₹599
Buy 1 Get 1 ( On Gummies, Body Lotions & Perfumes)
Add Any 2 Products in Cart & 1 product will be FREE
Get Additional 5% OFF on prepaid orders
What's in it-
Our Leg and Thigh Scrub offers a spa-like indulgence for silky-smooth confidence in your favorite revealing attire. Revitalizes the look and feel of your legs and thighs./Revives and enhances the look of your legs and thighs.
What It Does-
Our Leg and Thigh Scrub is expertly crafted for a gentle yet effective exfoliation, bidding farewell to dry patches, enhancing skin tone, and rejuvenating the beauty of your legs and thighs.
How It Does-
The scrub formulation includes BHA for deep cleansing, AHA (Alpha Hydroxy Acid) to refine and even skin tone, Walnut Shell to boost circulation and prevent irritation with its natural anti-inflammatory properties. Guarana extract, rich in antioxidants, provides protection against skin damage. Their combined effects are truly enchanting, and your expectations will not be disappointed.

Approved By FDA | Cruelty-Free | Lab Tested | Non-Toxic | Paraben-Free | Sulphate-Free | Phthalate-Free | Pesticide-Free

Guarana Extract:

It is a secret weapon which provides refreshing benefits, leaving the skin feeling soft and well-hydrated. Its astringency and antibacterial superpowers, aids in acne reduction. It serves as a superb natural body revitalizer.

AHA (Alpha Hydroxy Acid):

It has exfoliating properties which improves the texture and appearance of the skin. Its powers diminishes the appearance of hyperpigmentation and uneven skin tone. The acid make a way for fresh, smoother and brighter complexion.

BHA (Beta Hydroxy Acid):

This chemical exfoliant in scrub is a savvy detective which tackles inflammation, clears the way for smoother legs and thighs, and solves the occurrence of ingrown hairs.

Walnut Shell:

Walnut shells are mysterious agents of smoothness which boost blood circulation, help you achieve skin that is healthy and help reduce cellulite appearance.They are the gentle giants of exfoliation which offer a moderate exfoliating.

Purified Water, Caprylic/Capric Triglyceride, Glycolic Acid, Lactic Acid, Salicylic Acid, Glycerin, Carbomer, Stearic Acid, Shea Butter, Cetyl Alcohol, Cetostearyl Alcohol, Walnut Sell, Arlacel 165, Niacinamide, Allantoin, Almond Oil, Apricot Oil, Licorice Extract, Green Tea Extract, Ethylhexylglycerin, Guarana Extract, Disodium EDTA, Fragrance
Wash your leg and thighs with water.
Gently massage the scrub in a circular motion for 2-3 minutes.
Wash it off with lukewarm water.
Use it thrice a week for better results.
Results may vary from person to person. It's essential to be patient and consistent in your efforts*
Scrubs can improve the appearance of cellulite by exfoliating and promoting circulation, but results may vary.
Yes, our Leg and Thigh Scrub is cruelty-free and vegan-friendly. We do not test on animals.