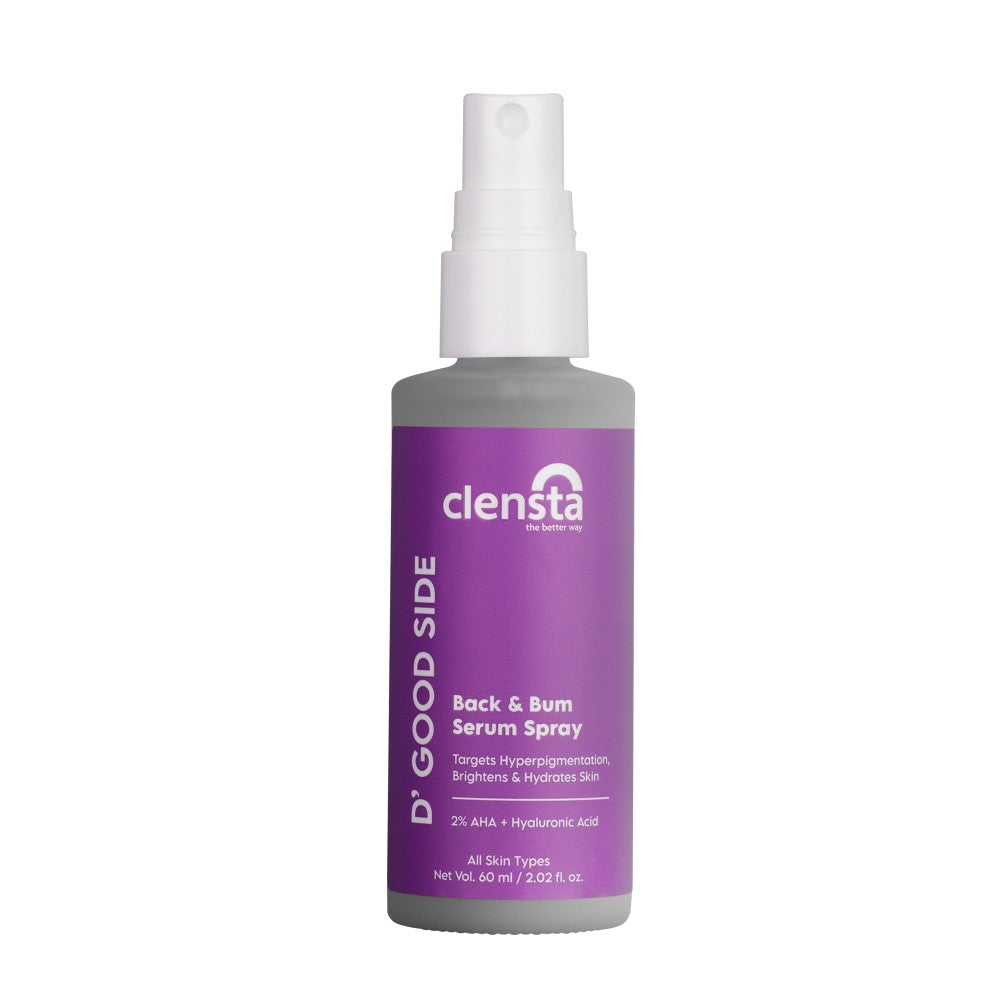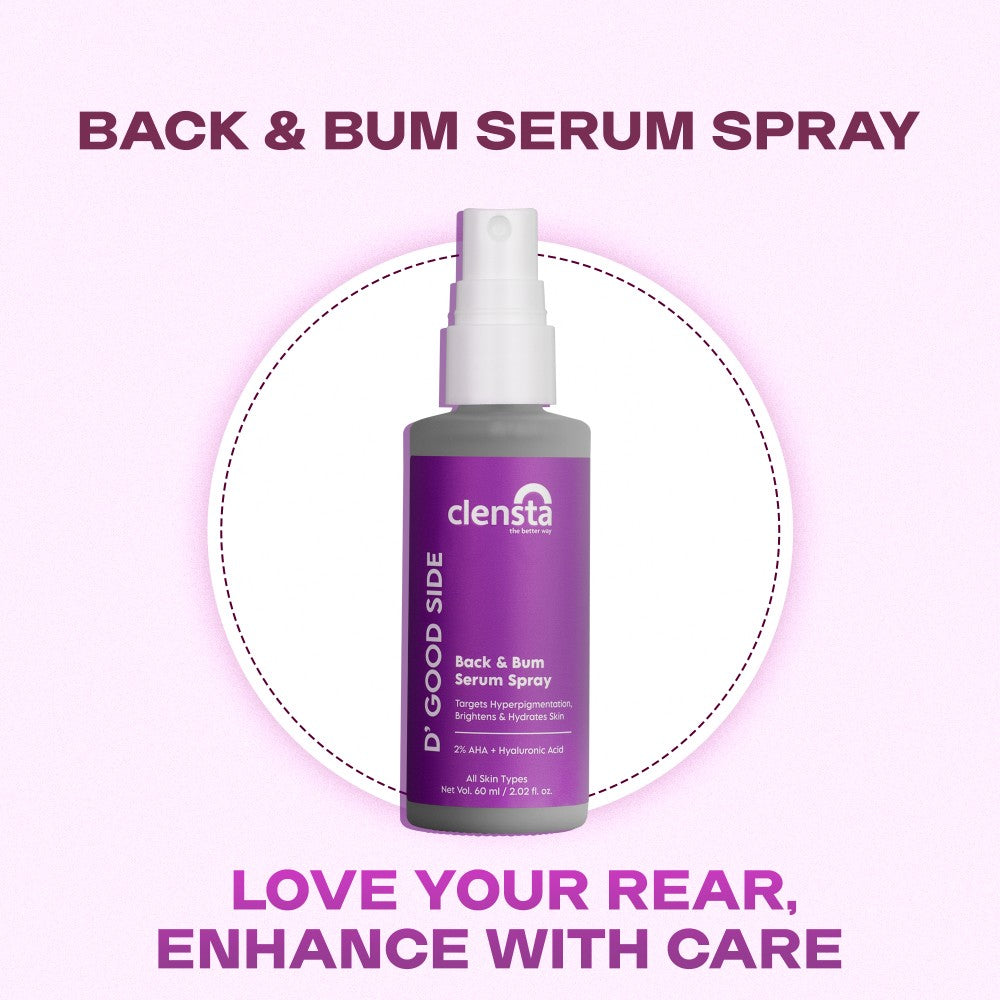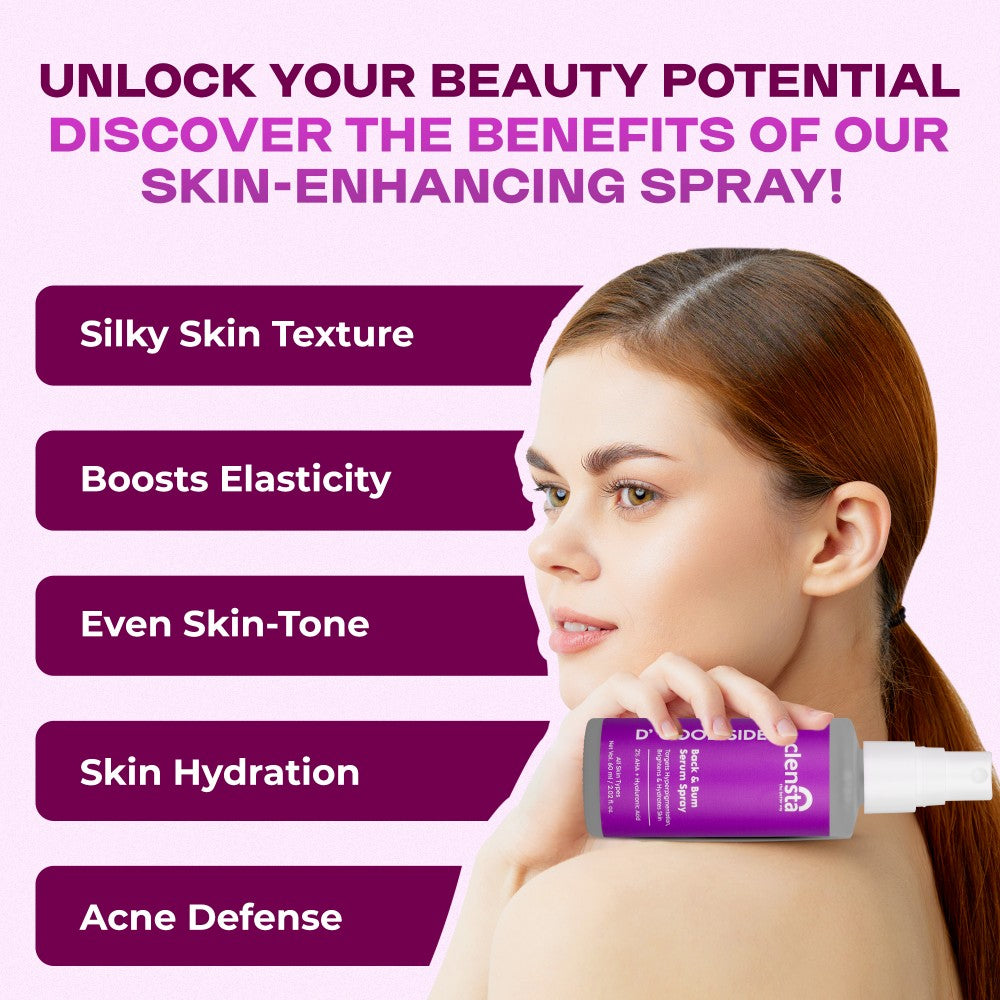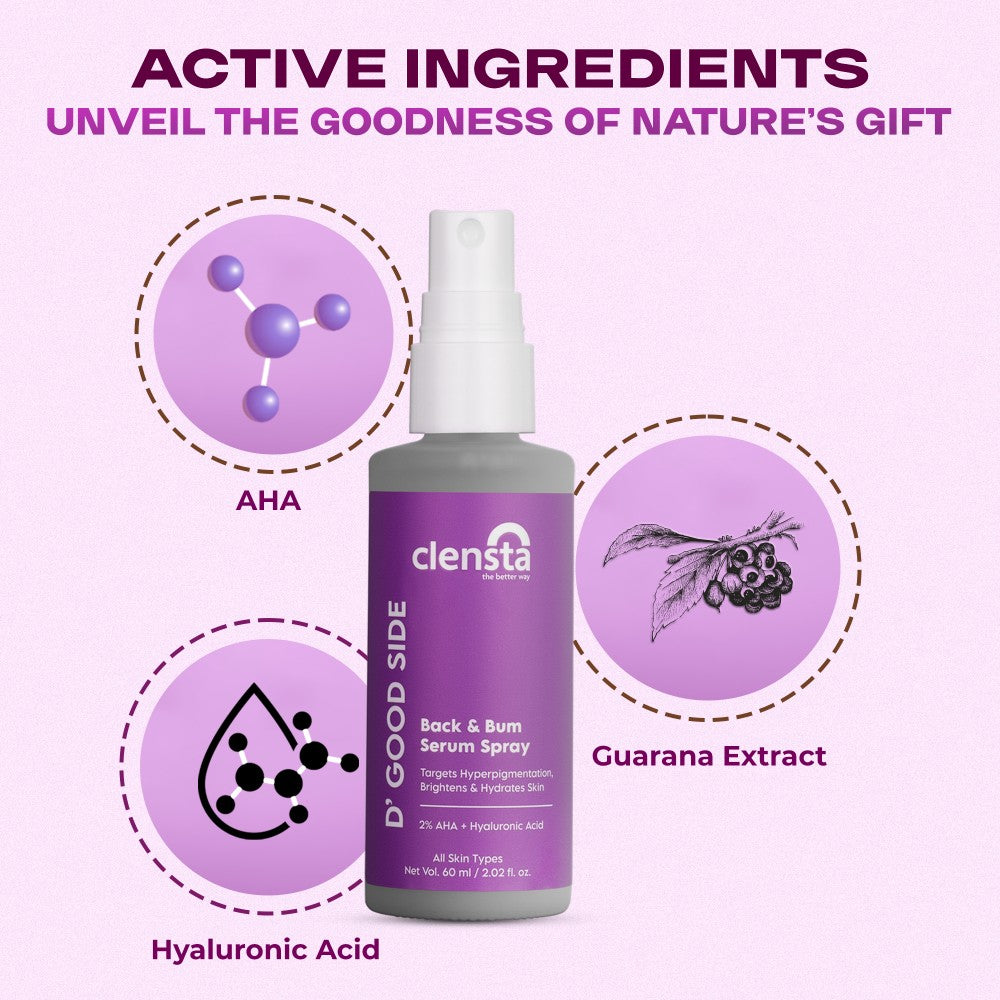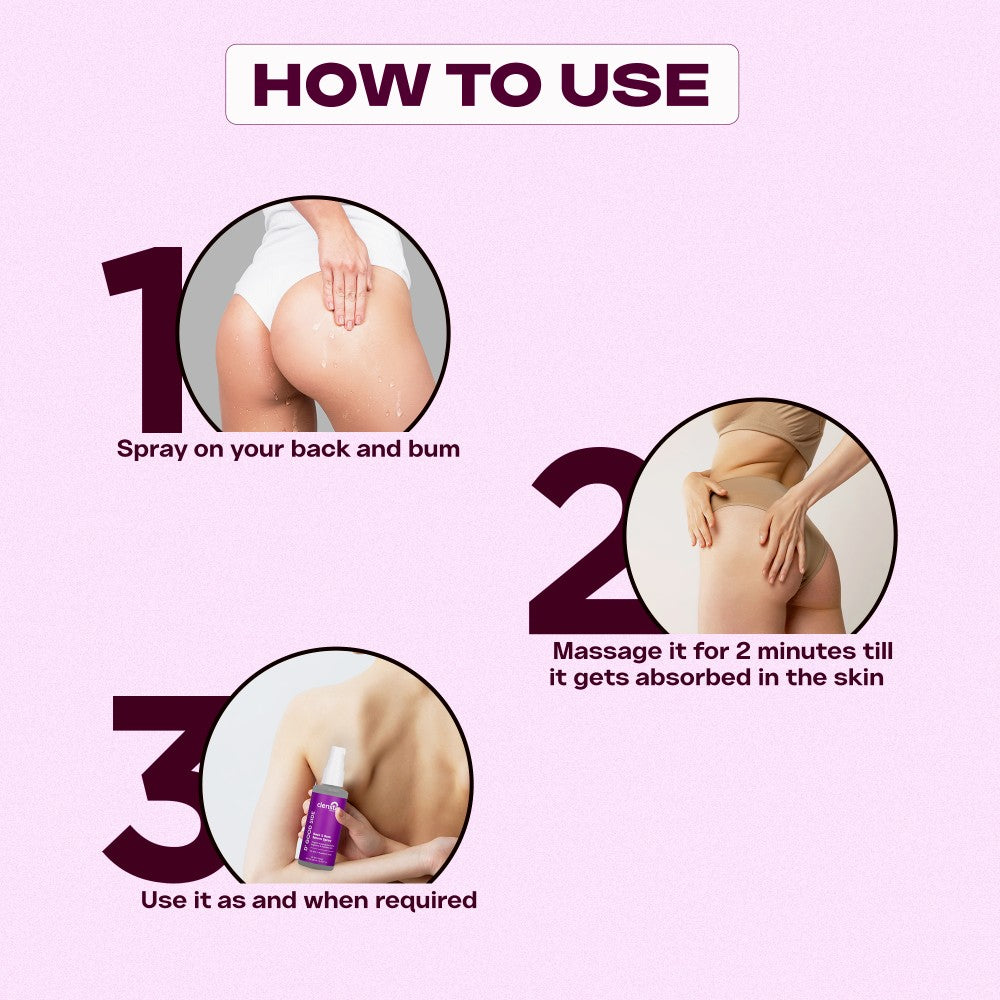 Back & Bum Serum Spray With Guarana Extract, 2% AHA & Hyaluronic Acid For Firming and Toning & Cellulite Reduction
Targets Hyperpigmentation, Brightens & Hydrates Skin
OFFERS
Get Flat 30% off on orders above ₹799
Get Flat 20% off on orders above ₹599
Buy 1 Get 1 ( On Gummies, Body Lotions & Perfumes)
Add Any 2 Products in Cart & 1 product will be FREE
Get Additional 5% OFF on prepaid orders
What's in it-
Our Back & Bum spray isn't just any skincare product; it's the secret sauce to a perkier, firmer posterior. Get ready to uplift your confidence and your curves with our game-changing spray.
What It Does-
Our Back and Bum Spray is your ticket to smoother, firmer, and hydrated skin. Say goodbye to sag, and hello to the radiant you. Embrace the confidence boost you've been waiting for with every spritz.
How It Does-
This magical elixir contains a blend of Guarana Extract for that extra oomph, AHA (Alpha Hydroxy Acid) to exfoliate and renew, and Hyaluronic Acid for unparalleled hydration. These ingredients are like the dream team for your back and bum, working together to make you feel fabulous from every angle. Get ready to shake what your mama gave you with our Back and Bum Spray!

Approved By FDA | Cruelty-Free | Lab Tested | Non-Toxic | Paraben-Free | Sulphate-Free | Phthalate-Free | Pesticide-Free

Guarana Extract:

derived from the Amazon plant's seeds, is a popular skincare ingredient due to its high caffeine content, which stimulates micro-circulation and boosts energy, resulting in smoother-looking skin.

AHA (Alpha Hydroxy Acid):

AHA is your skin's BFF, gently exfoliating to reveal fresher, smoother skin while stimulating collagen production, giving your back and bum a youthful, radiant look.

Hyaluronic Acid:

Hyaluronic Acid is the ultimate hydration hero, locking in moisture for plump, supple skin. Your back and bum will feel rejuvenated and irresistibly soft with this moisture magnet.

Purified Water, Butylene Glycol, Glycolic Acid, Lactic Acid, Glycerin, D Panthenol, Aloevera Extract, Witch Hazel Extract, Hyaluronic Acid, Neem Extract, Green Tea Extract, Allantoin, Ethylhexylglycerin, Mulberry Extract, Licorice Extract, Guarana Extract, Sodium Gluconate, Fragrance
Spray the Back & Bum Serum directly onto your back and bum.
Gently massage the serum into your skin for 2-3 minutes, ensuring even coverage.
Allow the serum to absorb into your skin, and feel it working its magic.
Use the serum as needed to maintain your desired results and confidence.
Results may vary, but many users report seeing improvements within a few weeks of consistent use.
Yes, our formula is designed to be gentle and suitable for all skin types. However, it's always a good practice to do a patch test to ensure compatibility.
Yes, you can use your regular skin care products alongside the Back and Bum Spray. Just apply the spray first, and let it absorb before applying other products.
Yes, our Back and Bum Spray is cruelty-free and vegan-friendly. We do not test on animals.