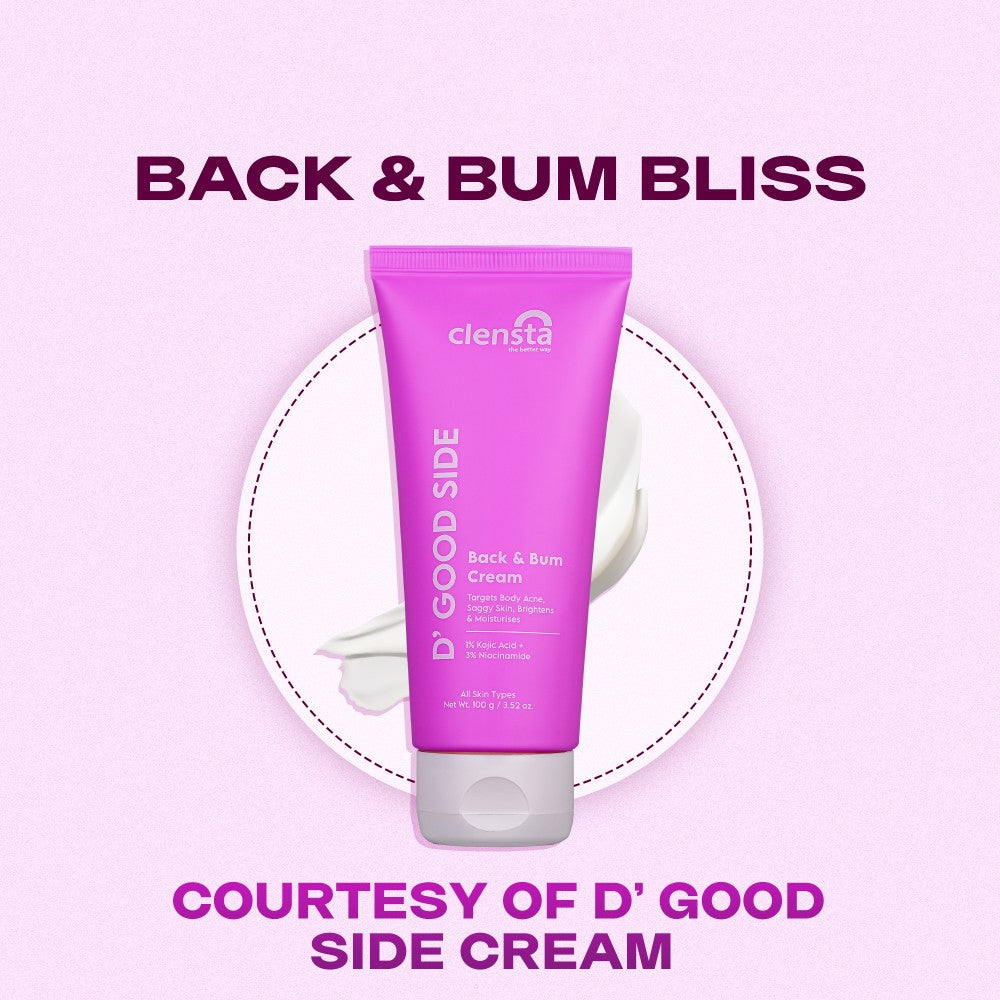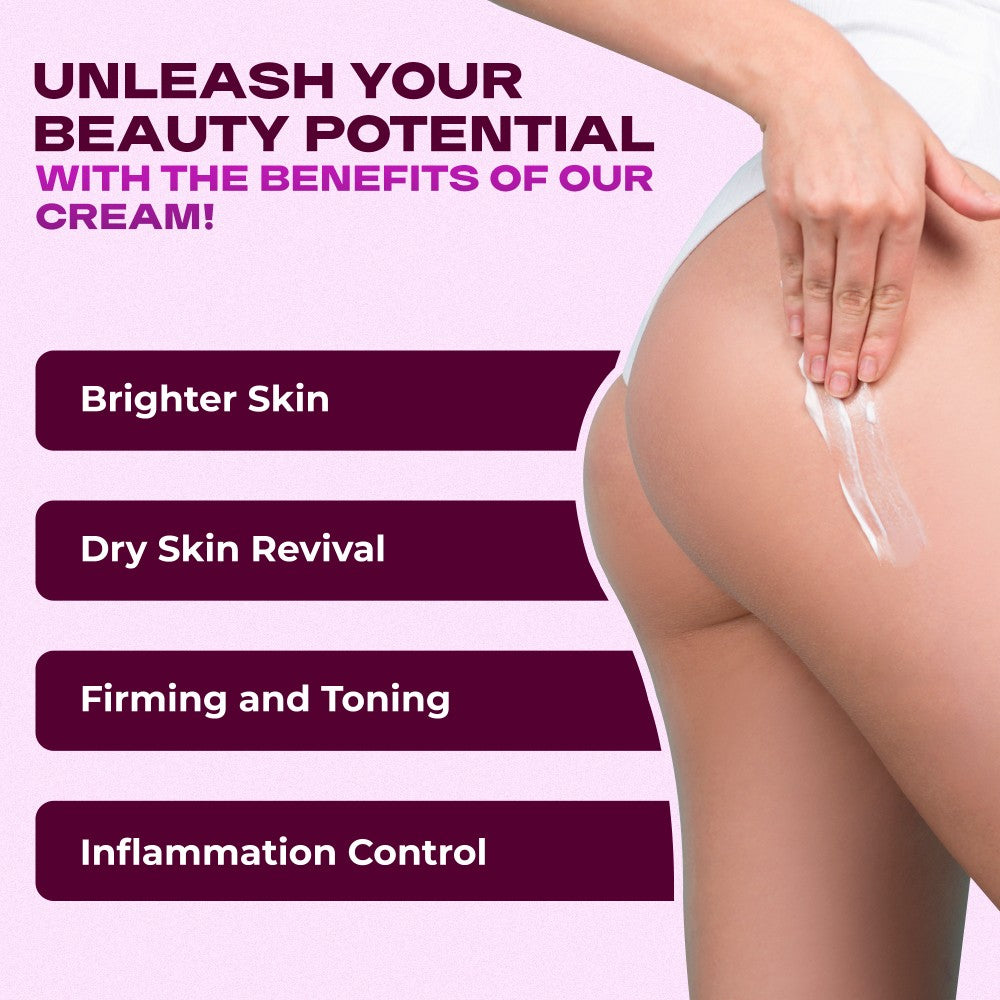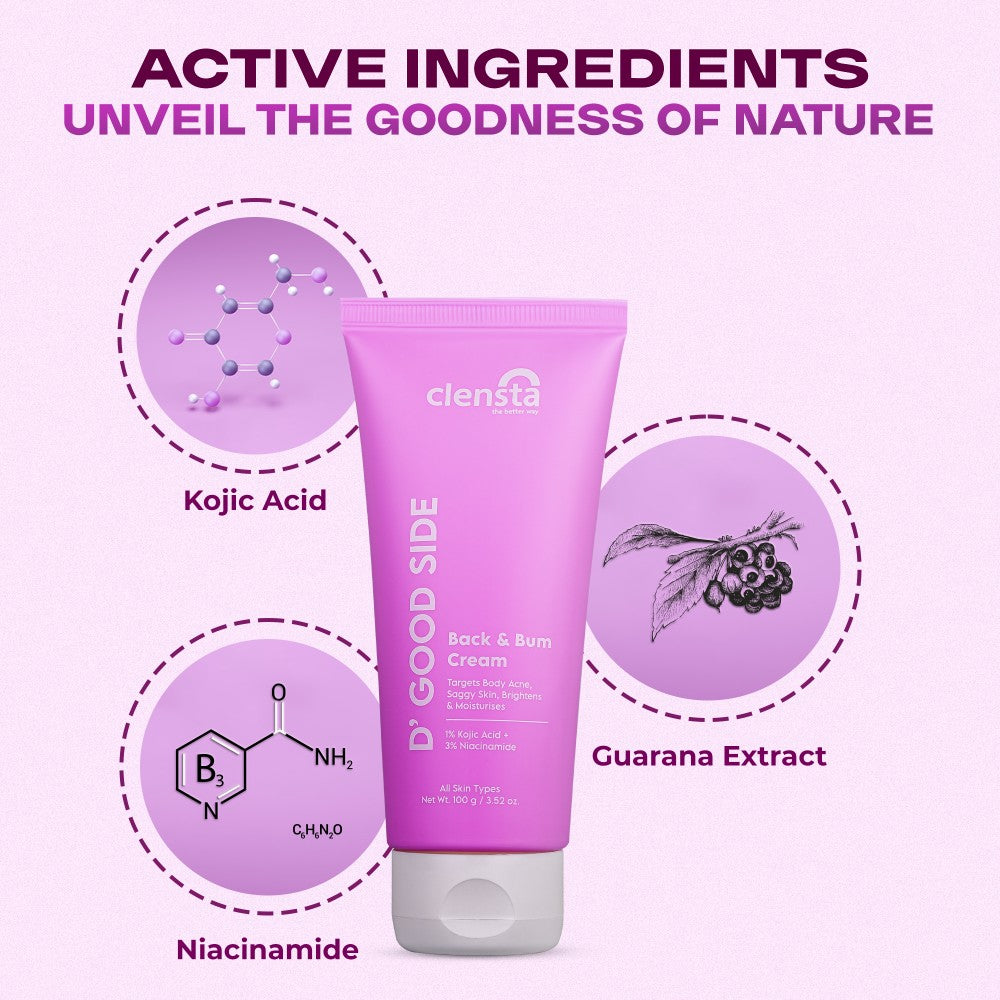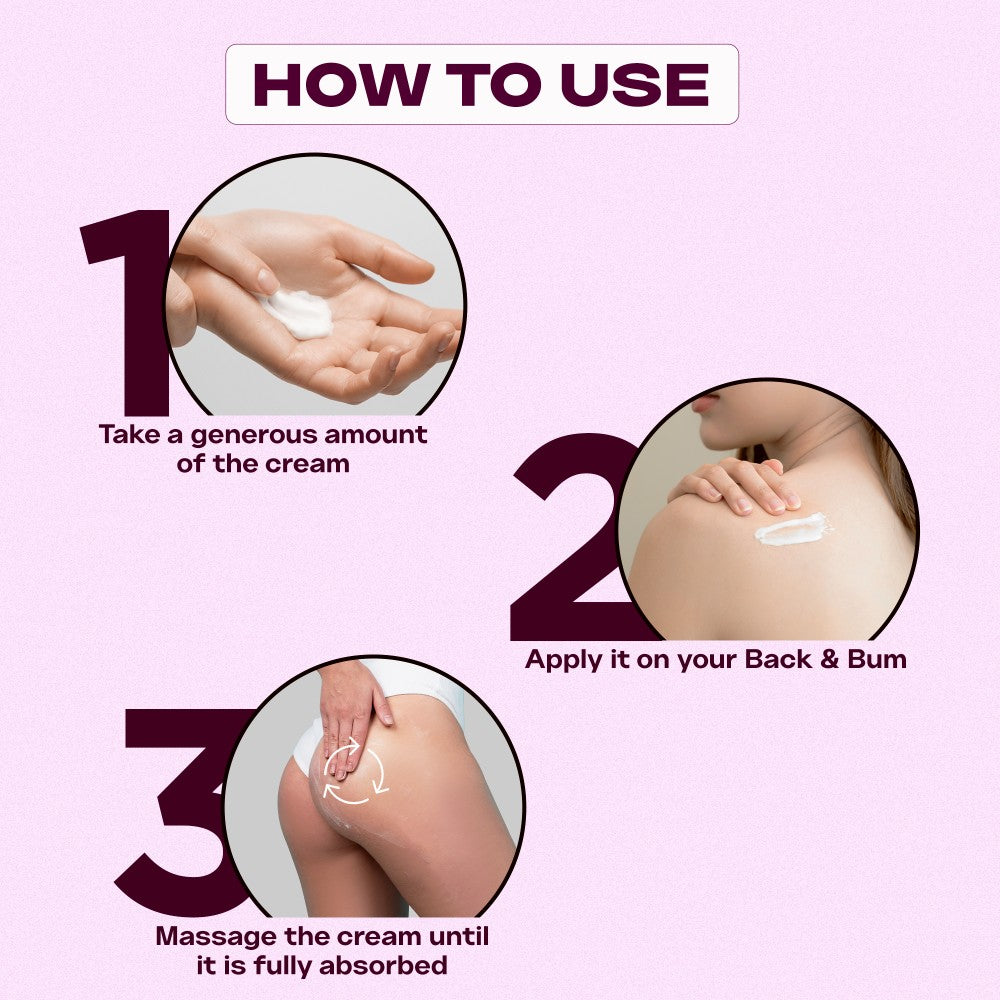 D' Good Side Back And Bum Cream With Guarana Extract, 1% Kojic Acid & 3% Niacinamide For That Beautiful Glow
Targets Body Acne, Saggy Skin, Brightens & Moisturises
OFFERS
Get Flat 30% off on orders above ₹799
Get Flat 20% off on orders above ₹599
Buy 1 Get 1 ( On Gummies, Body Lotions & Perfumes)
Add Any 2 Products in Cart & 1 product will be FREE
Get Additional 5% OFF on prepaid orders
What's in it-
Get ready to flaunt your 'D' Good Side' with our magic potion in a tube! This innovative cream targets body acne, kisses saggy skin goodbye, and brightens up your booty's spotlight, all while delivering a deep, moisturizing experience. It's the secret behind the glow that's always on.
What It Does-
Our cream comes to the rescue, reducing inflammation, unclogging pores, and thwarting future breakouts. If hyperpigmentation or uneven skin tone is your concern, ingredients like kojic acid and niacinamide work their magic to fade dark spots and promote a smoother complexion.
How It Does-
It's your backstage pass to skin transformation! Packed with Guarana Extract, it kick-starts your skin, banishing saggy worries while energizing every curve. Kojic Acid, the brightening wizard, says adios to dark spots, revealing your luminous derriere, and Niacinamide? It's the skincare superhero, enhancing texture and moisture.

Approved By FDA | Cruelty-Free | Lab Tested | Non-Toxic | Paraben-Free | Sulphate-Free | Phthalate-Free | Pesticide-Free

Guarana Extract:

derived from the Amazon plant's seeds, is a popular skincare ingredient due to its high caffeine content, which stimulates micro-circulation and boosts energy, resulting in smoother-looking skin.

Kojic Acid:

A popular ingredient in many skincare products due to its skin-brightening and lightening properties. When applied topically, kojic acid can help reduce the appearance of dark spots and hyperpigmentation on the skin.

Niacinamide:

A vitamin B3 ingredient, is a popular skincare ingredient that improves skin texture, appearance, and cell turnover, making it beneficial for acne sufferers.

Purified Water, Caprylic/Capric Triglyceride, Niacinamide, Glycerin, Kojic Acid, Glyceryl Stearate, Cetyl Alcohol, Emulsifying Wax, Shea Butter, C-12-15 Alkyl Benzoate, Cocoa Butter, Xanthan Gum, Vitamin E, Licorice Extract, Ashwagandha Extract, Grapefruit Extract Mulberry Extract, Ethylhexylglycerin, Allantoin, Disodium EDTA, Guarana Extract, Fragrance
After shower, ensure your skin is clean and dry.
Take a small amount of the cream and apply it to your back and bum.
Gently massage it in using circular motions until fully absorbed.
Use it in your daily skincare routine, ideally in the morning and evening, for best results.
Yes, our cream is formulated to be suitable for all skin types. However, if you have specific skin concerns or sensitivities, it's always a good idea to do a patch test first.
While it's designed for the back and bum, you can use it on other areas of your body where you have similar concerns, like thighs or upper arms.
Our cream contains Guarana Extract for firming, Kojic Acid for brightening, and Niacinamide for moisturizing and enhancing skin texture. These ingredients target body acne, saggy skin, and brighten while providing moisture.