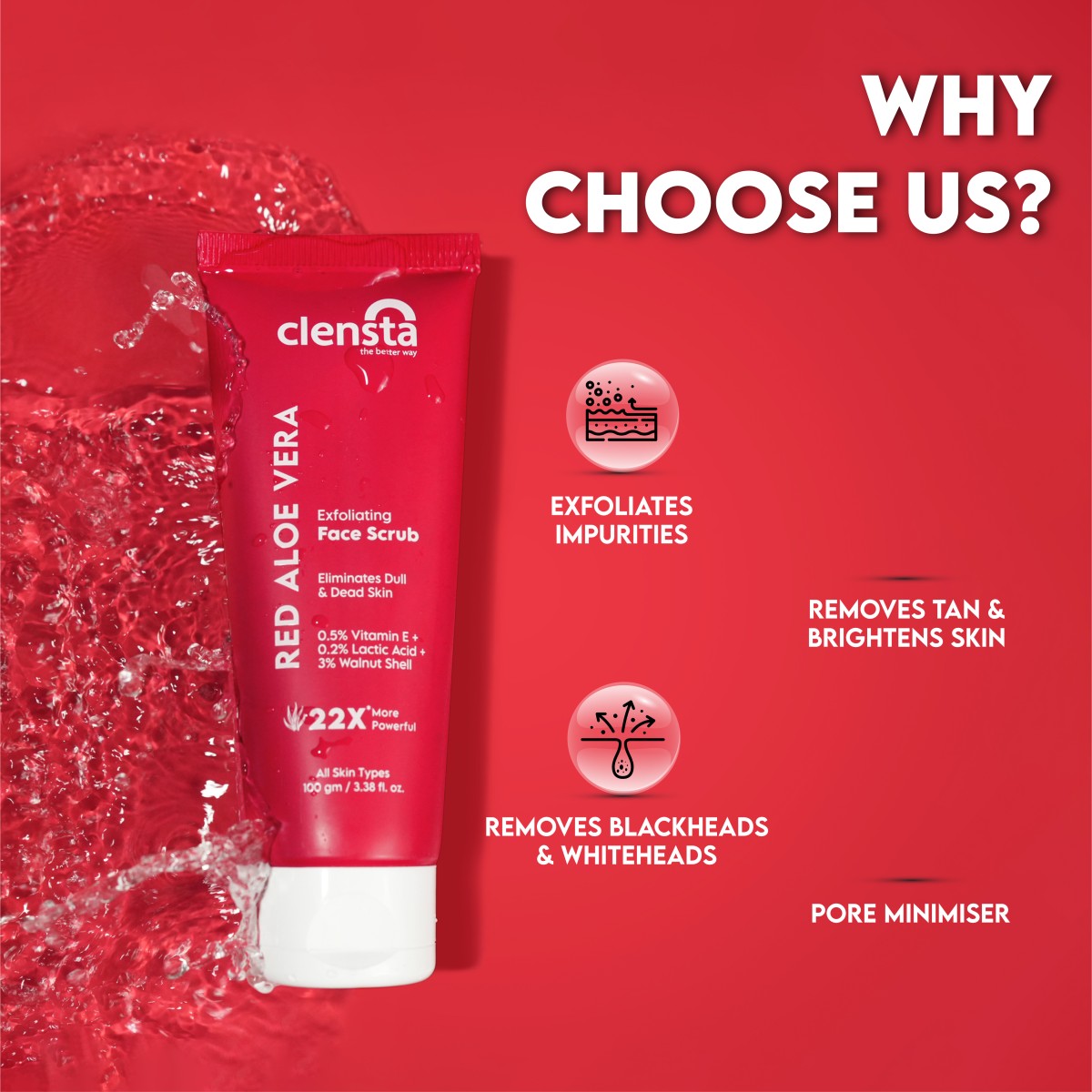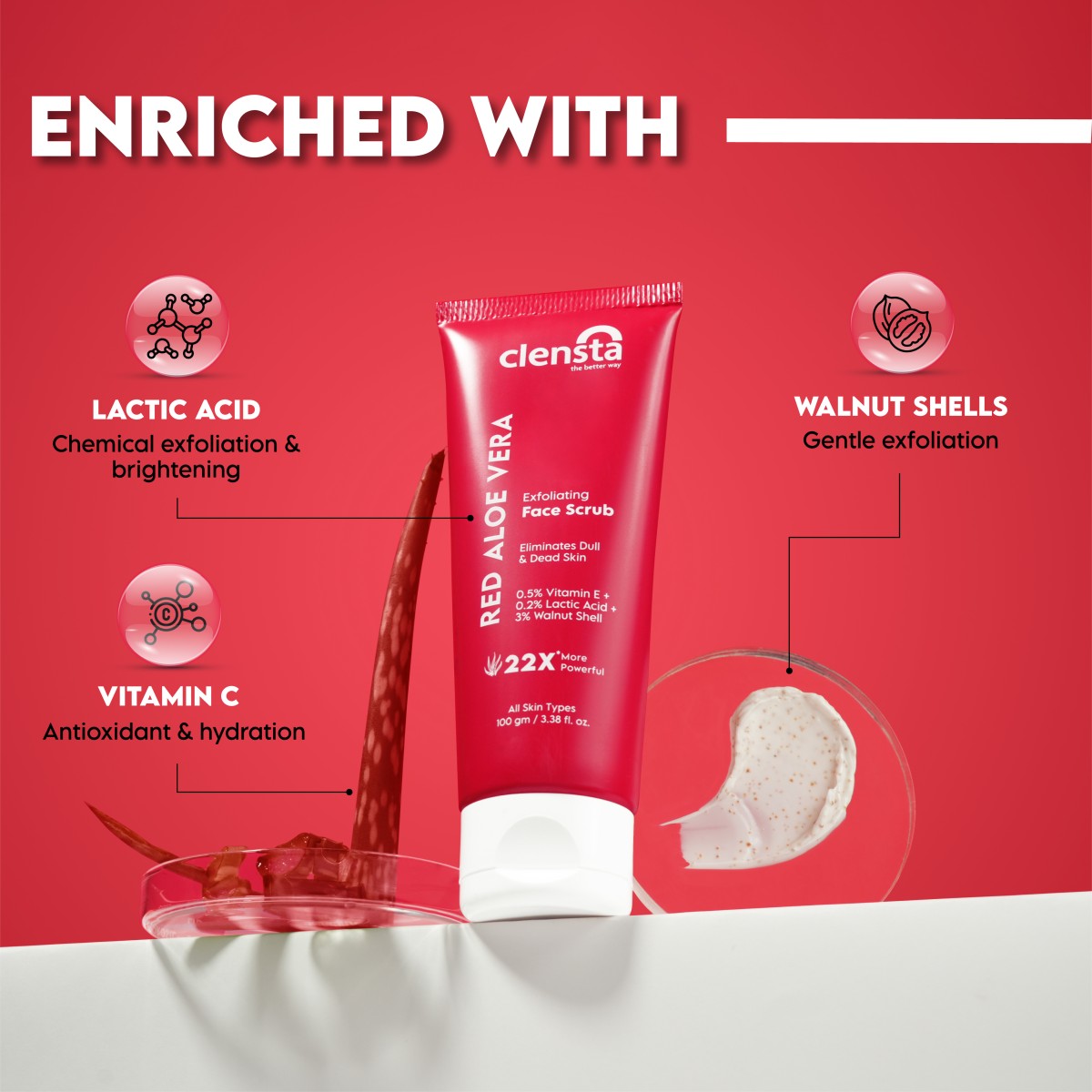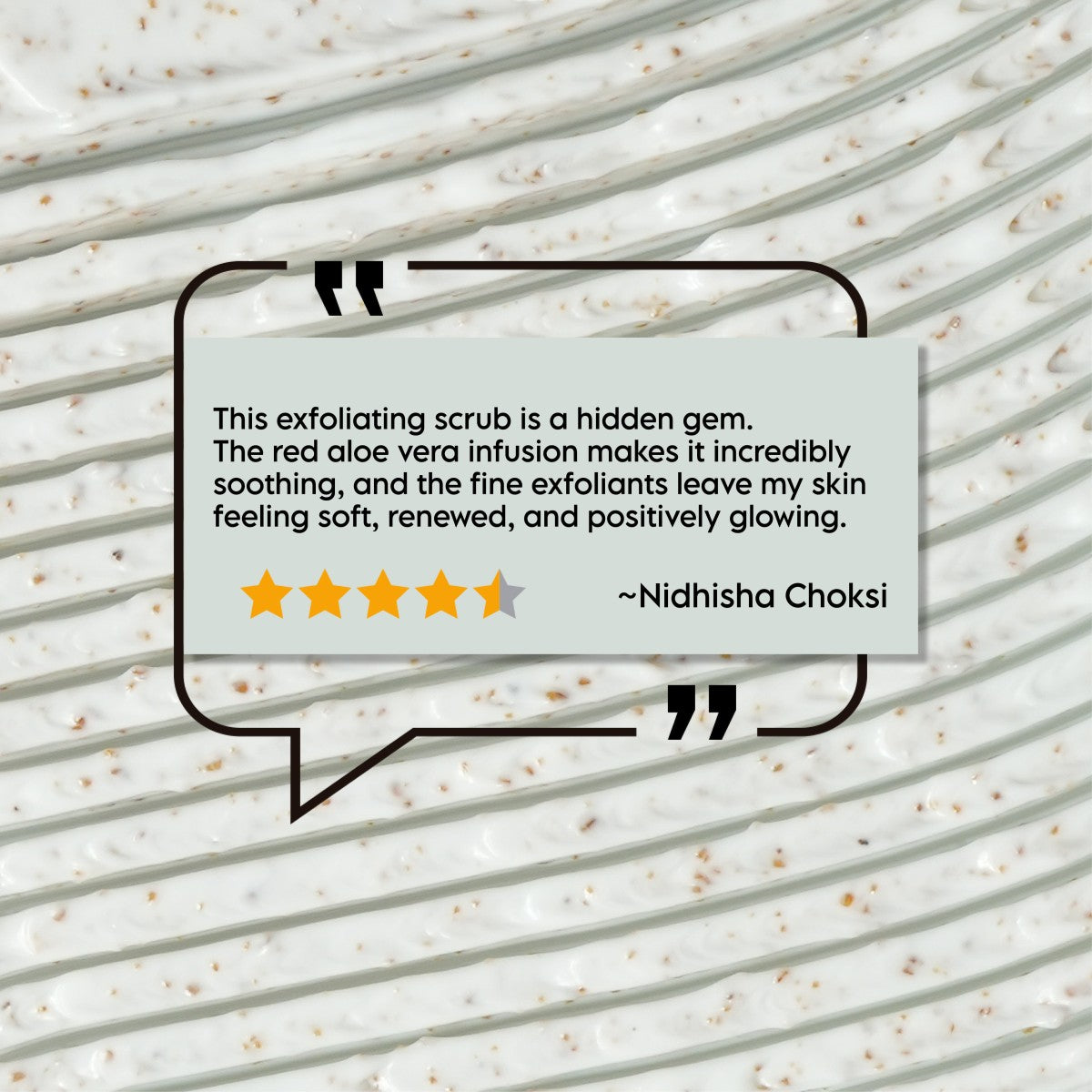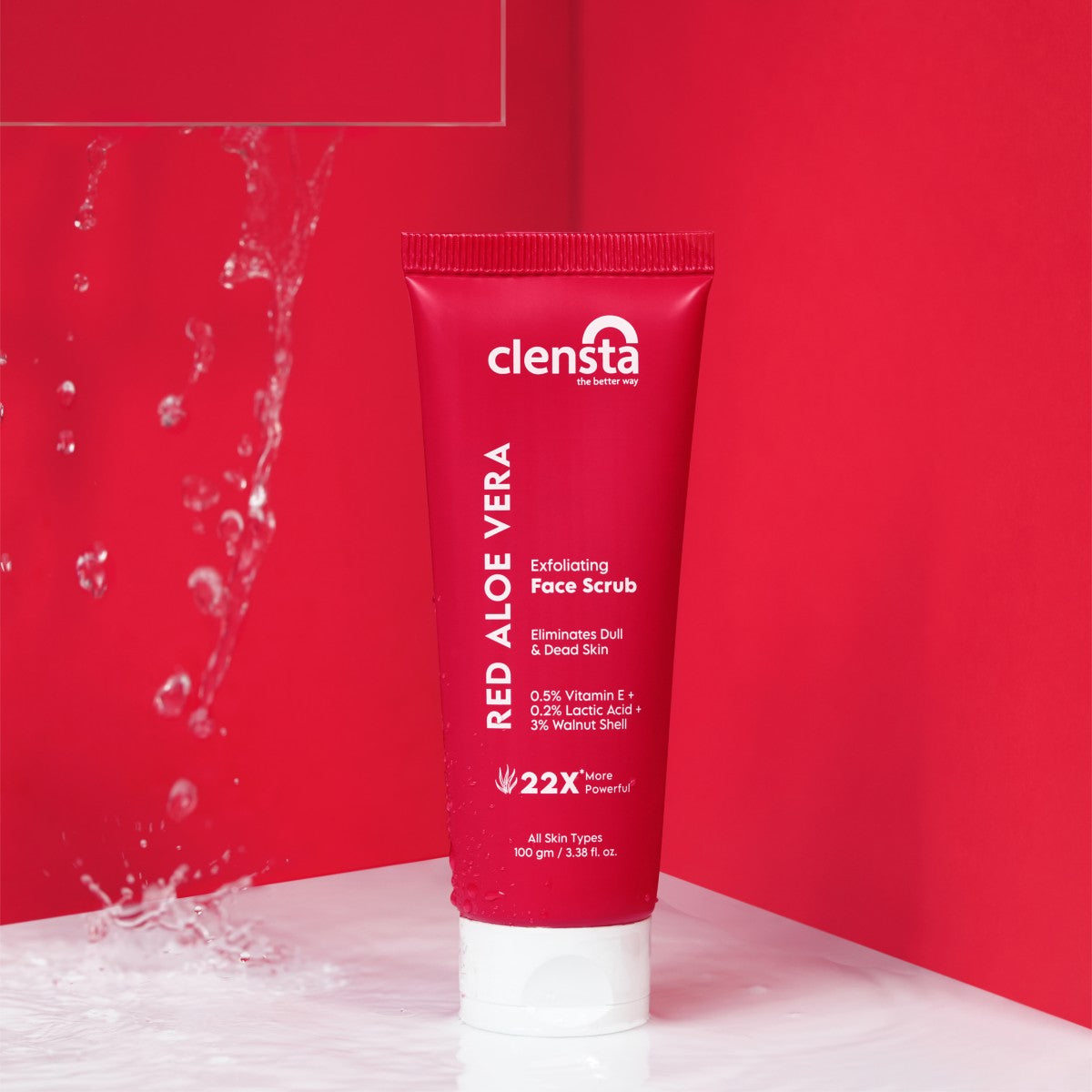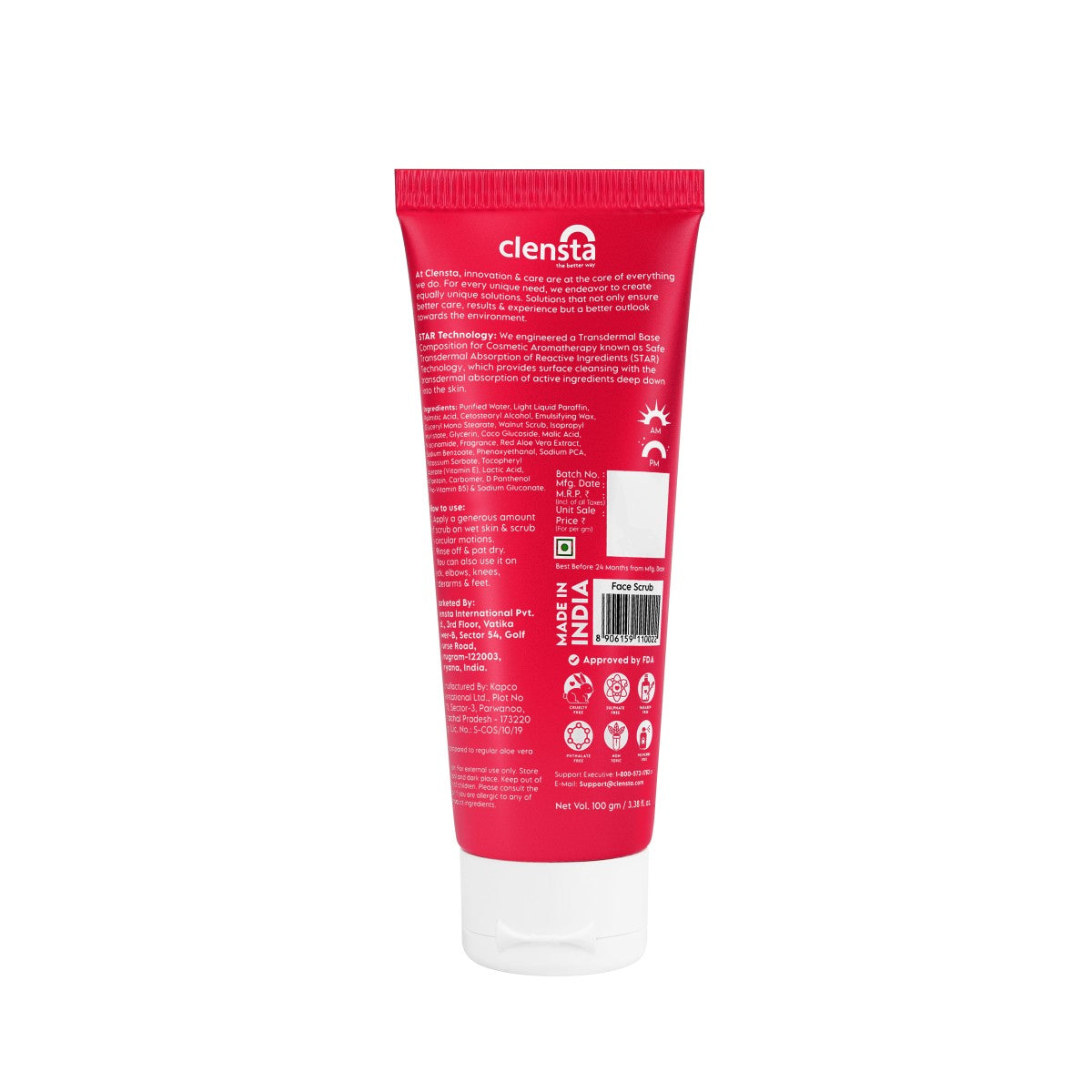 Exfoliating Face Scrub With 3% Walnut Shells, 0.5% Vitamin E & 0.2% Lactic Acid For Removing Blackheads & Whiteheads
Eliminates Dull and Dead Skin
OFFERS
Get Flat 30% off on orders above ₹799
Get Flat 20% off on orders above ₹599
Buy 1 Get 1 ( On Gummies, Body Lotions & Perfumes)
Add Any 2 Products in Cart & 1 product will be FREE
Get Additional 5% OFF on prepaid orders
What's in it-
Your secret weapon for a spa-worthy glow-up at home! Our exfoliating face scrub is enriched with goodness of Walnut Shells, Vitamin E, and Lactic Acid, all in a non-sticky formula. Get ready to sparkle & glow.
What It Does-
The scrub's deep pore cleansing action aids in eliminating pollutants that cause black heads. Your skin will be clean, clear, and gorgeous after using this scrub.The pore-clogging bacteria that cause acne are eliminated by the exfoliating scrub. All of this without altering the pH balance of the skin.
How It Does-
Our exfoliating face scrub is a powerhouse blend of skin-loving ingredients that team up to give your skin a radiant boost. Featuring the dynamic trio of finely crushed walnut shells, vitamin E, and lactic acid, it works like a dream team to gently buff away dead skin cells, leaving your complexion smoother and more vibrant.

Approved By FDA |Cruelty-Free | Lab Tested | Non-Toxic | Paraben-Free | Sulphate-Free | Phthalate-Free

Walnut Shells:

They offer gentle mechanical exfoliation, improving skin texture and removing blackheads and whiteheads. They effectively remove dead skin cells, dirt, and impurities, making the skin feel softer and radiant.

Vitamin E:

It is a potent antioxidant that protects skin from damage, maintains moisture balance, supports skin repair, reduces scars and imperfections, and has anti-inflammatory properties to soothe and calm irritated skin.

Lactic Acid:

It is an alpha hydroxy acid, promotes chemical exfoliation, brightening, hydration, fine line reduction, and even skin tone by dissolving dead skin cells, promoting the shedding of damaged ones, retaining moisture, and reducing the appearance of fine lines and wrinkles.

Purified Water, Light Liquid Paraffin, Palmitic Acid, Cetostearyl Alcohol, Emulsifying Wax, Glyceryl Mono Stearate, Walnut Scrub, Isopropyl Myristate, Glycerin, Coco Glucoside, Malic Acid, Niacinamide, Fragrance, Red Aloe Vera Extract, Sodium Benzoate, Phenoxyethanol, Sodium PCA, Potassium Sorbate, Tocopheryl Acetate (Vitamin E), Lactic Acid, Allantoin, Carbomer, D Panthenol (Pro-Vitamin B5) & Sodium Gluconate.
Apply a small amount onto wet face
Gently massage in circular motion
Rinse off and pat dry
This face scrub gives you healthy, soft, smooth skin and an even tone.
This Exfoliating Face Scrub helps remove dead skin cells giving you healthier skin.
All Clensta products are non-toxic and chemical-free.
Yes, this Exfoliating Face Scrub is ideal for acne-prone skin, and after a few uses, it gives you healthy, fresh skin
This Exfoliating Face Scrub is ideal for oily skin and helps keep the skin refreshed and clean so that no pimples, whiteheads, and blackheads can form on the face.
Walnut shell is a fantastic ingredient to give you clear, acne-free skin. In addition, it works well to reduce skin pigmentation.
All Clensta products are unisex and can be used by men and women both.
The Exfoliating Face Scrub works well to reduce dark spots and pigmentation. The active ingredients of this face scrub are ideal for any facial skin issues.
All Clensta products are SLS, parabens, phthalates, and pesticide-free.
A one-time purchase of the Exfoliating Face Scrub gives you 100gm of the product.
All Clensta products are SLS, parabens, phthalates, and pesticide-free. These are non-toxic and FDA-approved.
Vitamin E
Vitamin E protects against sun damage and nourishes and protects the skin from damage caused by free radicals.
Walnut Shell
Reduces signs of ageing and scrubs the sun damage, dirt, and impurities from deep pores keeping the acne and blemishes away.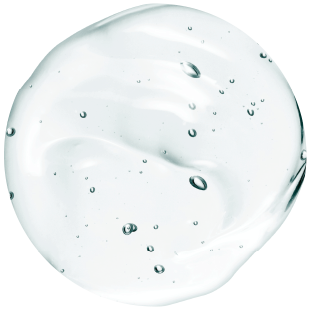 Lactic Acid
It reduces fine lines, improves the skin's natural moisture, and removes old, dead cells giving you younger-looking skin.
Amazing Product
You could feel the exfoliating particles while massaging. It exfoliates skin and makes it smooth. It brightens skin and improves skin texture. It removes dead skin. It comes in a squeezable plastic tube. I use it two times a week. It cleans the pores properly. The consistency of the scrub is very creamy. I like the smell of this scrub which is mild and fruity. The granules act really well in exfoliating my skin deeply.
Great beginner's level Scrub
Best scrub and the only scrub till date which gave me satisfied result after application. Best beginner physical scrub...
Good scrub
I have bought Clensta exfoliate face scrub recently and i really love this product. This face scrub is very gentle on skin . I am using this on regular basis and i could feel the refreshing sking after every use. It also exfoliates deep skin impurities thus giving the skin a good glow. Overall a good product for daily use with nice smell.
Best scrub
If your skin is sensitive then this is very best scrub... Not too Harsh on skin and molecules are very small...
Nice scrub
It cleanses the face well and improves the texture. I started using this from a week now and i feel slight diffrence in skin. it is paraben and soap free.