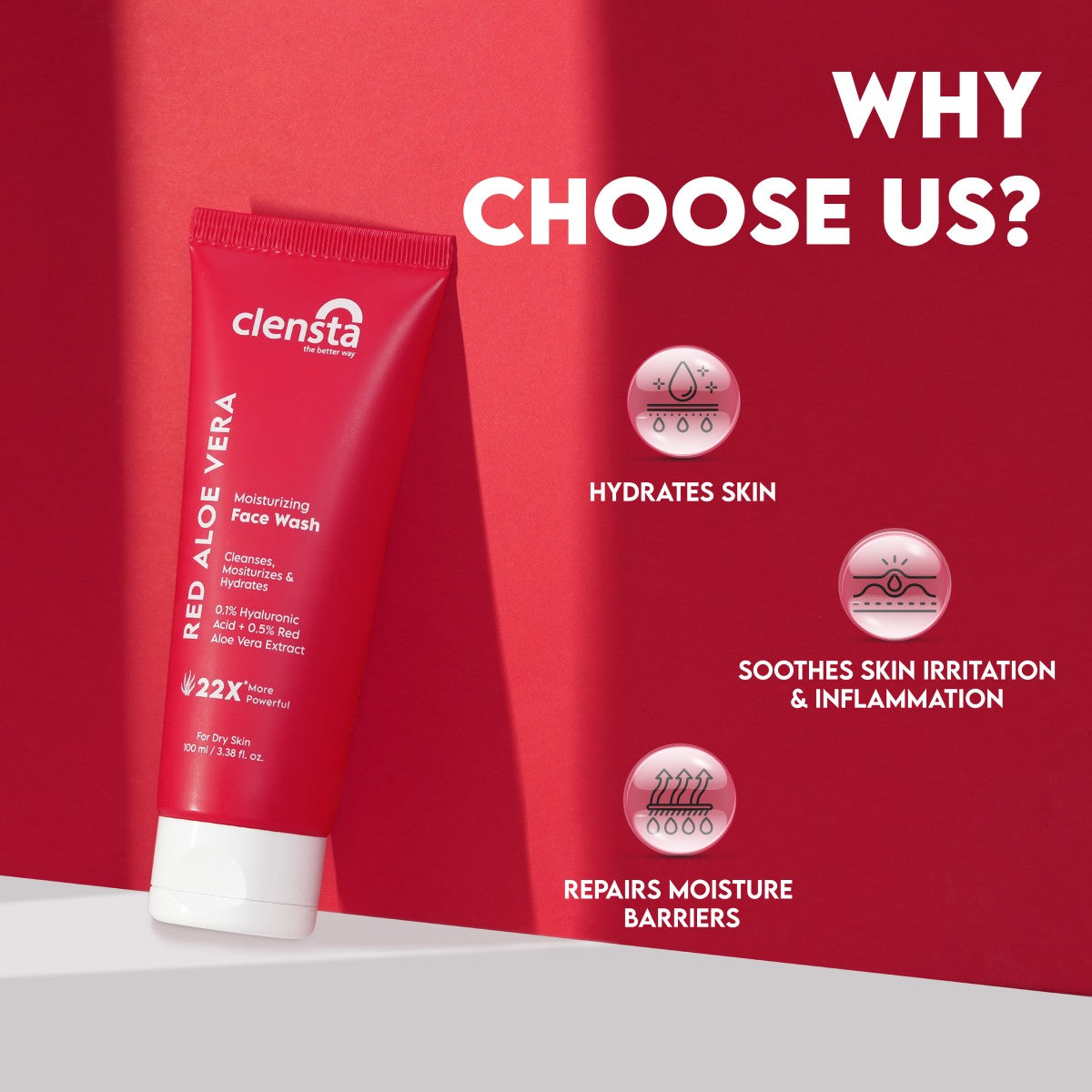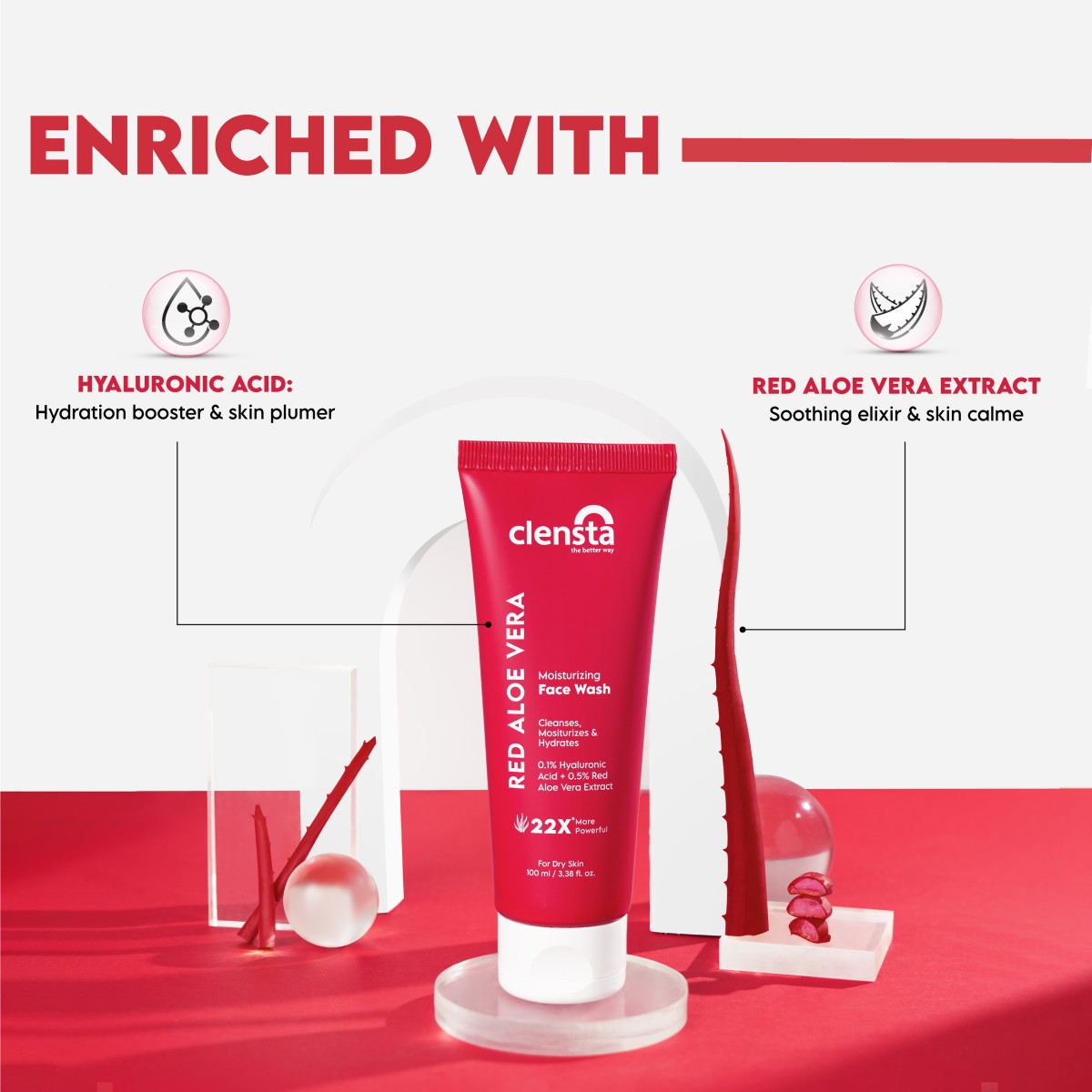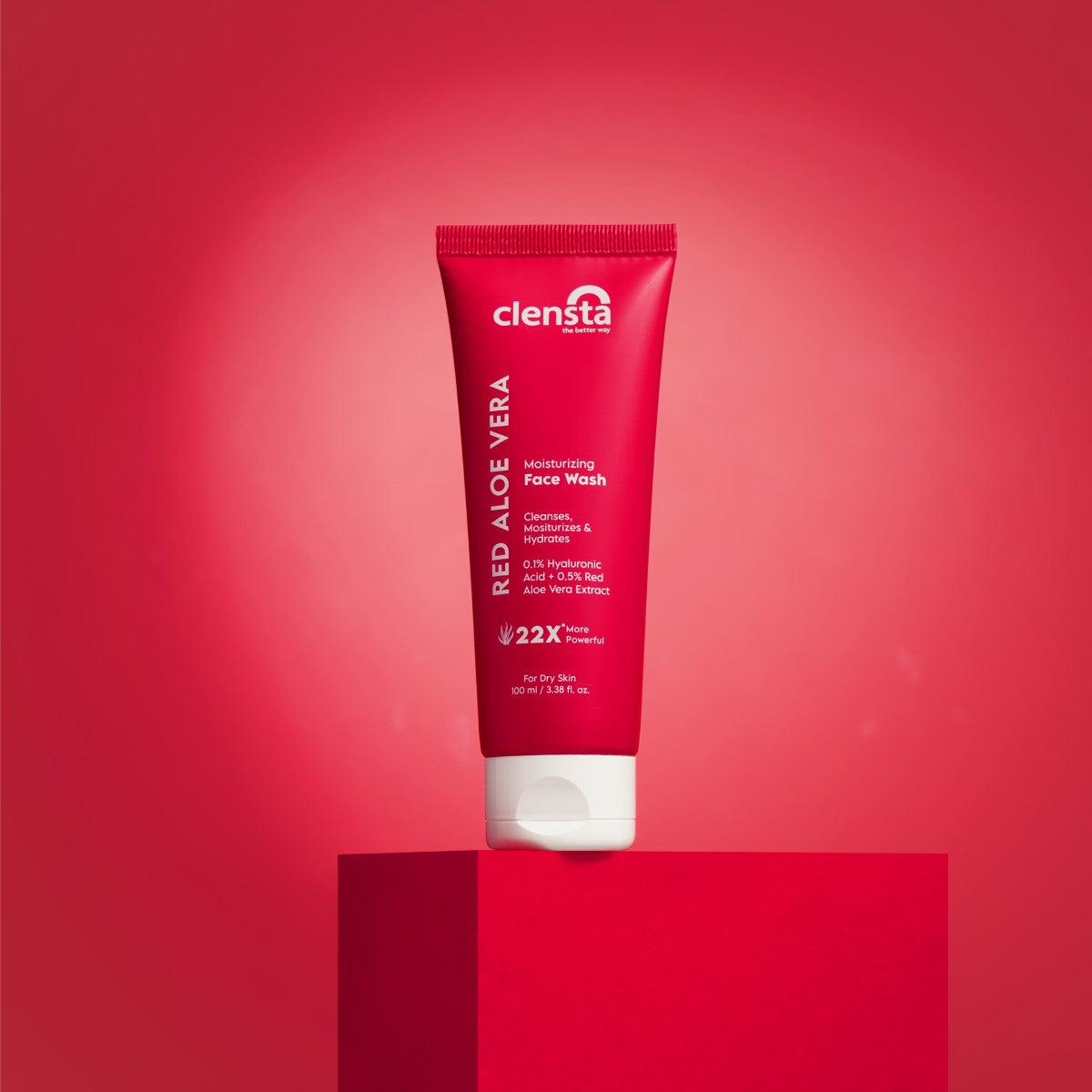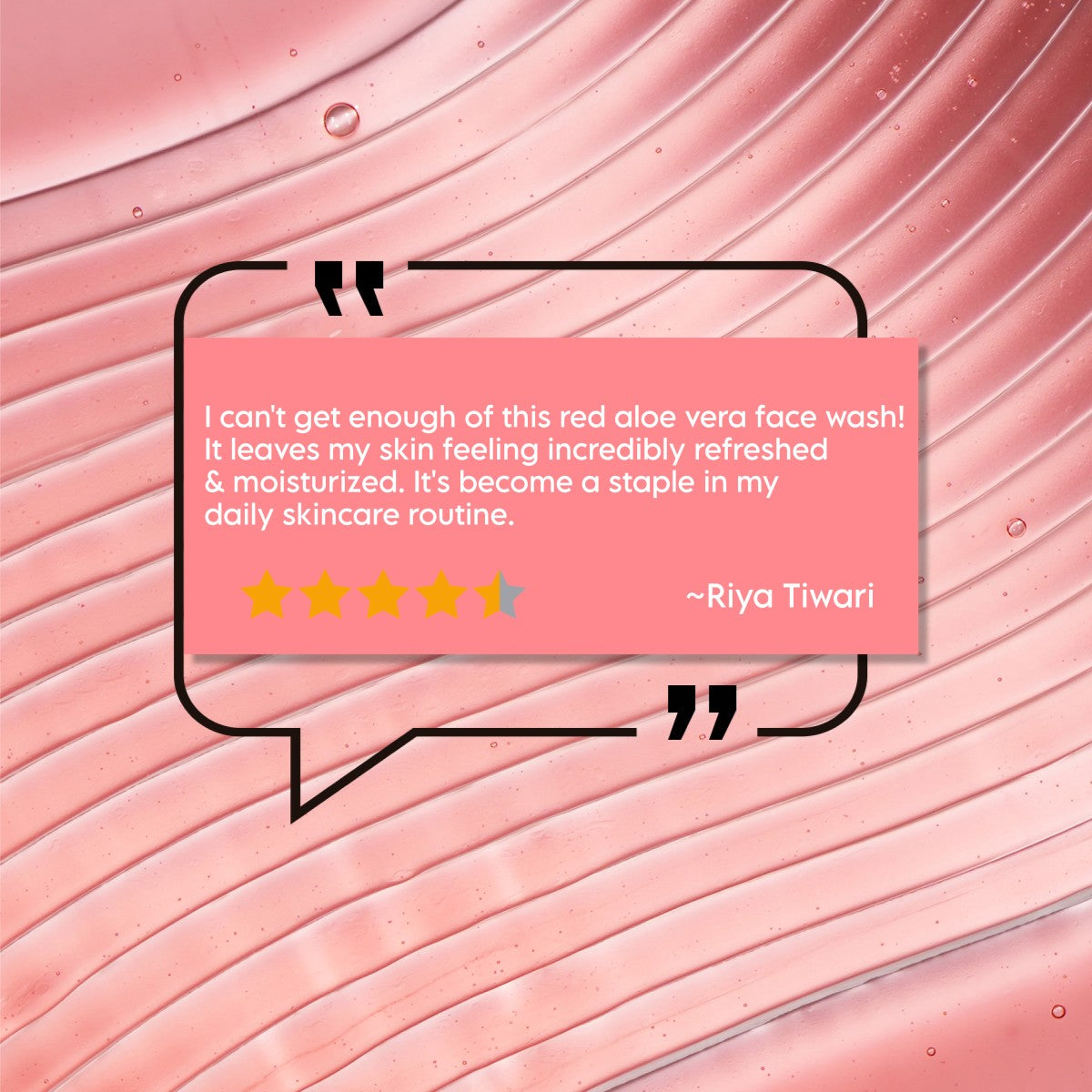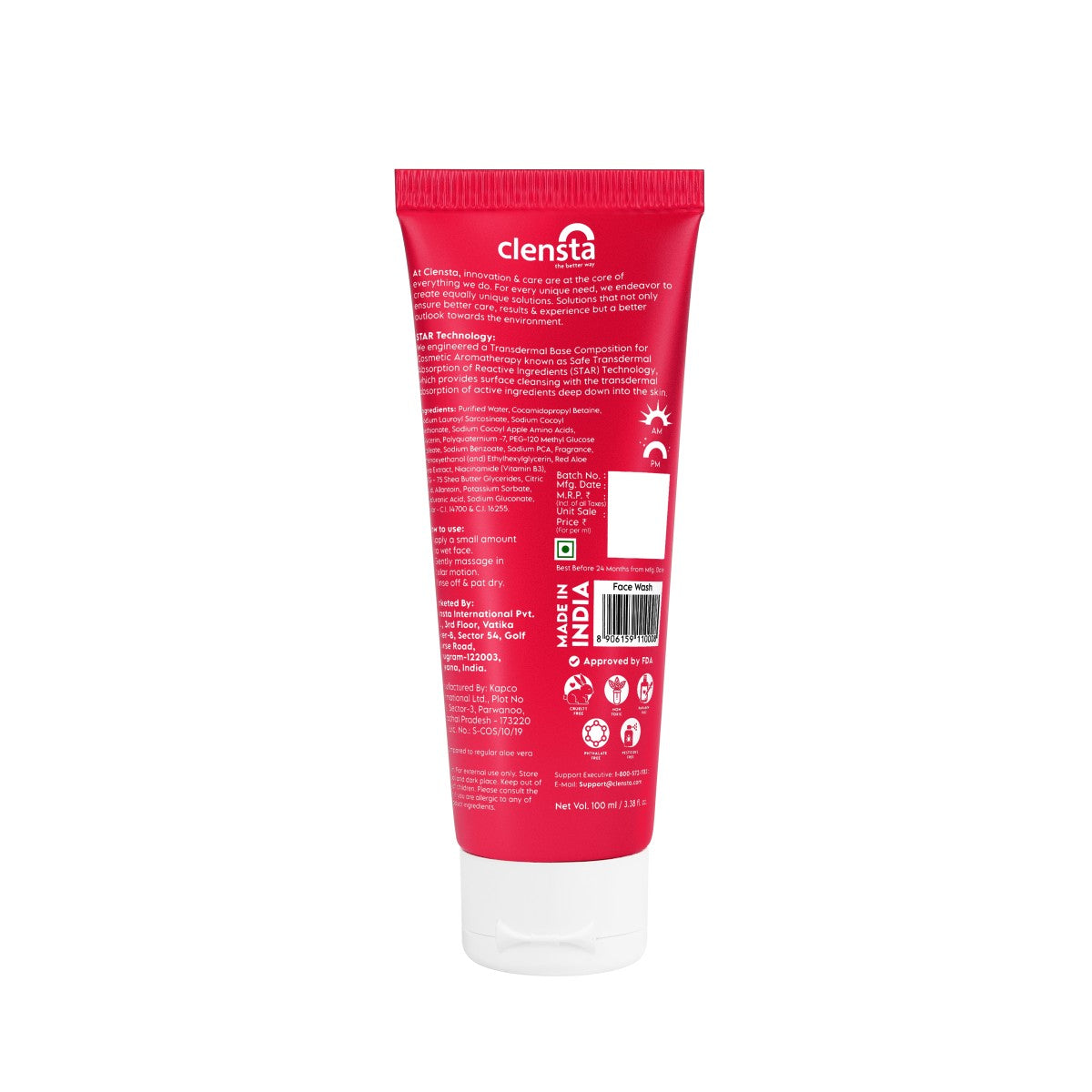 Moisturizing Face Wash With 0.1% Hyaluronic Acid & 0.5% Red Aloe Vera Extract For Hydrated & Nourished Skin
Cleanses, Moisturizes & Hydrates
OFFERS
Get Flat 30% off on orders above ₹799
Get Flat 20% off on orders above ₹599
Buy 1 Get 1 ( On Gummies, Body Lotions & Perfumes)
Add Any 2 Products in Cart & 1 product will be FREE
Get Additional 5% OFF on prepaid orders
What's in it-
Our hydrating moisturizing face wash is like a refreshing splash of nature's goodness in a bottle. Packed with the soothing power of red aloe vera extract and the moisture magnet, hyaluronic acid, it's a skin-loving elixir that brings the spa experience to your daily routine.
What It Does-
This face wash isn't just a cleanse; it's a hydration celebration! It drenches your skin in moisture, leaving it as soft as a kitten's cuddle. With Red Aloe vera's calming touch and Hyaluronic Acid's skin-plumping prowess, it banishes dryness, revealing a dewy, radiant complexion that's ready to take on the world.
How It Does-
Red Aloe Vera extract is like a cool breeze on a hot day, soothing and calming your skin. Meanwhile, Hyaluronic Acid acts like a magnet, attracting and locking in moisture, so your skin feels supple and revitalized.

Approved By FDA | Cruelty-Free | Lab Tested | Non-Toxic | Paraben-Free | Sulphate-Free | Phthalate-Free

Hyaluronic Acid -

Hyaluronic Acid has the ability to hold up to 1,000 times its weight in water. Hence it intensely hydrates the skin, reducing dryness and promoting a plump, youthful complexion. It support healthier, more resilient skin that is better equipped to combat the effects of sun exposure and pollution

Red Aloe Vera Extract -

It helps alleviate irritated or sensitive skin, providing relief from redness or discomfort. Its hydrating properties help maintain skin's moisture balance, leaving it feeling soft and supple.

Purified Water, Cocamidopropyl Betaine, Sodium Lauroyl Sarcosinate, Sodium Cocoyl Isethionate, Sodium Cocoyl Apple Amino Acids, Glycerin, Polyquaternium -7, PEG-120 Methyl Glucose Dioleate, Sodium Benzoate, Sodium PCA, Fragrance, Phenoxyethanol (and) Ethylhexylglycerin, Red Aloe vera Extract, Niacinamide (Vitamin B3), PEG – 75 Shea Butter Glycerides, Citric Acid, Allantoin, Potassium Sorbate, Hyaluronic Acid, Sodium Gluconate, Color - C.I. 14700 & C.I. 16255.
Apply a small amount onto wet face
Gently massage in circular motion
Rinse off and pat dry
Using a face cleanser twice daily is ideal for keeping your skin hydrated and clean.
Vitamin E and Magnesium Ascorbyl Phosphate in the Skin Glow Face Wash are ideal for dry skin and keep it moisturised and healthy.
All Clensta products are unisex and can be used by men and women with dry skin.
The actives do not cause your skin to get too oily. Instead, this face wash gives you the right amount of hydration to keep your skin from getting too dry and flaky.
This face wash is suitable for those with dry skin to keep it moisturised and healthy.
This face wash scoops out the impurities from deep skin pores and boosts the skin glow while retaining its natural moisture. In addition, the active ingredient concentration in this Skin Glow Face Wash helps beat dullness while improving the free radical damaged and inflamed skin.
This face wash has D.M. Water, Sodium Laureth Sulfate, Cocamidopropyl Betaine, Glycerine, Cocodiethanolamide, Fragrance, Peg-150 Distearate, Red Aloe Vera Extract, Polysorbate 20, Polyquaternium -7, Sodium chloride, DMDM Hydantoin, Di Sodium EDTA, Allantoin, Magnesium Ascorbyl Phosphate, Vitamin E acetate, Citric Acid, Methylchloroisothiazolinone And Methylisothiazolinone, and Colour. These ingredients are not recommended for sensitive skin but are ideal for dry and flaky skin.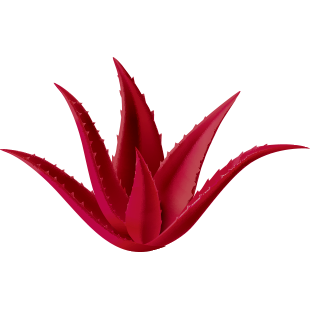 Red Aloe Vera
Red Aloe Vera shows immune-stimulating actions, reduces
the formation of melanin, and tendency towards hyperpigmentation. Therefore, it
nourishes dry skin and hair, making it smoother and livelier.
Hyaluronic Acid
It helps reduce and prevent dark spots and pigmentation. It protects your skin from damage caused by the sun and pollution, giving you healthy and soft skin.
Very nice 👍
One Aftab best product pimple also reduce. Mind blowing product 👍😀
fabulous product
fabulous product best quality in this price easy to apply on face nd very good result
Very good product for dry skin
Smooth skin and remove white spots
Good but not tooo good ..only value for money but not in quality
Old version of this product was awesome in facewash but this new item is worst it's not showing any brightness instead it's making dull