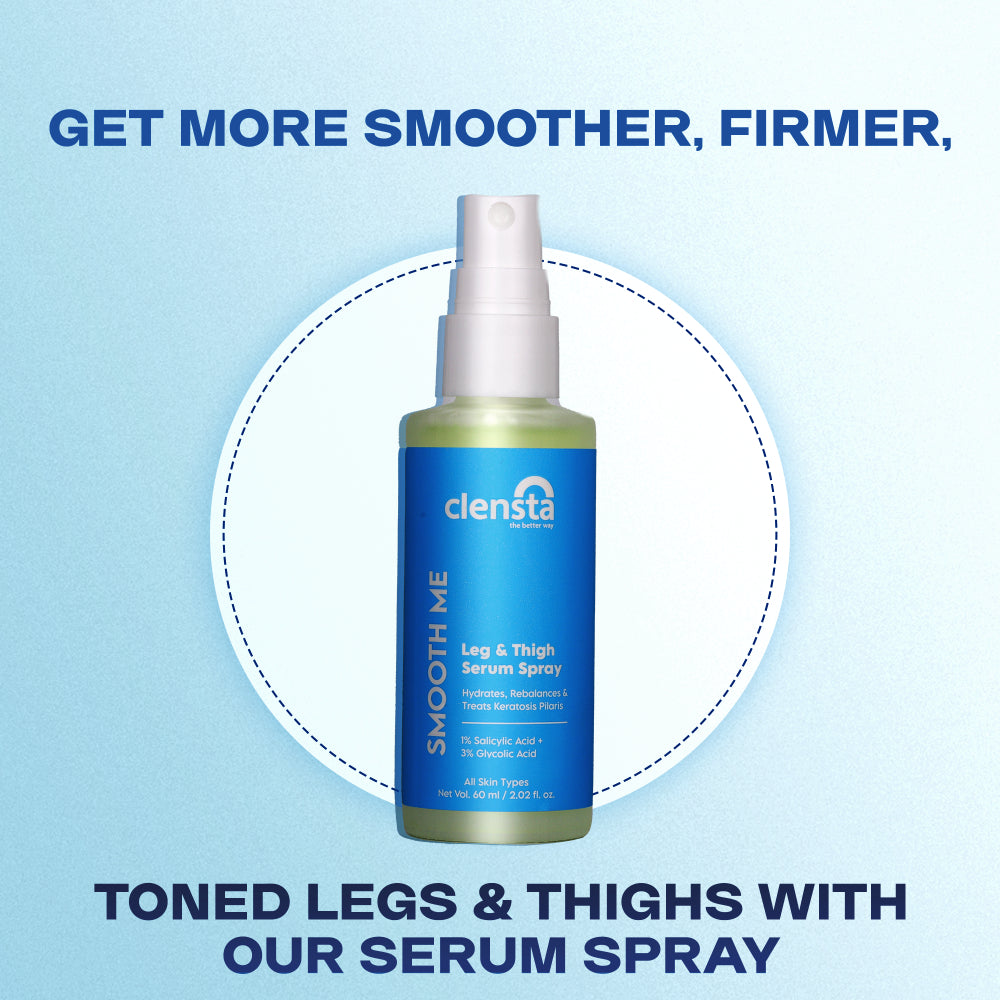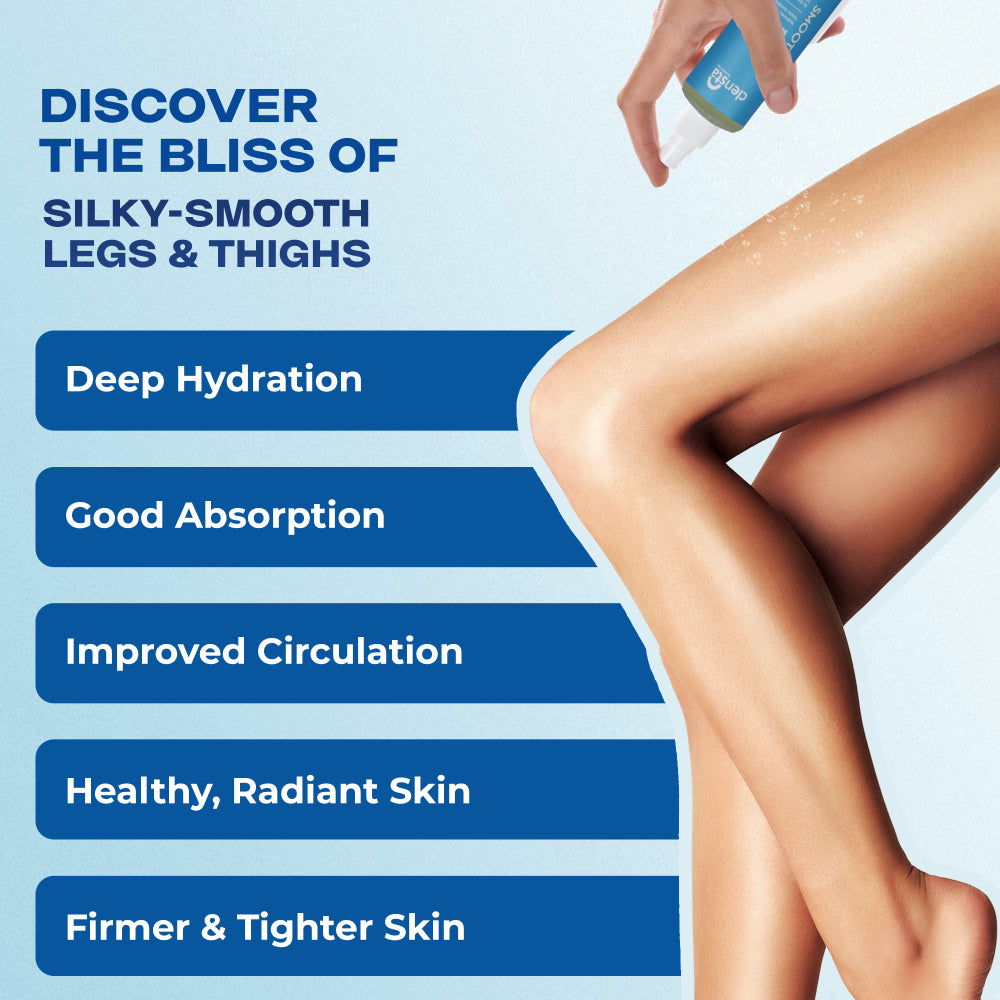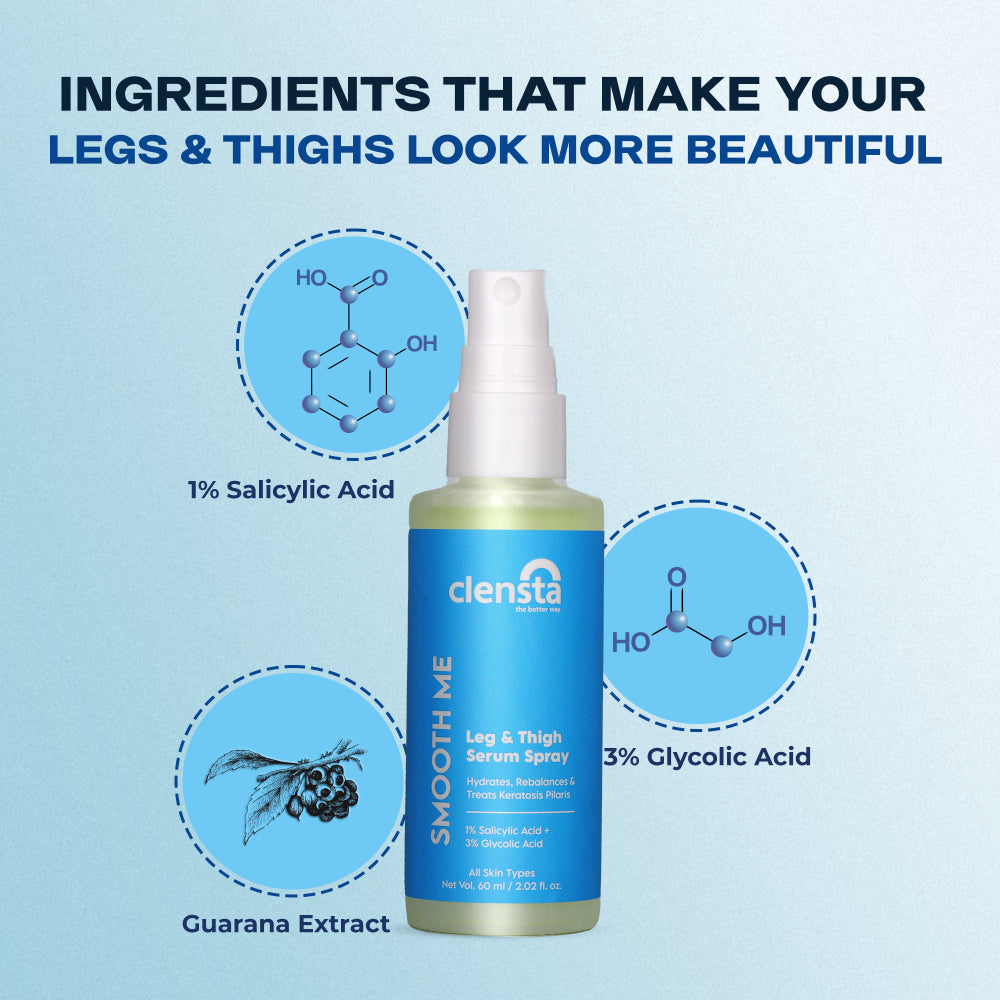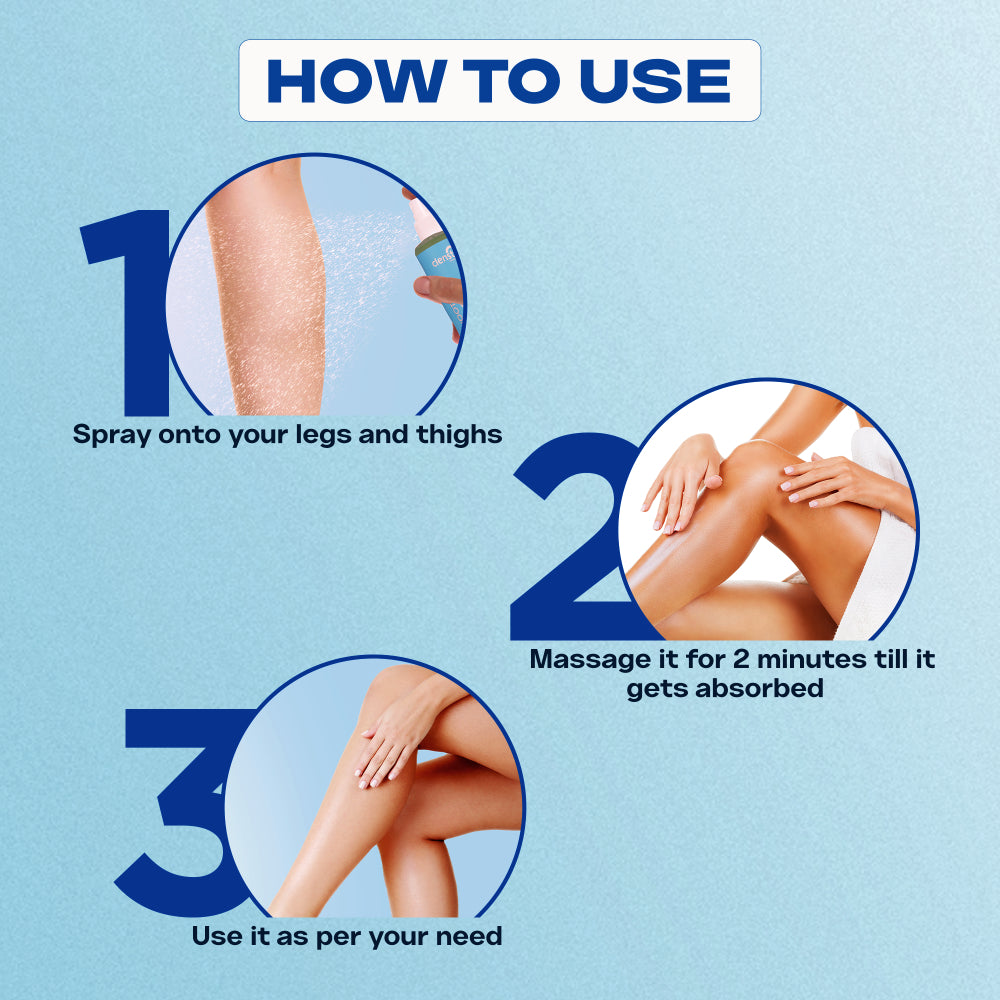 Smooth Me: Leg and Thigh Serum Spray with 1% Salicylic Acid, 3% Glycolic Acid & Guarana Extract for Uplifting the Nourishment Experience
Hydrates, Rebalances & Treats Keratosis Pilaris
OFFERS
Get Flat 30% off on orders above ₹799
Get Flat 20% off on orders above ₹599
Buy 1 Get 1 ( On Gummies, Body Lotions & Perfumes)
Add Any 2 Products in Cart & 1 product will be FREE
Get Additional 5% OFF on prepaid orders
What's in it-
Our Leg & Thigh Serum Spray – your go-to solution for enhancing the appearance of your leg and thighs, making it effortless to attain a more youthful look.
What It Does-
It provides essential hydration, restores balance, and effectively addresses Keratosis Pilaris. It delivers complete nourishment, leaving your skin noticeably smoother and firmer. Its delightful scent adds to a truly uplifting experience.
How It Does-
This comprehensive solution is designed to rejuvenate your legs and thighs. Enriched with 1% Salicylic acid, it effectively addresses rough or bumpy skin in this area, while an additional 3% Glycolic Acid works to stimulate collagen production, enhancing skin elasticity and firmness with consistent use. Guarana extract, rich in antioxidants, provides protection against skin damage.

Approved By FDA | Cruelty-Free | Lab Tested | Non-Toxic | Paraben-Free | Sulphate-Free | Phthalate-Free | Pesticide-Free

Salicylic acid:

This essential ingredient is your skin's best friend which helps to remove dead skin cells. It fosters more refined and uniformly balanced complexion, the acid offers a delicately non-aggressive exfoliation. It is a penetration enhancer, facilitates deeper absorption of the serum spray's valuable ingredients into the skin.

Glycolic acid:

It is a ultimate acid for comprehensive care. The acid effectively diminishes and softens keratosis pilaris while enhancing the skin's moisture barrier. It stimulates collagen synthesis within the skin, all within a convenient and versatile formula.

Guarana Extract:

It is a secret weapon which provides refreshing benefits, leaving the skin feeling soft and well-hydrated. Its astringency and antibacterial superpowers, aids in acne reduction. It serves as a superb natural body revitalizer.

Purified Water, Butylene Glycol, Glycerin, Glycolic Acid, Salicylic Acid, Witch Hazel Extract, D Panthenol, Aloevera Extract, Neem Extract, Green Tea Extract, Allantoin, Ethylhexylglycerin, Mulberry Extract, Licorice Extract, Guarana Extract, Sodium Gluconate, Fragrance
Spray on your legs and thighs.
Gently massage it for 2-3 minutes.
Let it absorb in the skin.
Use it as per your need.
Discontinue use and rinse your skin with water. If the irritation persists, consult a dermatologist.
The benefits may include improved hydration, skin firmness, and potentially the reduction of cellulite or the brightening of the skin.
Check the product label or the manufacturer's website for information about the product's cruelty-free and vegan status.