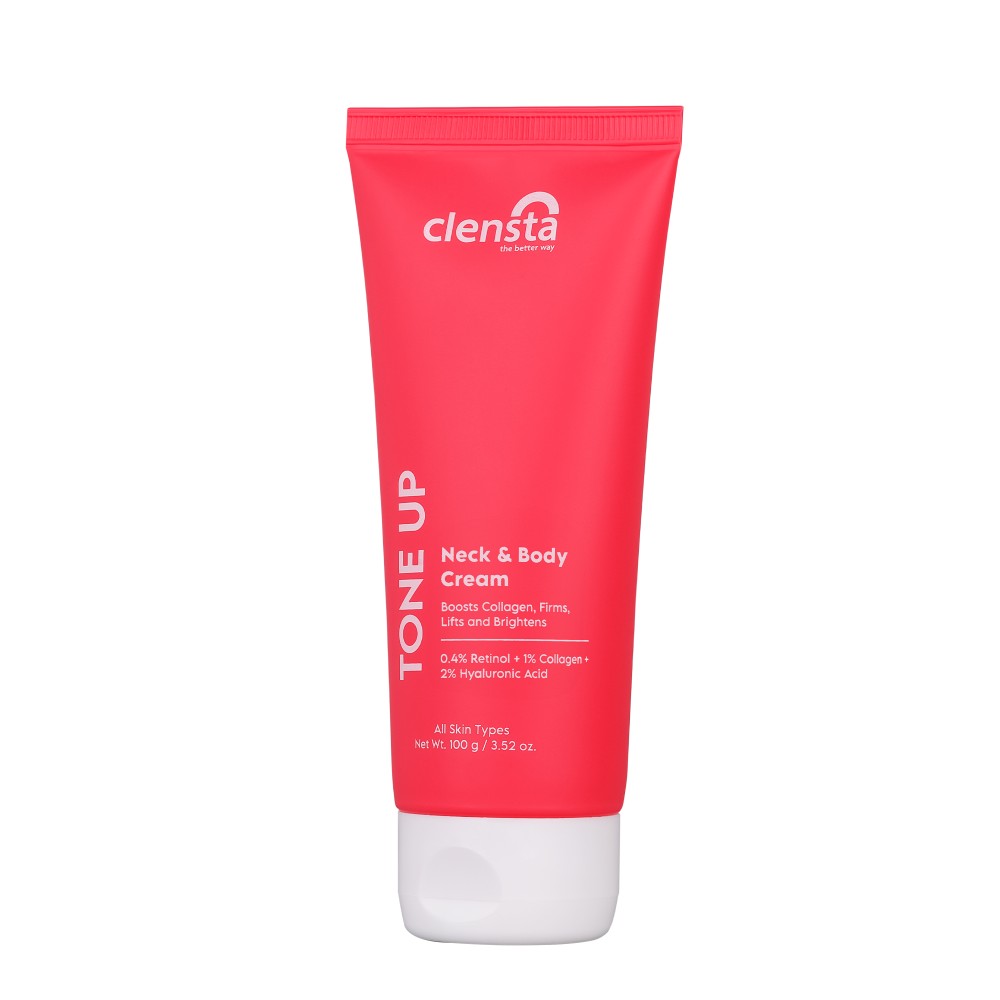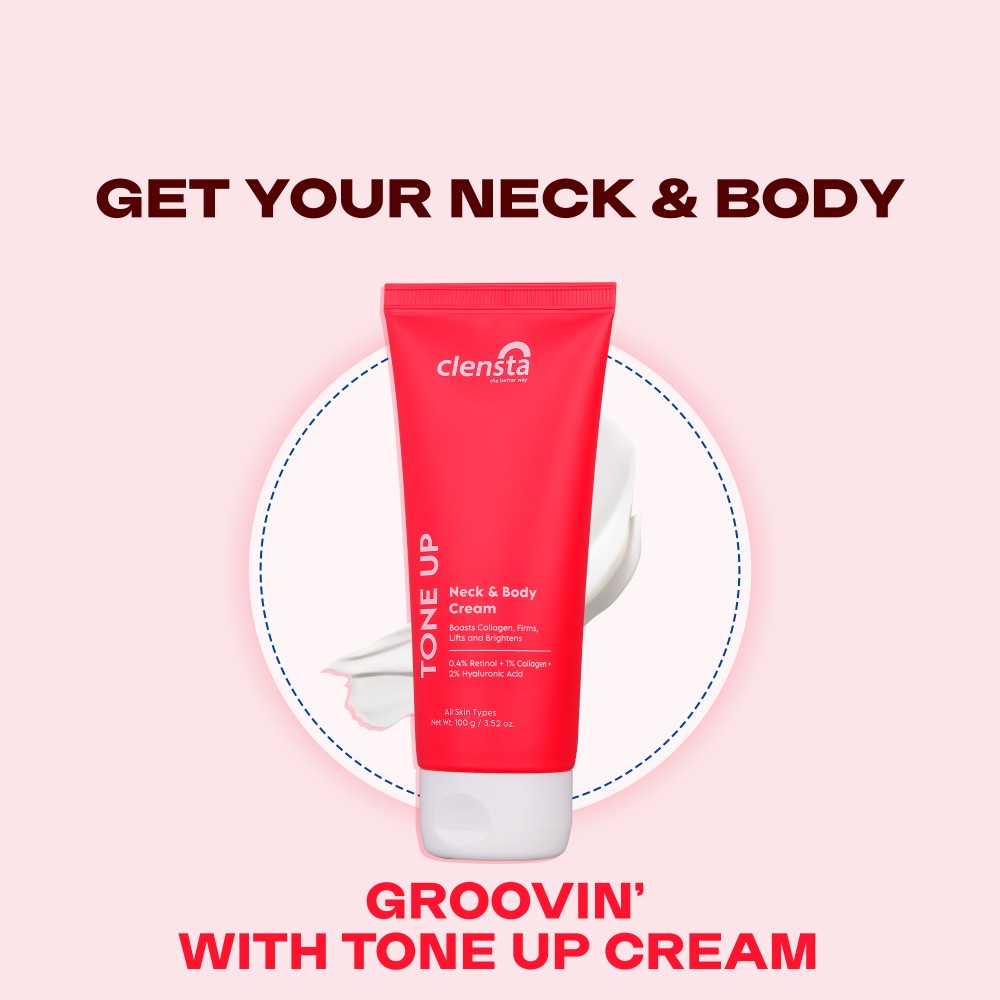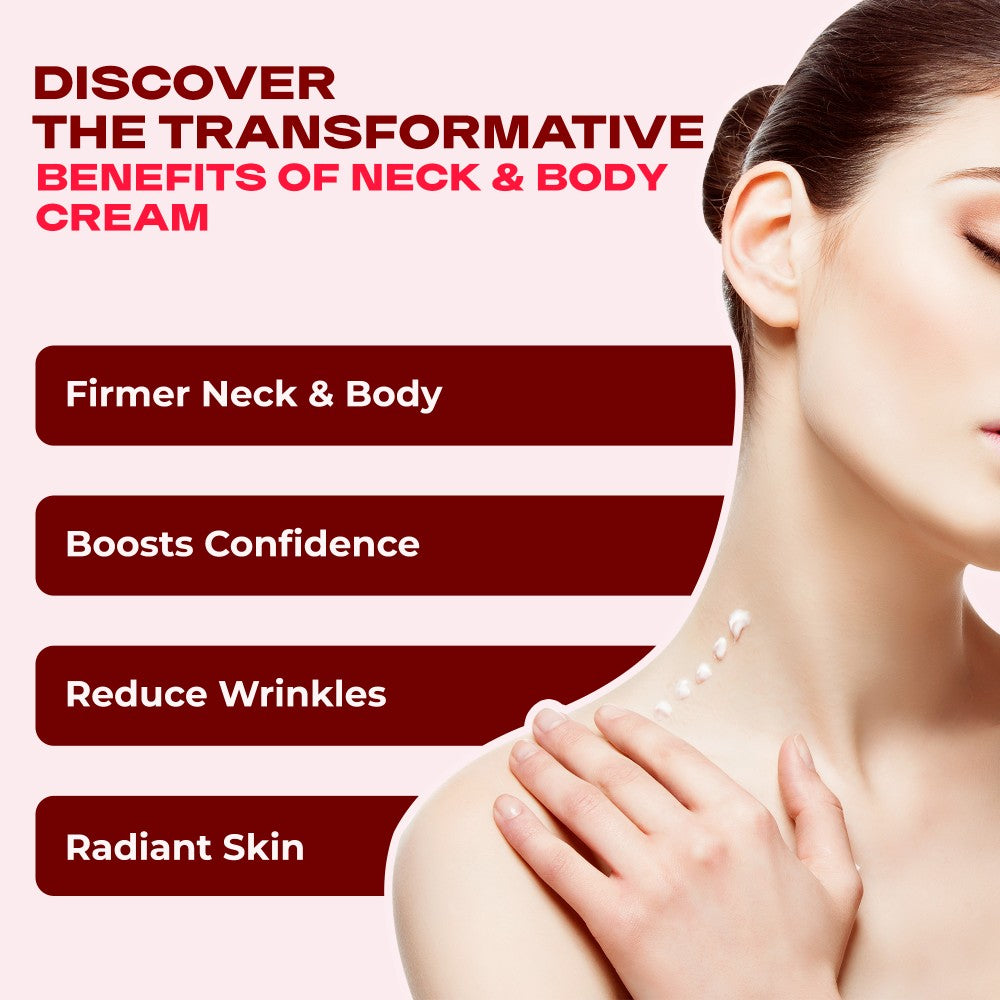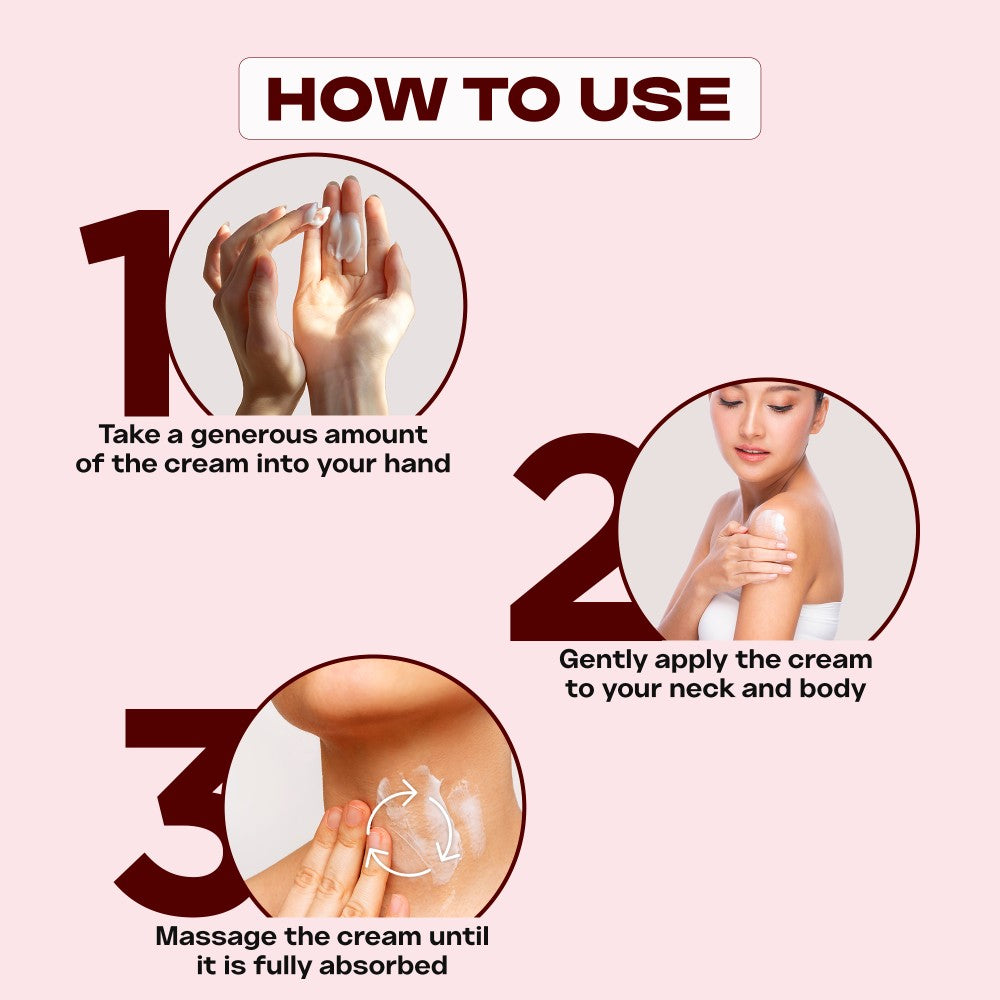 Tone Up Neck & Body Cream Enriched With 0.4% Retinol + 1% Collagen + 2% Hyaluronic Acid for Youthful, Smooth Skin
Boosts Collagen, Firms, Lifts and Brightens
OFFERS
Get Flat 30% off on orders above ₹799
Get Flat 20% off on orders above ₹599
Buy 1 Get 1 ( On Gummies, Body Lotions & Perfumes)
Add Any 2 Products in Cart & 1 product will be FREE
Get Additional 5% OFF on prepaid orders
What's in it-
Our Tone Up Neck & Body Cream, the ultimate companion for your skin. It's not just a cream; it's your skin's new best friend, ready to bring some radiance and vibrancy to your everyday skincare regimen. This cream is designed to elevate your skin's potential, leaving you looking and feeling fantastic.
What It Does-
Our Tone Up Neck & Body Cream is a multi-talented marvel. It doesn't just stop at moisturizing; it firms, hydrates, and revitalizes your skin. With a focus on your neck and body, it works to restore a youthful glow, ensuring that you radiate confidence every day. Say hello to firmer, well-hydrated, and positively radiant skin, from your neck to your toes.
How It Does-
This cream is a dynamic blend of skincare powerhouses, including hibiscus extract, retinol, collagen, and hyaluronic acid. It's like a party for your skin, all neatly packed in a convenient tube. The hibiscus extract brings a touch of magic with its revitalizing properties, while retinol works on improving skin texture and elasticity. Collagen and hyaluronic acid provide that extra oomph to boost your confidence, leaving you ready to flaunt your skin's new lease on life.

Approved By FDA | Cruelty-Free | Lab Tested | Non-Toxic | Paraben-Free | Sulphate-Free | Phthalate-Free | Pesticide-Free

Hibiscus Extract:

The super secret to radiant skin, hibiscus extract gently exfoliates, revealing your skin's natural glow. This superstar ingredient promotes cell turnover, combats the signs of aging, and soothes sensitive skin, leaving you looking and feeling fabulous.

Retinol:

Your skin's BFF, retinol helps boost collagen production, minimize fine lines, and improve overall texture. It's the superhero that encourages skin renewal, resulting in a smoother, more youthful appearance.

Collagen:

Collagen the ultimate skin supporter,replenishes and enhances elasticity. As we age, collagen levels drop, leading to sagging skin. Our cream reintroduces this essential protein for firmer, more toned skin.

Hyaluronic Acid:

Your skin's hydration savior, hyaluronic acid can hold up to 1,000 times its weight in water, making it a powerhouse for plumping and hydrating. Say bye to dryness and hello to a supple, radiant complexion.

Purified Water, Coconut Oil, Hyaluronic Acid, Collagen Powder, Apricot Oil, Rosehip Oil, Almond Oil, Jojoba Oil, Wheat Germ Oil, Vitamin E , Pomegranate Oil, Cetyl Alcohol, Xanthan Gum, Glycerin Retinol, Aloe vera Extract, Niacinamide, Allantoin, Zemea Propanediol, Green Tea Extract, Ethylhexylglycerin, Hibiscus Extract, Disodium EDTA, Fragrance
Apply a generous amount of cream on a clean body
Massage for 2-3 minutes
For best results, apply twice a day
Yes, our cream is suitable for all skin types. It's formulated to hydrate, nourish, and rejuvenate, regardless of your skin's unique needs.
Results can vary, but many users report smoother and more hydrated skin within a few weeks. For more significant improvements, continued use is recommended.
We recommend consulting with a healthcare professional before using any skincare product during pregnancy or while nursing.
Hyaluronic Acid
It helps reduce and prevent dark spots and pigmentation. It protects your skin from damage caused by the sun and pollution, giving you healthy and soft skin.