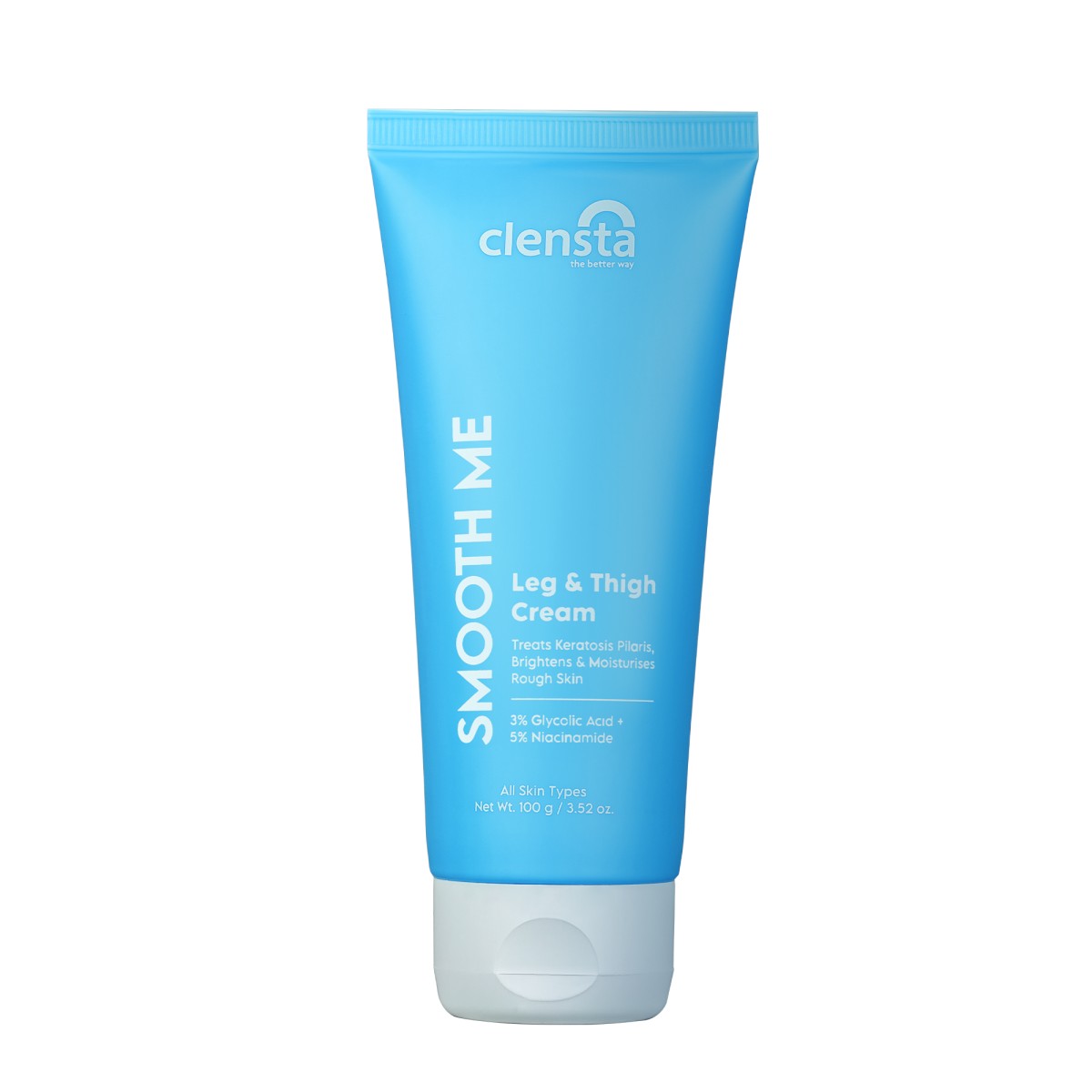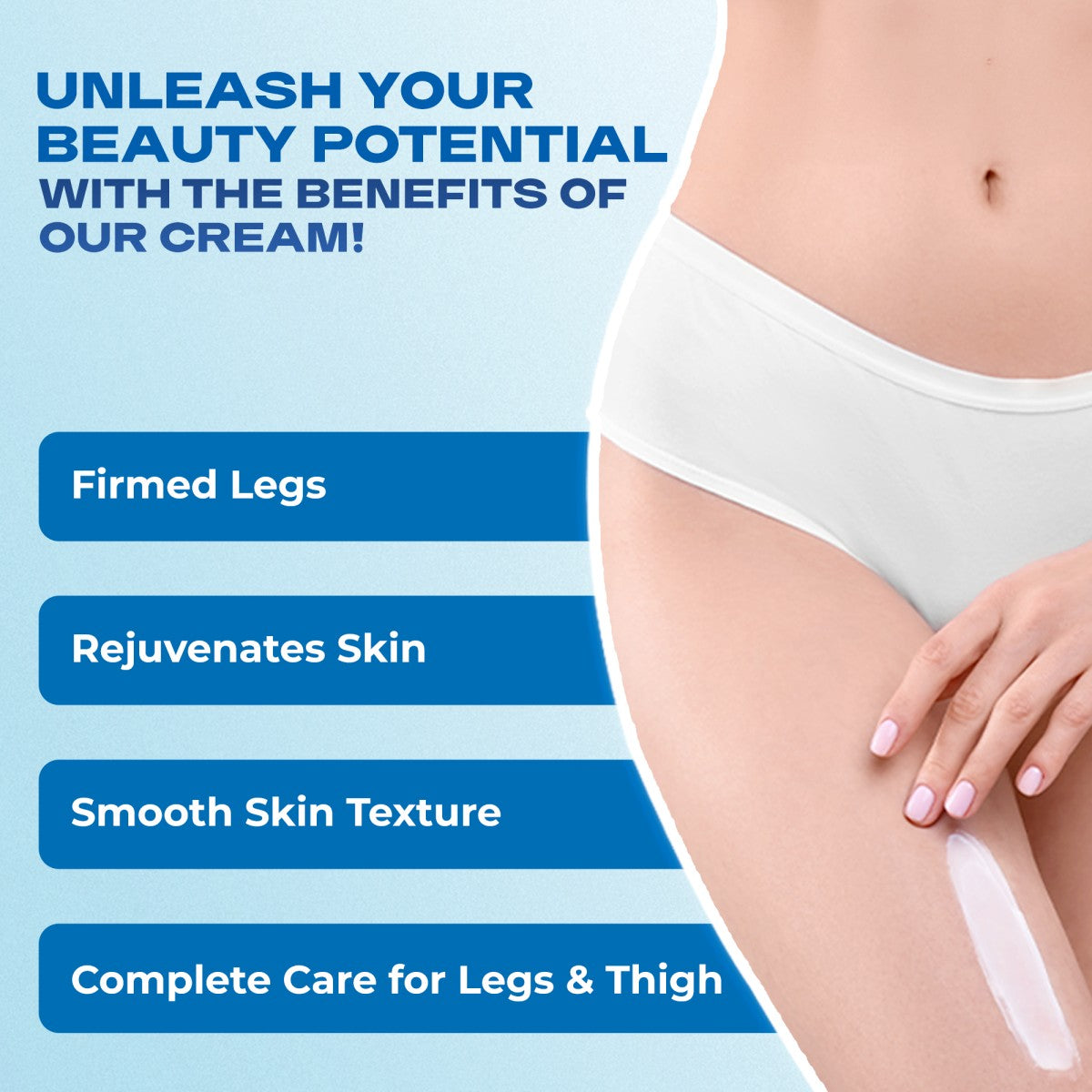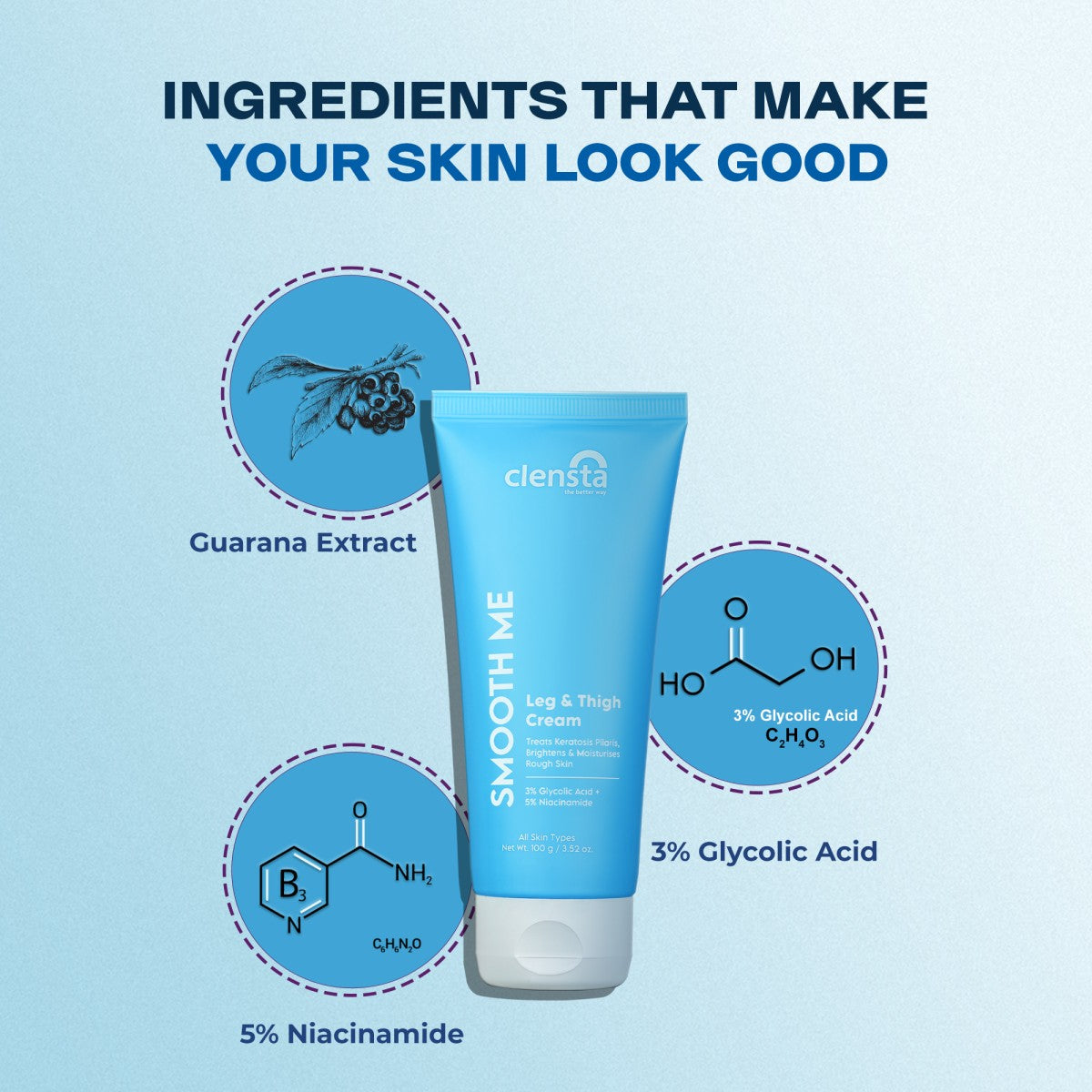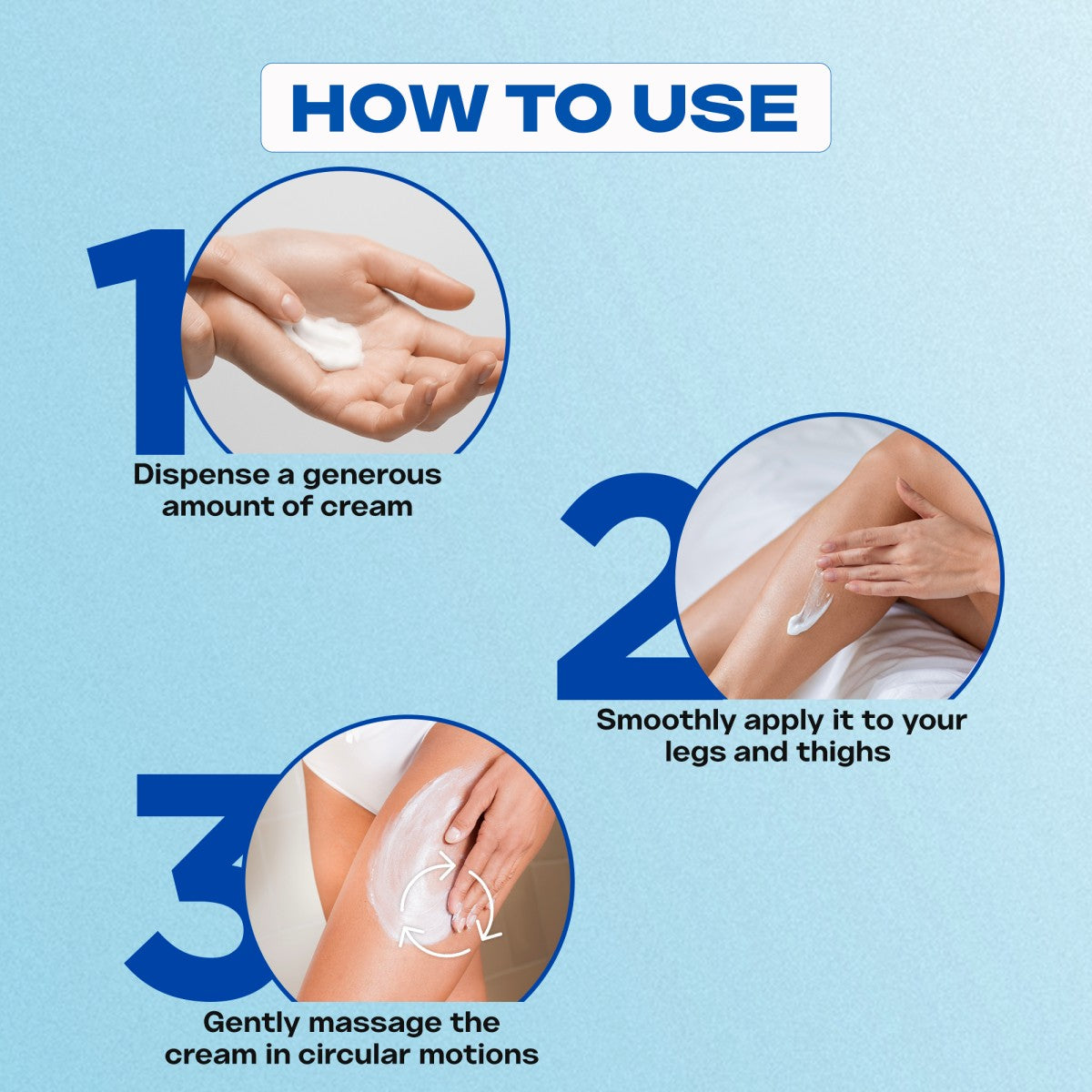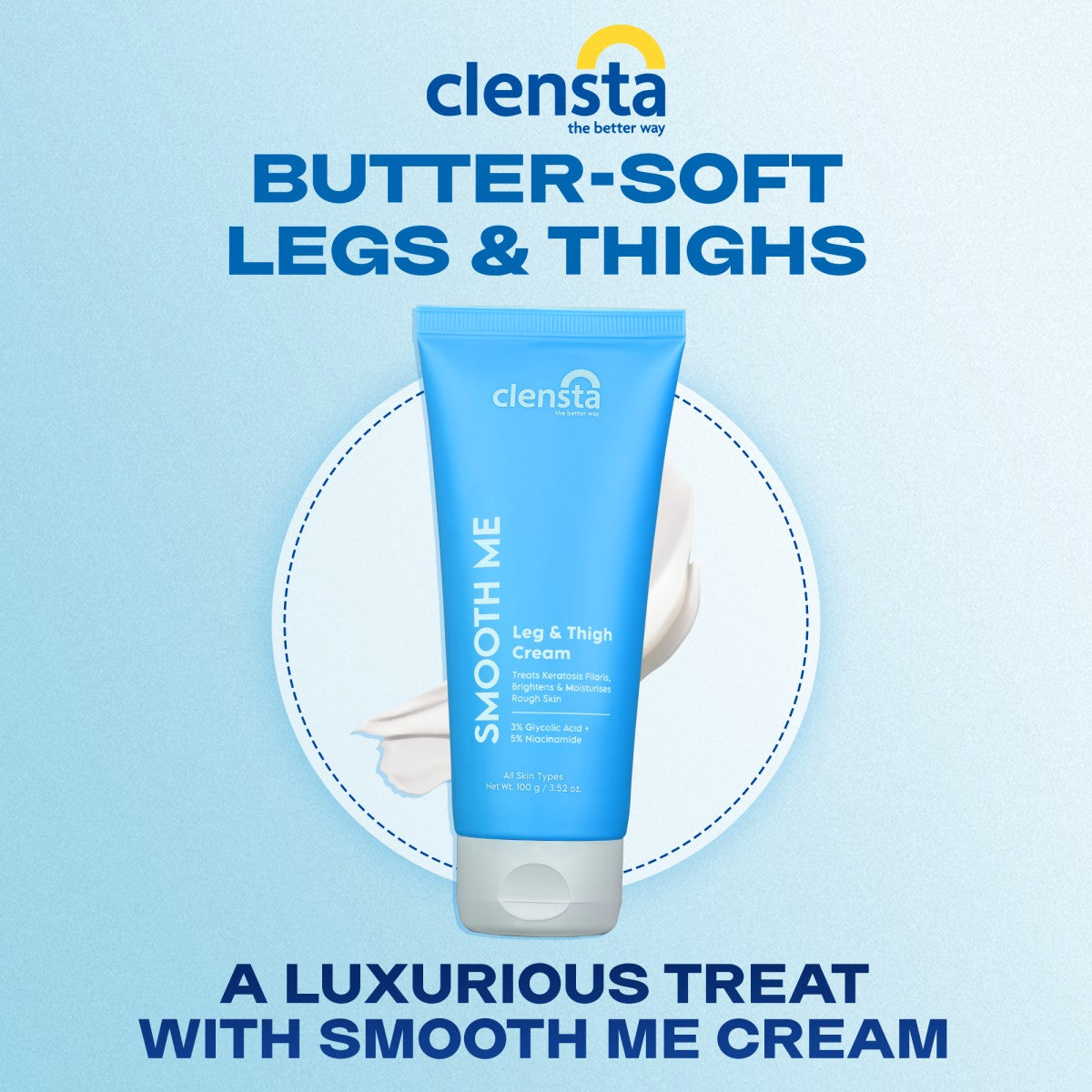 Smooth Me Leg & Thigh Cream With Guarana Extract, 3% Glycolic Acid & 5% Niacinamide That Treats Keratosis Pilaris, Brightens & Moisturises Rough Skin
Treats Keratosis Pilaris, Brightens & Moisturises Rough Skin
OFFERS
Get Flat 30% off on orders above ₹799
Get Flat 20% off on orders above ₹599
Buy 1 Get 1 ( On Gummies, Body Lotions & Perfumes)
Add Any 2 Products in Cart & 1 product will be FREE
Get Additional 5% OFF on prepaid orders
What's in it-
Our Leg and Thigh Cream, the secret to beautiful, smooth and radiant skin. This luxurious cream is specially crafted to enhance the look and feel of your legs and thighs, providing a confidence-boosting solution for all skin types.
What It Does-
Our Leg and Thigh Cream is your ticket to softer, more even-toned skin. It helps reduce the appearance of imperfections, hydrates, and leaves your legs and thighs looking their absolute best. Say goodbye to roughness and hello to a newfound confidence.
How It Does-
Harnessing the power of nature and science, this cream combines Guarana Extract for a revitalizing boost, 3% Glycolic Acid for gentle exfoliation, and 5% Niacinamide to promote even skin tone and texture. It's a dynamic trio that works harmoniously to unveil your skin's true potential, giving you legs and thighs that deserve the spotlight. Welcome to your path to perfection.

Approved By FDA | Cruelty-Free | Lab Tested | Non-Toxic | Paraben-Free | Sulphate-Free | Phthalate-Free | Pesticide-Free

Glycolic Acid:

A small AHA derived from sugarcane, penetrates skin easily, exfoliates, promotes cellular turnover, and reveals fresher, smoother skin underneath.

Niacinamide:

Promotes skin health by reducing pore appearance, stimulating collagen production, and enhancing moisture barrier. Consistent use can improve skin hydration, tone, texture, and appearance.

Guarana Extract:

Guarana extract, rich in caffeine and antioxidants, improves blood circulation, reduces cellulite, tightens skin, and has anti-inflammatory properties, promoting a youthful appearance.

Purified Water, Caprylic/Capric Triglyceride, Niacinamide, Glycolic Acid, Coconut Oil ,Almond Oil, Shea Butter, Cetyl Alcohol, C-12-15 Alkyl Benzoate, Kavapol An, Kavapol Sg, Ethylhexylglycerin, Guarana Extract, Sodium Gluconate, Fragrance
Take a generous amount of the cream in your hand.
Apply it on your legs and thighs.
Massage the cream in a circular motion until completely absorbed.
Leg and thigh creams typically contain active ingredients such as caffeine, retinol, or herbal extracts that work together to improve circulation, stimulate collagen production, and promote the breakdown of fat cells. This can result in a reduction in the appearance of cellulite and a firmer, more toned look.
The application instructions may vary depending on the specific product, so it's important to read and follow the directions provided by the manufacturer. In general, leg and thigh creams are applied to clean, dry skin and massaged in using upward strokes until fully absorbed. It is typically recommended to use the cream once or twice a day for best results.
Results can vary from person to person, and it may take several weeks of consistent use to notice significant improvements. It's important to remember that individual results may vary based on factors such as skin type, severity of cellulite, and adherence to the recommended usage instructions.
Most leg and thigh creams are formulated to be suitable for a wide range of skin types. However, if you have any specific skin concerns or sensitivities, it's always a good idea to check the product's label or consult with a dermatologist before incorporating it into your skincare routine.
It is generally recommended to consult with a healthcare professional before using any skincare products, including leg and thigh creams, during pregnancy or while breastfeeding. They can provide personalized advice based on your specific situation and guide you on the appropriate products to use.